LIVE EVENTS
Thursday, October 3 and Tuesday, October 8
"ciné 16" and FOUND Magazine Party
Mad Art Gallery, 2727 S. 12th
For a week in early October, the Mad Art Gallery was simply the place to be — even if the faces were suspiciously familiar both evenings. No matter, that; these were great nights to be out and about in the City.

On Night One, the Academic Film Archive of North America made St. Louis its second city, with an evening that blended three diverse art films, including a hilarious 10-minute short by "Muppets" creator Jim Henson. (An hour-long, mid-'70s era flick on big-bang artist Christo, meanwhile, proved that the man's personality is as irritating as his work is large.) As San Jose-based organizer Geoff Alexander mentioned in his introduction, these aren't campy, shlock educational films. Instead, they're forgotten pieces of America's film history; giving them a new life is AFANA's mission, and St. Louis is lucky to be part of their increasing, national presence. Well, that's not totally true: luck has less to do with it than the hard work of organizers Marc Syp and Margie Newman. And this wasn't just another good idea, shown to no one. Instead, the room was "sold out" (attendance is free), with nearly two dozen would-be attendees being turned away at the door. Great start to this new, monthly series. Check "It's All Happening" for details on the November showing.
On Night Two of Mad Art's mad week, FOUND Magazine creator Davy Rothbart hosted a live reading and zine sale, to another large, enthusiastic crowd. If anything, the audience was too amped, with the back of the room talking at such a volume that Rothbart's words were muffled after about an hour, or so. He was certainly an enthusiastic host, reading big chunks of his unique zine, bringing audience members into impromptu performances and playing a found disc that wasn't nearly as funny as his lengthy introduction. Along the back and sides of the room, local artists displayed their own "found"-source artwork, while some really amusing slides showed on two wall spaces. DJ Li'l Edit provided sound, during the rare moments when Rothbart ceded the floor. Ultimately, the night felt more like a private party, with all your cool friends present. And, yeah, magazines for $5, which we eagerly snapped up.
BOOKS
"Spirits of St. Louis II: The Return of the Gateway City Ghosts"
By Robbi Courtaway
Virginia Publishing Co., $16.95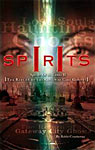 This second version of St. Louis-based ghost stories is about as quick a read as you can imagine, Courtaway writing something to which the classic phrase "a real page-turner" truly applies. Within a few pages, Courtaway introduces us to quotable locals involved in researching the otherworld, like Troy Taylor of the American Ghost Society. The book mostly piles up story after story detailing the presence of spooks, wraiths and spectres in our backyard. Amusing as heck. And did we mention thorough? If there's a third version's worth of material, then we're truly the ghost capital of America.
CDs
Sullen
"Paint the Moon"
For a good three years now, Sullen has been one of the secret treasures of St. Louis' music scene. Granted, there are people that know and admire them. But not enough. The core of the group is the duo of guitarists/vocalists Justin Slazinik and Shanna Kiel, who's, thankfully, singing a bit more here. Backed by drummer/bassist Tommy Schmitz and bassist Adam Gillespie (the group's constant rhythm section switching's a hallmark), Sullen serve up 10 of their best tracks here, on a disc that simply has to be a calling card to larger audiences. They've mastered the stop-start/quiet-loud thing, even if there are moments when they get uncomfortably close to their friends/touring mates Local H. Arguably, the best rock band in St. Louis. Arguably, the best rock disc released in 2002. Fantastic!
Various Artists
"The Six Comforts"
Angstrom Records
Artist and bon vivant Christopher Gustave dreamt up this compilation with a twist. Instead of putting together a random collection of songs by local bands, he and producer Drew Johnson assigned out themes: food, sleep, home, work, love and self. Artists include a who's-who of the Keneally's-Side Door Mafia, including Colony, Brandy Johnson, Languid, Celia and various collaborative projects, including spoken word pieces by Gustave, Rosa Maria Arenas and Elani Myers. When the CD was released — with a late-October gig at, where else?, the Mad Art Gallery — the bands were featured alongside Gustave's collected works, plus fashion installations and other artistic treats.
RADIO
"The Headshop"
2:00 - 4:00 a.m., Saturday nights/Sunday mornings
KDHX, 88.1 FM, www.kdhx.org
The Leeman hosts the Headshop, though you'll also hear him filling in on numerous slots during the daytime hours. When the sun's shining, you get a sense that Lee knows a lot more than hard rock, able to spin blues, soul, dance or vocal jazz, all with equal aplomb. But this show's playlist might suit his laconic style, the best highlighting deep, greasy, muscular rock from the last three decades. Seventies stars like AC/DC and Black Sabbath butt heads with modern rockers like Queens of the Stone Age and forgotten thought-rockers like Truly and Kyuss. Everyone heading to-and-from the Rocket Bar is tuned into this one. And for good reason.
IN THE WORKS
Author and Route 66 historian Shellee Graham is working with filmmaker Bill Boll to complete a documentary on the famed, still-lamented Coral Court Motel. Here's her request: "My friend Bill Boll and I are winding down the interviews for our Coral Court Motel documentary project. If anyone knows of any FORMER CORAL COURT EMPLOYEES, any persons who may have vintage photographs, HOME MOVIES or video taken at Coral Court, especially footage before the motel closed (pre-1993), please contact Shellee Graham: shellee66@earthlink.net or Bill Boll: bill@billboll.com. Thanks for your time." So. Who's got something?