(Recently, The Commonspace had a chance to ask some folks from the Detroit Synergy Group about their new organization and their city, which, like St. Louis, has seen better days. What we heard about their efforts to get Detroit back on the map inspired us.)
When was the Detroit Synergy Group founded?
The Detroit Synergy Group became an official 501(c)3 organization in September, 2002. Its planning and formulation had been in the works for more than six months prior. DSG held its first public event on September 13, 2002.
Why was the DSG founded?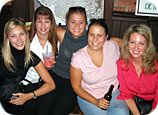 DSG is the brainchild of David Naczycz, an organizational consultant; Peter Marsh of the real estate industry; and Francis Grunow, formerly in urban planning. The idea behind its founding was that there are many opportunities for an organization in Detroit to build upon and add new ideas to the work done by various nonprofits, arts and educational institutions and civic groups. We believe that Detroit has a great deal to offer citizens, including those who live within the City borders and those in the suburbs. However, Detroit suffers from many historical problems which have given it what we feel is an undeserved "bad rap." So DSG was formed to bring together people who see the good and the potential of Detroit and to allow them to pursue their ideas for improving the city's image through the power of cooperation.
What's the mission of the DSG?
We will bring together a diverse community to celebrate and promote the City and build upon its strengths and resources to realize a common vision for a greater Detroit.
Why is a group like the DSG needed in Detroit?
As David Naczycz said at one early meeting, "Lots of people in Detroit have ideas for what can and should be done. The problem is that they are stuck in the 'idea phase' and unable to move into the implementation stage. We are the organization that gives them the resources to implement these ideas."
What has the DSG done?


The first public event, on September 13, 2002, was the DSG Downtown Pub Crawl. This event was meant to introduce our group to the City as well as bring together as many people as possible and show them parts of Detroit they may not have seen before. The pub crawl began at Jacoby's German Biergarten and continued on foot to The Well, Centre Street Pub, and The Old Shillelagh. We chose the venues to include a variety of atmospheres and so that we could make the walk from place to place a showcase of the thriving downtown neighborhoods of Greektown and Harmonie Park. Nearly 100 people attended this first event, and we succeeded in getting our message out to the community at large. A second pub crawl for the Midtown neighborhood is in the works for late January or early February.
The second major event for DSG was the Pedestrian Connection, an outdoor event in the Cass Corridor that showcased many of Detroit's unique artistic and cultural treasures. This event took place on October 4, from 4 p.m. to 10 p.m. and included participation from Avalon International Breads, Blimpie's, Cass Café, Hillberry Theatre, Islamic Center of Detroit, Jambalaya Fashions, Mario's, Motor City Brewery, Preservation Wayne, Traffic Jam and Snug, Twingo's, Unitarian Universalist Church, WDET, Metro Times and Wayne State University. Performances included comedy by Jen House and Switchback TV, music by "Lazy Bones," Audra Kubat, Alison Lewis, Emilio Basa, Brian Lombardi, Dan Minard, and Lisa Dillard, poetry readings by Yvette Amstelveen and Inside Out, a talk about the Cass Corridor's history by John Thompson, owner of Honest John's Bar, as well as chalk art, face painting, and other artistic displays. This free event was conceived as a showcase of the neighborhood, which would connect the various jewels of Midtown and allow people a pedestrian venue in which to spend Friday evening. A second Pedestrian Connection is planned for spring 2003.
The Detroit Synergy Group has also been working to form a network partnership with other Detroit organizations such as the Corktown Press, Wayne State University, the Detroit Opera House and the Detroit Institute of Arts. We have agreed to partnerships with two local media outlets: WDET, the local public radio station, and the Metro Times, Detroit's largest weekly paper.
What is the DSG planning to do?
Upcoming projects include:
Speaker Series, which will involve individuals, panels and community leaders sharing their knowledge, insight and ideas about cities, urban living and lifestyles and the City of Detroit. The goal is to create dialogue, learning and creative thinking that will power the development of the City.


Arts in the City, planned for March at Detroit Club. This Detroit cultural celebration will involve three types of local art: one floor for spoken poetry, one for visual art and another for live music. The purpose of this event is threefold: to celebrate our local talent, to promote our message within the community and to raise funds for future projects.


Volunteerism. DSG members have committed to several volunteer projects to improve the atmosphere in Detroit. We plan to hold several "clean up" projects throughout the City, in conjunction with other nonprofit groups and on our own. In addition, a volunteer snow removal task force is forming for the coming winter.


Pedestrian Connection, a new version of the event that we held on October 4. Dates, venues and performers TBA.


Pub Crawl, tentatively planned for the Midtown area in late January or early February, details TBA.


Monthly Happy Hours and Monthly General Meetings. Happy Hours are the social events for members and nonmembers to talk informally and just have fun. Our meetings and Happy Hours take place on Thursdays at 6:30 p.m. See our website, www.detroitsynergygroup.org, for dates and times. We are currently recruiting members to help us with new projects, both ideas and implementation. We encourage anyone who cares about improving Detroit to attend one of our meetings.
What's been the most fun/rewarding thing about the DSG?
The DSG is filled with energetic and creative people who care about their surroundings. These are people who want to do more than just paint picnic tables or clean up an area park. These are the future (non-political) movers and shakers in the city... the grassroots visionaries.
What's the biggest obstacle facing the DSG?
At the present time, we are in need of more manpower. We are looking for help in both big and small ways, from assistance with posting flyers to leading new project ideas. Part of our goal, also, is diversity. We would like to see more participation from a diverse (ethnically, socially, age, etc.) group of Detroiters. Our second obstacle, as with any new organization, is fundraising. We are looking to engage corporate and private funds for our future events.
What's the deal with Detroit? What's so cool about it?


Detroit has an awesome history of architectural (Albert Kahn, et. al), musical (MoTown, rock and roll, electronica), manufacturing (autos!), and social significance. It's an old, beat-up city with so much depth that has yet to be realized since the "white flight" of the '60s and '70s. Bordering Windsor, Ontario, it has the potential to be once again an awesome point of trade, manufacturing and so on. We just need to dust everything off, make some smart decisions and get it going again.
How does the DSG fit in with the national urban renewal scene?
The DSG will provide the necessary "grounding" through which people can gain the objectivity and perspective to see that cities can be so much better than suburban strip malls and gated-and-cul-de-sac-developed farm fields. The cities are life-giving in every sense. Without them, not even the suburbs will survive. The Detroit area is the 10th largest market in the United States, but we're lacking some key elements of infrastructure and the attitude and pride we need to push our way up that list. (The Detroit neighborhoods are rather barren and almost suburban due to the lack of development!) The efforts of the DSG help bring these views into popularity.