From the spring of 1996 until October 2002, I conducted a one-woman battle between St. Louis and the state of Texas. In that time, I have gained and lost accents, engaged in heated debates about the Cardinals and Astros, and spent more time than I care to admit traveling back and forth on Interstate 44.

It all began on a rainy day in May 1996, when my mother broke the news that we were moving to Houston, Texas, for my father's promotion. Because this information came just minutes before my departure for Pointfest, I pretended to ignore it. But, having never lived anywhere outside St. Louis metro — and being an angst-full fifteen-year-old — I was livid. This was my town, I loved my school (Visitation Academy), and this was not okay. Obviously, I went, but not before turning the move into a melodramatic scene complete with hair-dyed rebellion and sappy letters to my then-boyfriend. In Houston, I compared everything to St. Louis, and St. Louis always emerged victorious in my book. The food? Okay, Houston had better Mexican food, but who wants that when St. Louis Italian is clearly the best food EVER? Viz was, in my mind, far superior to my new school. St. Louisans were nicer, cleaner, had drastically fewer diesel pickups on the road, and didn't have strange accents. One month later, after an immense long distance bill and a lot of tears, my parents sent me back to St. Louis to live with my grandmother and finish at Viz. I was ecstatic.
When I returned to St. Louis this first time, I felt like hugging every resident of the metropolitan area. My pride grew exponentially during the next three years. I think the most noticeable reason for my embracing the city as a whole was that, much to my horror, the new owner of my childhood home had chosen to tear it down. What was left — and still is even now, six years later — looks like it could be a small park, not a home, and features a driveway that fades from blacktop to gravel to dirt, leading nowhere. Without the literal home building I was used to seeing, I turned instead to the entire city as my home. I explored. I drove around in endless miles (including entire 270 Loop laps). I proudly worked weekend mornings at 5:30 am at the original location of St. Louis Bread Company. And I was the picture of good behavior: a one-way ticket back to Texas was always there as a possible punishment for any infraction.
My glee cashed out a few weeks before high school graduation. I had been lobbying hard to attend Boston College, but my parents had other ideas. After more tears than it took to achieve returning to St. Louis, lots of 'discussions,' and, finally, a brand-new Mustang convertible, I was heading off for the University of Texas at Austin.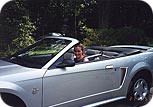 At UT, I was bombarded with Texas pride. Toto, we weren't in Missouri anymore. During my first week there, I had a horribly eye-opening experience during sorority recruitment. At my first house visit, a sister stared intently at my nametag, which listed my name and hometown, and then triumphantly cried, "I know St. Louis! That's in Montana, right?" while another girl near her nodded enthusiastically. I left that house in disgust. My response? Kicking my STL pride into high gear. I refused to put Texas plates on my new car and clung to my MO tags. I accentuated my Lou accent (admit it, you've got one too — we say "gad" for "god" and "nat" for "not") to combat the twang. I described in great detail the definition and preparation of toasted ravioli. Surprisingly, many of my new Texas friends found this more endearing than unbearable. Maybe that's because, much to my surprise, I discovered that Texas was actually all right, even nice. Austin was lively, plenty of big cities and a whole foreign country were only hours away, the food was terrific, and, let's face it, the weather really is better there. I couldn't get enough of the way my name sounded in "Texan:" something like "Eh-mee-lee."
I came back to St. Louis in the summer. I supplemented it by returning as a part-timer at Bread Co. and hosting plenty of parties for my friends — we were now super-cool college sophomores, so we did more exotic things like going to free Samples concerts downtown and seeking out the few bars that might actually serve us. Even as I loved being home, I found myself saying "y'all" instead of "you guys" and occasionally donning the cowboy hat I had bought as a joke. At the end of a summer filled with countless trips to Riverport and the old West County mall, I returned to the wild ways of Austin, and was equally sad and glad.

Somehow, during my last two or three years in college, I clung to my STL identity even as my return visits became fewer and farther between. When Nelly hit the airwaves, I frequently claimed that I knew him (I've never even seen him), and happily listened as my Texan friends sang along to words like "Frontenac" and "the Lou" in his songs. The benchmark for the intoxication of one of my roommates became how much she adopted my accent, as she sounded more like me with each passing drink. Slowly, I snuck a bit of STL knowledge into every Texan I knew.
Then, this past May, I graduated, and the jig was up.
After spending this summer bouncing around Chicago, Houston, and Austin, I am now back in St. Louis, and I'm worried. I know it's still a great place, and I still believe like I did at fifteen that it's my town. The difference now is that I'm not growing up here. I'm grown up here (okay, allegedly grown up). While visiting a few weeks ago for an interview, I happened to pick up the "Best Of" edition of the RFT. I realized that, in my eighteen years living here, I visited maybe five of the winning locations. Instead of depressing me for my hometown ignorance, I am ecstatic. There's more to this town than I ever thought! On my first night back, I made a point of trying out my father's favorite bar, McGurk's, which whetted my thirst to explore even more. I haven't moved into my new apartment yet, but, wherever it is, I certainly know that when I get up in the morning, all day, and when I sleep at night, I'll be home.
Emily Smith works as a Real Estate Paralegal for Blackwell Sanders Peper Martin LLC while deciding if she'll go to law school. She can be found in St. Louis frequently indulging her addiction to St. Louis Bread Company and following her brother's band, the Sayers.