Friday, November 1
"Day of the Dead Beats 2002"
The Focal Point, 2720 Sutton
$3, all ages, 7:30 p.m., 314-821-5834, noshow@kdhx.org
For an annual event, Day of the Dead Beats has certainly been a transitory one, moving from venue to venue in its search for the perfect, respectful-yet-edgy vibe. This year the homeroom will be Maplewood's versatile Focal Point. Reading from the works of beat writers like Burroughs, Ginsberg, Bukowski and Kerouac (among others) are local lit types such as: Hari "Sky" Campbell, Michael Castro, Uncle Bill Green, Ann Haubrich, Marvin Hohman, Tom "Papa" Ray, Lennie Smith, Brett Underwood, Elizabeth Vega, Agnes Wilcox and organizer Paul Thiel. In addition, a San Diego-based satirical duo, the musical Prince Myshkins, will perform, bringing their alternative, heady comedy. Last year's event, held at Duff's, brought out an overflow crowd, including some of the real characters of local culture. (TC)
---
Saturday, November 2
Hungry Minds in the City Conversation Café, Part 4
Topic: the political process in America
Brevé Espresso Company, 417 N. 10th St.
Free, all ages, 10 a.m., johnathompson63101@yahoo.com
Like to talk? Even better, willing to listen? If so, help revive the disappearing art of non-screaming conversation (something we all could use a little more of, frankly, especially around election time) at this installment of the emerging discussion group Hungry Minds in the City. The conversation can range from thoughtful to lively, and all viewpoints are welcomed. Say your peace, then stop yourself from running on by yielding the floor and occupying your mouth with a tasty beverage, instead. (AED)
---
Monday, November 4
Monday Noon Series: "Election 2002"
Room 229 of the J.C. Penney Conference Center, Univ. of Missouri-St. Louis
Free, all ages, 12:15 p.m., 314-516-5699

E. Terrence Jones, the ubiquitous talking-head-about-town during any election cycle, holds forth on his own turf (he's a poli-sci prof at UMSL) with a session including his analysis of the campaigns, a little Monday morning pre-quarterbacking and predictions of how the results will affect the St. Louis area when the polls close tomorrow. Bring a lunch! (AED)
---
Wednesday, November 6
Cinema in the City: "Broken Lullaby"
Beatnik Bob's Café, City Museum, 15th & Lucas
$4, all ages, 7:30 p.m., 314-968-7487, www.webster.edu/filmseries.html
A tremendously timely presentation, "Broken Lullaby" (1932, 76 mins.) is a reflection on the pain and healing in post-World War I Europe: "Set shortly after WWI, a French soldier struggles with guilt for killing a German with whom he shared a love of music. When he returns to Germany to seek the family's forgiveness, they assume he was a friend of their son and welcome him with open arms." This series, a satellite showing of Webster University's Film Series, is housed in a venue where smoking, drinking and light chatter are given the green light. (TC)
---
Thursday, November 7
ciné16: Shorts of All Sorts
Mad Art Gallery, 2727 S. 12th Street
Free, all ages, 7:30 p.m. (doors), 8:00 p.m. (showing), 314-241-4950, www.afana.org/cine16stlouis.htm
Last month the first installment of this new series drew an overflow crowd to this increasingly visible Soulard space. (See Sights & Sounds for more on this.) This time out, the films will be considerably shorter than in October, with curators Margie Newman and Marc Syp offering a series of shorts, including: animation by Norman McLaren (one of his films actually has the soundtrack drawn onto it), an Office of Civil Defense film of nuclear explosion tests, microphotography of houseflies, and a Dr. Seuss cartoon called "Gerald McBoingBoing.'" Based on last month's attendance, you'd be well advised to arrive closer to 7:30 than 8:00. Snacks and drinks are available, but bring your own seat cushion. (TC)
---
Friday, Nov. 8 and Saturday, Nov. 9
Local Authors Book Fair
Blue Ribbon Realtors office, 4924 Hampton Ave.
Free, all ages, 7-9 p.m. on Friday and 10 a.m.-2 p.m. on Saturday, 314-353-4562, jearh13191@aol.com
You just have to love this: an event featuring local authors and their wares (think Hari Sky Campbell and "Shawmaul's House," or Andrew D. Young and "Streets and Streetcars of St. Louis: A Sentimental Journey") put on by the St. Louis Hills Arts Council Literary Series. I just love that there is such a group! I mean, every neighborhood should rise to the challenge. Imagine it: the Hyde Park Music Consortium, the Dogtown Poetry and Prose Society. Anyway. You can come do a little holiday shopping, meet local scribes, get autographs for loved ones' copies and so on. (The good folks at Left Bank Books will be running the commercial aspect.) Books = good gifts. Go there. (AED)
---
Monday, November 11
"Chicago from the River" photography opening, by Joan V. Lindsay
UMSL's Public Policy Research Center, Room 362, Social Sciences Bldg., 8001 Natural Bridge Rd.
Free, noon-1 p.m., 314-516-5273, www.umsl.edu/services/pprc
Will you people shut up already about Chicago? "It's so great, it's so much better than St. Louis..." I can practically hear the whining here, cloistered in my own little Gateway City cocoon. Well, here's a compromise: go see these photos, (actually digital copy prints) from a Chicago River architectural boat tour, but don't really leave town. Grrr, Chicago. (AED)
---
Monday, November 11
SLIFF on The Wire
KDHX, 88.1 FM
7:30 - 8 p.m.
The administrators of Cinema St. Louis will join the authors of this column on their Monday night community radio gig, "The Wire." We'll be talking about the upcoming St. Louis International Film Festival. Get a sneak preview on the best films, from the people who've seen the entire roster of offerings. (TC)
---
Tuesday, November 12
Joia "Ninth & Geyer" CD Release
Sheldon Concert Hall, 3648 Washington
$5, all ages, 7 p.m., 314-862-7328, www.joia.com
The omnipresent local percussion troupe is releasing a sophomore disc at one of St. Louis' best listening rooms. The big band describes its mission like so: "Joia is not only a band, but a musical community based on the concept of making the experience of percussion performance accessible to anyone with the combination of desire and commitment. The lineup includes a rotating configuration of personnel, who perform a core repertoire of music steeped in the traditions of Afro-Brazilian, African, Japanese, Cuban and other world music forms. As in music — so in life — Joia is dedicated to exposing people to the high-energy, life-celebrating rhythms of Brazil, Africa and the world." Shakers, by the way, will be passed out at the door. (TC)
---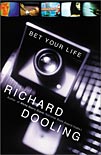 Tuesday, November 12
Richard Dooling: Reading/signing of "Bet Your Life"
Left Bank Books, 399 N. Euclid
Free, all ages, 7 p.m., 314-367-6731, www.left-bank.com
Buy it at Left Bank Books!
St. Louis attorney Richard Dooling is debuting his newest novel with an appearance in the friendly confines of Left Bank Books. The author, who specializes in whodunnits set in the white-collar world, has framed "Bet Your Life" in the insurance industry. (TC)
---
Wednesday, November 13
Seminar: "North St. Louis Housing and the Economy," presented by Dr. Brady Baybeck
Century Conference Room B, Millennium Student Center, UMSL North Campus
Free, noon-1 p.m., 314-516-5273, www.umsl.edu/services/pprc
Baybeck, assistant professor of political science, offers a presentation entitled "Forced to Live in the Past? Housing Obsolescence and Political Fragmentation in North St. Louis County." Anyone interested in the current quagmire of St. Louis city and its inner-ring suburbs should pay attention to the role played by the conditions of housing and its effect on population shift. We're still living with the consequences. (AED)
---
Wednesday, November 13 - Sunday, November 17
Laughupalunga
City Improv, Union Station
$5-15 nightly, ($40 for series), 7:30 start each night, (314) 241-1527, www.cityimprov.com
Improv comics from around the country — Boston, Chicago, and other parts — compete against St. Louisans in a multi-night improv comedy fest, with workshops sprinkled through the day hours. Skits and segments include such saucy titles as "52 Hiccup" and "Five Finger Discount." (TC)
---
Thursday, November 14 - Saturday, November 16
Hullabaloo Wholesale's Crazy Vintage Sale
1315 Washington Ave.
Fill-a-bag for $5, all ages/sizes/fashion proclivities, laura@hullabaloo.net
It happens all the time: you'll be sitting somewhere (say, the Upstairs Lounge), chewing the fat about this and that, and eventually someone will say, "God, what ever happened to Hullabaloo?" (This inevitably launches me into waxing rhapsodic about my favorite pair of shorts, which came from there many moons ago...) Well, moon about no more, because the 'loo is back in biz, and we all shall benefit from it. The retail store will be a year-round affair, though currently it is mired in St. Louis' own "big dig" known as the Washington Avenue Streetscape affair. If it's the vintage you crave, the vintage you shall have at this three-day, first-time-ever-open-to-the-public bonanza. Go crazy! (AED)
---
Friday, November 15
"Get Your War On" reading and signing, with David Rees
Fort Gondo Compound for the Arts, 3151 Cherokee St.
Free, 7 p.m., 314-772-3628, www.mnftiu.cc/mnftiu.cc/war.html
Buy it at Left Bank Books!

Anyone who's read the savagely funny (if crude, and even crudely drawn) series of "Get Your War On" cartoons — perhaps even e-mailed them around the country in that secretive, at-work network of like-minded slackers — will be thrilled to hear that the series' mastermind, David Rees, has been persuaded to make a local stop on his "Get Your Tour On" book junket. Rees will make a presentation (Fort Gondo impresario Galen "Garbage" Gondolfi could only mysteriously allude that "they have requested an overhead projector") and sign copies of his new book, which one assumes will be available for purchase. Get your book on. (AED)
---
Friday, November 15
Delmar-Underwood Reading Series
Left Bank Books, 399 N. Euclid
Free, all ages, 7 p.m., 314-367-6731, www.left-bank.com
Poets Devin Johnston and Katie Ford appear at Left Bank as the debut artists in the Delmar-Underwood Reading Series. Johnston is the author of "Telepathy and Precipitations: Contemporary American Poetry as Occult Practice." Along with Michael O'Leary, Johnston directs Flood Editions, an independent publisher of poetry and short fiction. Ford is the author of "Deposition." She teaches poetry at the University of Iowa. Happy are we to mark the return of the Underwood series, which brings major talent to our shores. Can you call it a "shore"? Wait, it's our web site...yes, we can. (AED)
---
Friday, November 15
House of Large Sizes with Thistle and Traindodge
Rocket Bar, 2001 Locust
18-up, 9 p.m., www.rocketbar.net
In the early 1990s, House of Large Sizes was among the most highly regarded of American rock bands, touring relentlessly, including more than a few stops at Cicero's Basement Bar. Like others of their era — Afghan Whigs, Scrawl — the group flirted with both major and indie labels, but never quite captured the ears of radio programmers. Hard to believe, in a way, that this group is soldiering on, but bless for them for their diligence. During the remainder of the month at the Rocket Bar: 16th, Canyon w/ Hitch; 18th, Taking Pictures (ex-Don Cabellero); 20th, Rye Coalition w/ Kimone; 21st, Riddle of Steel w/ Houston and ring, cicada; 29th, 90 Day Men. (TC)
---
---
Friday, November 22
"How Modern Art Came to St. Louis," a talk by Laurie Stein, director of the Pulitzer Foundation of the Arts
Washington University Gallery of Art, Steinberg Hall, corner of Forsyth & Skinker
$10 (includes wine and appetizers), 6:30 p.m., 314-935-5490, wuga@aismail.wustl.edu
Fact is, St. Louis has become an artistic hotbed again of late, but has long enjoyed a reputation as a fine center for modern and contemporary art, thanks in no small part to the presence here of H.W. Janson, who helped build Wash U's collection and our town's reputation. (He also authored a definitive — and heavy and pricey — text on the subject that I was required to buy for a humanities class at Mizzou. I kept it because book buyback would've only netted me, like $1.30. As if! So, it's at my house if anyone wants to come by and peruse it.) Tonight's lecture will focus on mid-century collecting of European and American modernism in St. Louis. Reservations are required. (AED)
---
Friday, November 22
Film: "I Shot Andy Warhol"
Saint Louis Art Museum auditorium
Fine Arts Drive, Forest Park
$5, 17-up, 7 p.m., 314-721-0072, www.slam.org
Indy film darling Lili Taylor stars as the messed-up scene-maker Valerie Solanas, part of Warhol's Factory entourage, who ended up shooting him in his studio in 1968. The film was much acclaimed both for its characters (Martha Plimpton and Stephen Dorff also star) and its evocation of the heady, chaotic Pop art scene. Afterwards, you can argue with your friends: is it "war-hole" or "war-hall"? (AED)
---
Friday, November 22 and Saturday, November 23
Designs for Dignity Holiday Boutique
Women's Support and Community Services, 2165 Hampton
$25 for Friday night preview event/free on Saturday, all ages, 6-9 p.m. Friday and 10 a.m.-4 p.m. Saturday, 314-646-7500 x 102
This specially assembled St. Louis showcase boutique will be the best place you'll find to buy one-of-a-kind items for those on your gift list (or yourself...we won't tell). From the crazy/cool sweaters of Skif — woolineers (I made that up) to the stars — to handmade books by Corinne Didisheim to the ethereal photography of Jane Linders, it's a local-arts-supporter's dream come true. Now, you could cheap out and come on Saturday, when it's free, but we suggest you pony up for the Friday night preview, make a donation that will support the good work of WSCS (a domestic violence service agency) and enjoy refreshments and pleasant music while you shop. Plus, you get the first crack at the goods! (AED)
---
Saturday, November 23
Quincy Troupe


Contemporary Art Museum St. Louis, 3540 Washington
7 p.m., 314-535-4660
Acclaimed expat poet Quincy Troupe comes back to town with the support of First Civilizations, for a reading at the Contemporary Art Museum. Troupe wouldn't come to town without reading a little bit about Miles Davis, would he? Find out tonight. (TC)
---
Saturday, November 23
Murder City Players
Frederick's Music Lounge, 4454 Chippewa
$7, 21-up, 9 p.m., 314-351-5711, www.fredericksmusiclounge.com
Next year, the Murder City Players will celebrate 20 years as a group. Never ones to release a lot of material, or even play a ton of local shows, the band spots a show here and there, making each one a bit more of an event. With eight players, they'll be performing on and off the tiny Fred's stage, to what'll probably be a pretty full house. (TC)
---
Friday, November 29
Diesel Island and The Potomac Accord
Frederick's Music Lounge, 4454 Chippewa
$7, 21-up, 9 p.m., 314-351-5711, www.fredericksmusiclounge.com
Fronted by Bottle Rocket Brian Henneman, Diesel Island tackles 1970s country with lots of energy and zero irony. The Potomac Accord play elegant, drawn-out music with flourishes that go well beyond your usual weekend rock. This is unquestionably as strange a double bill as you can book. Which figures, considering the room. (TC)