I am not a martyr. I am simple. Justine Petersen Housing and Reinvestment Corporation (JPHRC) has asked me to do two simple things: 1) pick up trash on the streets of St. Louis forty hours a week for a year and 2) talk to city residents about the importance of clean credit scores. This is our master urban revitalization plan in two easy steps. We are calling it the "St. Louis Litteracy Project: promoting credit and litter literacy."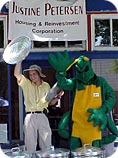 Home ownership is the heartbeat of a healthy city. JPHRC believes home ownership is the pivotal factor in neighborhood stabilization and the revitalization of the city as a whole. In a mere five years of operation, JPHRC has helped more than 1800 families purchase homes in metro St. Louis and has negotiated more than $120 million in mortgages. As an advocate for first-time homeowners, JPHRC is a dedicated nonprofit alternative, and I believe, the solution to our local housing crisis.
In the city alone, only 42% of residents are homeowners. My simple mission is to pump up that number, and I intend to do so by picking up trash. Equipped with a pushcart, trashcan and broom, I hope to traverse the entire city in one year, cleaning up neighborhoods and cleaning up credit scores. Galen Garbage will know no boundaries.
Handing out credit release forms to city residents, I then schedule a free follow-up consultation at the JPHRC office. Debunking the myths that surround home ownership is my gig. Too many people think they need a $10,000 down payment and a near-perfect credit history to own a home. Not true. What one does need to become a homeowner is commitment: the commitment to learn the rules that govern the home-buying process — namely, those related to managing one's credit.

I kicked off the St. Louis Litteracy Project on June 1 with a 24-hour litter-a-thon. Volunteers and neighborhood children banging trash can lids and hoisting brooms paraded behind me and Operation Brightside's "Don't Litter Bug" down Cherokee Street. Since then, I have been out "sweating for home ownership" on a daily basis. Residents have greeted me with soda, cookies and even an arrangement of plastic flowers. One such resident asked, "Who sent you — Jesus?"
I sheepishly replied, "No, Justine Petersen."
Look for Galen Garbage cleaning up a city street near you.