Monday, July 1
Compton Heights Concert Band: July 4th Tribute with Cannons!
Francis Park, Eichelberger and Donovan
Free, all ages, 7:30 p.m., 314-776-2227, www.chband.org

That's right, cannons! Why wait to celebrate your independence on the 4th, like a chump, when you can start early with this rousing, patriotic concert featuring the band, boomin' baritone Robert Ellison, the St. Louis Hills Chorus and cannons! (Just a prediction: the 1812 Overture will be involved, somehow...) God bless America. (AED)
---
Wednesday, July 3
St. Louis ArtWorks public sale
Storefront at the corner of Manchester and Tower Grove, in Forest Park Southeast
Free (except the art you'll buy), all ages, 11 a.m., 314-303-7502
You may remember reading about the coolie summer art apprenticeships offered by St. Louis ArtWorks here on your favorite web site. The program employs young folks from both the city and the county in making art with master practitioners in a variety of media (printmaking, radio/video production, sculpture, etc.). Besides giving kids a summer job that doesn't suck, the program instills values and skills like punctuality, discipline, public speaking and all the other stuff that is, in fact, important to making it in the real world. (Well, actually, I'm not a member of that whole "punctuality is important" cult, but then again, I don't have many friends...) You can peruse the fruits of their labors in the first sale of the summer, held in a newly renovated retail space in the up-and-coming FPSE neighborhood. Admire the spiffy workmanship of the rehabs while you're there, and enjoy the special bonus: an original dance performance by the Mid America Dance Company, fresh off their 25th anniversary celebration season. (AED)
---
Wednesday, July 3
Cinema in the City: "Sons of the Desert"
Beatnik Bob's Café, City Museum, 15th & Lucas
$4, all ages, 7:30 p.m., 314-968-7487, www.webster.edu/filmseries/current.html
This 1933 Laurel and Hardy romp is considered one of the comic duo's finest moments, with the pair of scamps evading their wives, while attempting an impromptu vacation. The film runs a compact 68-minutes, a perfect time for a Cine release, what with those reel changes and all. Classic summertime fare, and, yes, perfect for the whole family. (TC)
---
Thursday, July 4
Riverfront Bike Ride
Northwest corner of the Arch grounds, near Washington and Memorial Drive
$2/$5, all ages, registration from 8-10 a.m., ride starts at 10 a.m., 314-416-9930, ext. 106, www.trailnet.org
Like we need to remind you of the other big doin's around town on the Fourth. No, instead, we offer a civilized way to enjoy what is a day off work (Independence from The Man! Woo!) for many. Gather up the family, put on the bike helmets and head down to Trailnet's kick-off to Fair St. Louis, a riverfront ride to show off the Confluence Greenway. Along the way, you'll pass the recently dedicated Mary Meachum Freedom Crossing, the first national Underground Railroad site dedicated in the entire state. Routes range from 12 to 35 miles, with the longer rides making it as far as the mighty Old Chain of Rocks Bridge. Registration fee includes snacks, maps, ride support and a Coke or Sprite (hey, maybe they'll pay us for product placement?) in a commemorative Fair St. Louis cup. Well, you can't get much better than that. Upon your return, hand the two-wheeler over to a Trailnet volunteer for free valet parking and join the unwashed masses at the Fair. (AED)
---
Sunday, July 7
4th Annual World's Largest Catsup Bottle Summerfest, Birthday Party and Custom'n'Classic Car'n'Truck Show Bash
Downtown Collinsville, Illinois
Free, all ages, daylong, 618-345-5598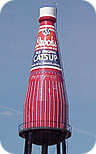 Ok, first of all, note to event planners: the name of your fete should fit easily in a small square of the average person's calendar. Beyond that quibble (oh, and the one about how I think it should be spelled "ketchup," but I'm ardently against "bokay"), this family festival has fun written all over it, with music, food, games, an old car show to keep dads and grandpas happy and, best of all, the Brooks Catsup Tangy Taste Test. Also, I heard that the enormous ketchup bottle is really a water tower. Is that true? (AED)
---
Monday, July 8
Compton Heights Concert Band and Those Darn Accordions!
Bandstand in Tower Grove Park, near Magnolia and Tower Grove Ave.
Free, all ages, 7:30 p.m., 314-776-2227, www.chband.org
Those Darn Accordions! Always squeezing out the tunes, making listeners think of Cajun dance-halls or (shudder) oompah bands in some hellish Octoberfest nightmare. Gotta say, though, that the publicity photo of these accomplished accordionists leads one to hope for fun times: there're five of 'em, they're from San Fran, and the two chicks are all about the platform boots. This is a first visit for T.D.A. with the Compton Heights band: let's show 'em a warm, midwestern welcome. (AED)
---
Tuesday, July 9
Bob Reuter photography show opening: Artists - South St. Louis
UMSL's Public Policy Research Center, Room 362, Social Sciences Bldg., 8001 Natural Bridge Rd.
Free, noon-1 p.m., 314-516-5273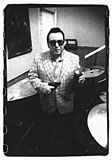 Local photog, musician and man-about-town Bob Reuter produces some of our favorite, true-to-life images of St. Louis, from local bands rockin' the house to the denizens of debauched, wee-hours South Grand. The grainy, black-and-white prints bring a side of the city to life that many people never see. At the opening, John Fox will play acoustic guitar music and Reuter will make a few remarks. A second Reuter exhibit, "While You Were Sleeping: St. Louis at Night," runs in the gallery at Left Bank Books from July 12-September 15. Also look for his new book of photographs, "Welcome to the Southside," at finer bookstores around town. (AED)
---
Wednesday, July 10
Whitaker Jazz Festival: Fontella Bass
Missouri Botanical Garden, 4344 Shaw Blvd.
Free, all ages, 7:30 p.m., 577-9400, www.mobot.org
Finally, St. Louis rediscovers one of its own: Fontella Bass (better known as the set of pipes behind the now-oldies-hit "Rescue Me") gets part of her due in this latest installment in the glorious Whitaker "Jazz in June" series at the Garden. There's this urban legend that the fabulous Fontella was sitting, sort of forgotten to history and in near-poverty, watching television one day and happened to notice the Pizza Hut ads of a few years back which used her song but the lyric "Deliver me" to advertise their pizza delivery service. She thought, "Hmm, mightn't they owe me some royalties for that?," contacted her lawyer, and is now doing much better. I can't verify this, but it gives me hope that one day my life will become enriched by something I see on t.v. (AED)
---
Wednesday, July 10
A P.O.V. Summer Film Series: "Refrigerator Mothers"
University of Missouri-St. Louis, Pilot House, 8001 Natural Bridge
Free, all ages, 7:00 p.m., 314-521-9153
Over three weeks in July, UM-St. Louis will highlight three documentaries, prior to their showing on local PBS affiliate KETC. On this evening, the program "explores the traumatic legacy of blame, guilt and self-doubt suffered by a generation of women who were branded 'refrigerator mothers.'" The show will be rebroadcast on Channel 9 on Friday, July 19 at 10:30 p.m.
The other two films in the series (UM-St. Louis — Channel 9):
"Mai's America": Wednesday, July 17, 7 p.m.; Friday, August 9, 10:30 p.m.
"Escuela": Wednesday, July 24, 7 p.m.; Friday, August 30, 10:30 p.m. (TC)
---
Thursday, July 11
"St. Louis: Landmarks and Historic Districts"
Reading and book signing by Carolyn Hewes Toft and Lynn Josse
Left Bank Books, 399 N. Euclid
Free, all ages, 7 p.m., www.left-bank.com
People in the know around town know that Landmarks Association is a treasure, and often the only voice of sanity in the misguided parking-lot-as-progress environment that can sometimes accompany the city's dream of development. Support their efforts, but just as importantly, acquire your own copy of a magnificent second edition of their definitive guide to what's historic and architecturally significant in St. Louis. The authors will be on hand to sign and answer questions about this long-overdue update that's a must for any St. Louisan's library. (AED)
---
Monday, July 15
Hungry Young Poets reading
Duff's Restaurant, 392 Euclid
$3, 7:30 p.m., 314-533-4541
The popular River Styx magazine reading series continues with local emerging poets, including Dolsy Smith, Amy Debrecht, Eve Eldred, Pamela Garvey, Robin Neal and Eric Meyer. Musical interludes, a nice touch to cleanse the poetry palate, will be courtesy of talented songwriter Brandy Johnson. Ladies and gentlemen, don't forget to tip your waitress (and not with some kinda low-rent haiku scribbled on a napkin...). (AED)
---
Monday, July 15
Monday Movie Night: "Ghostbusters"
Frederick's Music Lounge, 4454 Chippewa
Free, 21-up, 7 & 10 p.m., www.fredericksmusiclounge.com

Okay, we'll confess to having a touch of fondness in our hearts for this 1984 pop hit, featuring Ray Parker Jr.'s irritatingly-catchy title song. We hope Paul brings some marshmallows to go along with the club's damned fine popcorn. (TC)
---
Tuesday, July 16
SoGrand Parties in Tower Grove Park
Tower Grove Park entrance at Grand Blvd.
Free, 5-7 p.m., 314-772-5750, sgrandcid@sbcglobal.net
Why should Clayton have all the fun? The Grand South Grand district puts its own spin on parties in the park, with a series of third Tuesday happy hours featuring live music (this month's band is funky Boogie Chyld), food and beverages for sale, and atmosphere and people-watching yours for the taking. Stick around afterwards and saunter down to Grand's United-Nations-of-food to find dinner. (AED)
---
Tuesday, July 16
The Possibilities with Public Defender
Frederick's Music Lounge, 4454 Chippewa
$4, 21-up, 9:30 p.m., www.fredericksmusiclounge.com
Athens, GA, has been pumping out quality bands since the days of Pylon, the B-52s and Dreams So Real (oh, and R.E.M.) and the run still hasn't stopped. Fitting for an Athens band, the Possibilities have a new record on Parasol Records, "Way Out," which mixes and melds styles. Here's the skinny on the album:
"'Way Out' is a very textured album; we tried to experiment with all kinds of sounds and make a record that you can listen to over and over picking out new things each time. We rotated our vintage guitars with a variety of vintage amps and tube mikes. Our keyboard player uses all kinds of interesting instruments (a Wurlitzer, Farfisa and Hammond organs, a Mellotron, etc) and makes each one distinct with tube amps, distortion, fuzz and classic echo. All five of us sing throughout the whole record; most of the songs have different combinations of lead vocalists with everybody else filling out the background harmonies. We've tried to show respect to all of our influences with 'Way Out,' while at the same time trying to create new styles and sounds." (TC)
---
Sunday, July 21
Kraig Kenning Steel Guitar Concert
Carpenter Branch Library, 3150 S. Grand
Free, all ages, 2-4 p.m., 314-539-0305
I know what you're thinking: "When, oh when, will National Slide Guitar Festival champion Kraig Kenning come back to town with his smooth, acoustic blues-y style that has been compared to Bruce Cockburn, Jackson Browne and the Grateful Dead?" Well, that's just the kind of popular demand that has heralded the man's triumphant return, an encore performance from an appearance last year. Seriously, slide guitar is pretty cool. (AED)
---
Tuesday, July 23 - Sunday, July 28
St. Louis International Film Festival: St. Louis Filmmakers Showcase
Moore Auditorium, Webster University, 470 East Lockwood
$7.50, all ages, various times, 314-454-0042
If you were to imagine a virtually comprehensive program of St. Louis film and video work from the last year (and beyond), this would pretty much satisfy your yen. A number of separate sessions will take place each day: weeknights will feature 7:00 and 9:30 showings, while the weekends will show projects from noon 'til well into the evening. Everything from micro-shorts to full features will be shown, in any number of genres. Check the website for the full rundown of programming, which, again, is far too comprehensive to list here. (TC)
---
Wednesday, July 24
Double Dutch Rope-A-Thon
Baden Branch Library, 8448 Church Rd.
Free, ages 5 & up, 3-4 p.m., 314-388-2400

Double Dutch! I am so jealous of the girls in my neighborhood — from teensy tots who can barely walk on their own to teenagers who always are slinking about with surly looks on their faces, except when the jump ropes appear — all of whom can jump through these crazily spinning ropes, so fast their feet are a blur. If, like me, you suffer from Double-Dutch Envy, make the trip up to the tippy-top of the city and learn a trick or two. B.Y.O. rope (or perhaps there'll be some there) and jump rope to popular music. Nellyville and Double Dutch? I like the sound of that. (AED)
---
Thursday, July 25
Storyteller Blake Travis: Stories from the Global Village
Whitaker Theatre at the Pool Pavilion in Tower Grove Park
Free, all ages, 7 p.m., 314-771-2679, www.yastl.org
Boy, that Whitaker Foundation is everywhere, ain't they? (See "Whitaker Jazz Festival," above. Hey, Whitaker Foundation: let's talk! "The Whitaker Commonspace" has a kind of enchanting ring to it, for the right sponsorship level...) But I digress. The good folks of said foundation have teamed up with Young Audiences of St. Louis to present a summer's worth of free, family-friendly arts and culture events in the cooling water area of the park. Tonight's edition features popular storyteller Blake Travis, who works his magic with tales from diverse cultures that teach universal lessons. (AED)
---
Saturday, July 27
Compton Heights Concert Band: Classic Movies
Laumeier Sculpture Park, 12580 Rott Rd. (at Geyer Road)
$5, all ages, 7 p.m., 314-821-1209, www.laumeier.org
Relive the full cinematic experience in this concert which features clips from classic movies shown while the band performs the sweeping movie scores. Just like at the real movies, concessions will be available for sale, although one hopes they won't recreate the experience so authentically that a 16-oz. Coke runs in the $5 range. (AED)
---
Wednesday, July 31
The Art of Spinning Tops with Hiroshi Tada
Central Library, 1301 Olive St.
Free, all ages, 3-4 p.m., 314-241-2288
Also known as The Top Man, Tada is often seen at gathering spots around town (Forest Park, various street festivals), delighting young and old with his gyrating. Well, not his own, you understand, but rather the whirling, twirling objects found in his pushcart. Today, he'll demonstrate tricks and illusions using flat tops and ropes. (AED)