Nashville, Tennessee, known to many as Music City, USA, is rapidly becoming known as much for its urban planning initiatives as its music. Design and planning for sustainable growth have soared to the forefront in local news articles and discussion within community and business organizations. While the results are only beginning to appear, Nashville appears able to set the pace for the state and the southeast, as well.
Change begins with leaders and Nashville has many, from government officials to active citizens. Mayor Bill Purcell tops the list and has built his administration around building neighborhoods. One of his first achievements was hiring Rick Bernhardt as the Planning Department's Executive Director. Mr. Bernhardt, a native Nashvillian, brings more than thirty years of experience in planning for memorable places to a city thirsty for focus and direction. Together, this team, along with other department heads, is working toward a better Nashville and Davidson County.
Nashville's Urban Design Forum and Civic Design Center
Nashville's renewed interest in planning and design issues followed a long road to today's opportunities. In 1995, a small group of architects, planners, landscape architects, developers and interested citizens began meeting in a local art gallery to discuss planning and design issues that faced the city. Fed up with the lack of attention from public officials to design, an ad hoc group was formed that advocated good judgment on development issues. This group was fueled by the resurgence of urbanism that was occurring across the nation as a result of a planning movement called the "New Urbanism." New Urbanism advocates the return to the traditional city planning principles of the street, the block and the building, as opposed to the suburban model of the arterial, the cul-de-sac and the McMansion. Articles in Time, Newsweek and architectural and planning journals offered Nashville glimpses of New Urbanist projects across the country. As a result of acquired knowledge and continued interest, Nashville's group quickly became a formal organization. The Nashville Urban Design Forum was born.
In 1996, the Urban Design Forum hosted its first continuing education classes in urban design. Mark Schimmenti, a well-known and well-respected architect and urban planner from the University of Virginia, had just recently accepted a teaching position at the University of Tennessee. Mark's extensive experience in urban history and design led him to Nashville where he became teacher and mentor to interested professionals. The classes were very successful and led to the Urban Design Forum's association with Vanderbilt's Institute for Public Policy. The Forum soon realized, however, that the best influence they could provide on urban issues would be through the establishment of a Design Center similar to one in Chattanooga led by another University of Tennessee professor, Stroud Watson.
In 2001, the Nashville Civic Design Center opened with support from the University of Tennessee, Vanderbilt University and Metropolitan Government. The Design Center acts as a think tank for urban issues and an extension of the Urban Design Forum as a medium through which local designers and developers can present their local work for discussion and feedback. Mark Schimmenti was named Director of Design and John Houghton was named acting Executive Director. To date, the Center has completed studies for the Rolling Mill Hill, Cameron-Trimble and Capitol View neighborhoods, as well as hosting charrettes and lectures on urban design issues facing Nashville in the very near future.
New Planning Policy Approach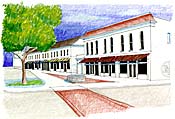 As for Nashville's regulatory framework, the planning department (under Mr. Bernhardt's guidance) has been reshaping planning policy with an emphasis on design and community participation in the process. Starting with the north Nashville community, the planning department has developed a new approach to replace the broad painting of land use policy in community plans. The department's new approach is top down in its establishment of community and neighborhood structure to its final detailed vision of individual neighborhoods. Charrettes, or intensive design sessions, are held for community-wide issues as well as for individual neighborhoods. The process certainly involves the public much more than in the recent past. Eleven of twenty-two neighborhood plans are now complete for north Nashville and the rest are soon to follow. Each plan establishes land-use categories and building types appropriate to each element of the neighborhood whether they be center, edge or in-between. Development scenarios, in the form of plans and three-dimensional drawings, provide residents and property owners the opportunity to see how planning policy may be implemented and the chance to suggest revisions.
At a regional scale, the planning department has completed studies of areas where development pressure is great. Without knowing where and in what pattern development might actually occur, these regional plans establish street hierarchy and connectivity, as well as locations for new neighborhoods and schools. This transportation framework of neighborhood connectors becomes the guide to the location of growth.
Implementation is the department's biggest challenge, as the number of developers interested in this new approach is small. Yet, as awareness increases and education continues, many believe these numbers will grow. On top of that, the city's zoning ordinance is geared more toward conventional suburban development than urban development. A variety of existing overlay districts have made it possible to implement good planning, but the process must become easier. This will only occur after the public is aware and understands the alternatives to conventional development that exist today. Mr. Bernhardt feels that the best way to increase awareness is to get good examples on the ground for people to see. Luckily for Nashville, brownfield redevelopment, urban neighborhood revitalization and infill, as well as greenfield neighborhoods underway, offer the opportunity to provide examples in the Middle Tennessee area.
The Gulch
Veteran Forum members and local developers Bill Barkley and Steve Armistead are spearheading the redevelopment of 50 acres of industrial wasteland, known as the Gulch, into an edgy, urban neighborhood of lofts, cafes and shops. In its earliest stage of development, the Gulch already promises to be Nashville's first new, inner-loop neighborhood in decades and, arguably, one of its funkiest. Together with Steve Turner and Joe Barker, New Urban Ventures has begun the implementation of an ambitious $350 million, ten-year, Looney Ricks Kiss-designed master plan located near Nashville's renovated train station and future transit hub. Currently, the developers have thirty acres under contract with more to come and some renovation and construction underway. Armistead Barkley's Stephanie Allen states, "The idea of building this neighborhood incrementally, as opposed to building all of it at once, will be a key to its success." The development program includes 350,000 square feet of retail, 2,000,000 square feet of residential, 80,000 square feet of lodging, and 800,000 square feet of office. Negotiations are complete or underway for approximately 15% of the retail component. The Mercury View Lofts, thirty-two dwellings in a steel and glass tower with skyline views, are nearing completion and most are already reserved. The mid-rise tower, designed by architect Manuel Zeitlin, rises above existing low-rise warehouses that have recently been renovated into a bakery operation with retail as well as restaurants. Infrastructure improvements will begin in the fall, rounding out the first phase of development. "We're starting with a critical mass of mixed-use framing a public space, with the idea that the neighborhood will grow from there," says Ms. Allen.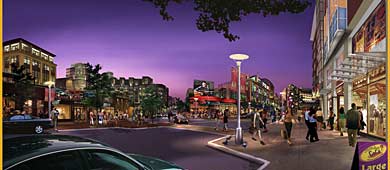 Germantown
The resurgence of older residential neighborhoods led the way in Nashville's urban renaissance with the redevelopment of areas such as Hillsboro Village and East Nashville. Nashville's latest neighborhood jewel is Germantown, north of the recently constructed Bicentennial Mall, a lushly landscaped foreground to Capitol Hill, in north Nashville. The renovation and restoration of houses in the area had been steady for more than ten years, and now even vacant lots are seeing infill of housing and mixed-use buildings. Germantown Partners, LLC, is one of the developers that has settled in Germantown and has dedicated its work to recreating a sense of place that was lost. Led by Scott Chambers and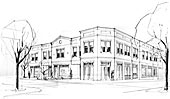 Andrée LeQuire, Germantown Partners has built and sold eleven single-family houses and is currently finishing the first new mixed-use building, designed by Peter Talbot Architects and Ben Baxt Associates, that the neighborhood has seen in decades. The project is approximately 10,000 square feet on two floors, with 5,000 square feet of retail and restaurant use at street level and six apartments above, ranging from 575 square feet to 1,000 square feet. It has not been entirely a smooth ride in dealing with infrastructure concerns, as Mr. Chambers points out. "It would be great to get the utilities companies on the bandwagon, at least within our urban neighborhoods," he said. His frustration is a result of the challenges that many developers face with infrastructure standards, placement and construction within the older public realm. He adds, "If the city is going to encourage new development, then incentives or infrastructure relief are critical to making this happen in older areas." This has not stopped Germantown Partners, however, as they will soon begin construction on their second mixed-use building at the opposite end of the one under construction. In the new building, they are attempting to accommodate smaller tenants such as a coffee shop and small bakery. And the community has been behind the two pioneers the whole way. Mr. Chambers adds, "It's been great working with a dedicated, visionary group of people with an appetite for urban development."
Lenox Village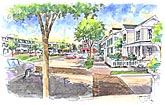 Nashville's first greenfield, traditional neighborhood is now under construction in the southern portion of the county. Lenox Village, a 100-acre New Urbanist development designed by Looney Ricks Kiss, features an interconnected street network and a well-balanced mix of housing types, from apartments to custom homes. Streets as narrow as twenty-six feet with on-street parking calm traffic, while sidewalks, street trees and pedestrian-scale lighting enhance the pedestrian experience. All of this is within a quarter mile, or a five-minute walk, of a proposed village center with a mix of uses such as cafes and shops at street level and small offices above. Regent Development, known for its quality conventional development, accepted the challenge of creating Nashville's first TND and has worked vigorously to learn from the successes and failures of similar developments around the country. Phase one is well underway with twenty-eight homes sold, some of which are not yet under construction. Prices range from $86 to $100 per square foot and have continued to rise as development becomes more visible. This makes investors and financiers more at ease than they were at first. "Local bankers and appraisers have never seen this before and so the learning curve is substantial," says Regent's Dave McGowan. "Luckily, Amsouth Bank stepped up to the plate for us and gave us a chance." Mr. McGowan anticipates a seven-year build-out for the 560-unit development, which is similar to the projected build-out for conventional suburban development. When asked about the cost to develop a traditional neighborhood, Mr. McGowan said, "We have found that our infrastructure costs have run about 30% higher, but it all works out because our density is higher." He goes on to say that interest has been from educated buyers who are familiar with this type of development. "They have sought us out," he says. Regent is committed to the project and sees opportunities for many more traditional neighborhoods on the horizon. "It must be done right with quality," McGowan says "When doing a TND, one must have patience and an eye for detail."
The Region and Beyond
Nashville is rapidly becoming a competitor for the suburbs and counties that make up its metropolitan area. Now, people are beginning to commute between edge cities as well as into the heart of the region itself. A new non-profit group, Cumberland Region Tomorrow, has accepted the daunting challenge of shaping growth policy in the region. They have begun with a regional visioning project that helps to determine from the community where growth should occur and in what form. Sustainable and smart-growth initiatives have continually surfaced as blueprints for regional growth and communities are leading the charge. Williamson County, which has seen explosive growth in the past decade, has recently approved its first traditional neighborhood development, Southern Land Company's Westhaven. Pleasant View Village, in the Cheatham County town of Pleasant View, is a welcome addition and alternative to the placeless subdivisions and strip malls that tend to engulf similar small towns. Proactive city leaders have thrown their support behind the Village, developed by Holt Development Co., with the hope that it will set the example for future development.
Smart growth in Tennessee is not for everyone, but it is high time that we think critically about the strain on our infrastructure, our land and our personal lives that placeless sprawl unmercifully inflicts on an unknowing public. As Rick Bernhardt says, "It's about offering people choices."
Keith Covington is an architect and planner with the Metropolitan Planning Department's Urban Design Studio.