INSPIRATION

It was a perfectly timed turn of events. We met for the first time on February 3, 2001, having traded only a few confirmation e-mails. Not even knowing who I was looking for, I arrived at (undisclosed location) with a medium format camera and a bag full of 'D' cell batteries for the flashlights. I was excited to embark on my first Urban Exploration tour under the guidance and expertise of the all-about-town — including the underground — Steven Fitzpatrick Smith. It proved to be a turning point in both of our daily lives. We formulated our project that very day, and now as I write this we are nearing completion. But let's not get ahead of ourselves!
Fresh from an exhilarating tour of one of the city's most impressive (and, sadly, decrepit) buildings, the conversation turned quickly to broader things. Steve and I discovered immediately that we shared an enthusiasm and curiosity for our fair city, St. Louis. By fair, of course, I don't mean average. The talk became animated as we traded secrets of St. Louis and spoke idealistically of its potential.
Of course, we both know the city has its problems, like any city. We are not ones to deny that. But one of the most amazing problems, we decided, is the city's apparent lack of self-esteem. Even the latest (at the time) advertising campaign for St. Louis — apparently trying to make us feel better about our city — settled for presenting St. Louis as cheaper than New York or Chicago; better at sports than Boston; or, essentially, not that bad.
We discussed the ramifications of the campaign, which was aired on radio and television as public service announcements (PSAs), at length. Yes, the ads were well-produced. Yes, they were clever. I'm not afraid to say that they made me laugh. But we all know rent is cheap and our sports teams are good, right? Well those aspects of St. Louis are great, there is no denying that, but what about the rest of St. Louis — to name a few: the history, the architecture, the neighborhoods, the free concerts in the park (which one?!), or even the people, the citizens of the city? And why must we try and throw dirt on the charms of other cities — is it an effort to make our city's shine less dull in comparison? Surely there is a better way to promote our city, for its shine is not dull in reality — let its charms speak for themselves.
Within minutes we were colluding, in mixed outrage and excitement, to create our own campaign — not a flashy abstraction, but one that was in touch with the city, showing off both its grit and its glamour. Apparently Steve had already attempted to arrange a meeting with key players and was basically ignored; so I said, simply, "I've got a 16mm camera at home, let's do it ourselves." (A 16mm, you ask? What's that, some sort of video camera? See the "Technical Details" section below.) About two weeks later we proposed the project to Metropolis and they passed it with our requested budget of $1,000 (later to be upped to $2,000 via fundraising and additional Metropolis support); Avid Composer suite time was donated pro bono by the generous and super-friendly, all-around good guy Patrick Barlow of Barlow Productions.
PROJECT DETAILS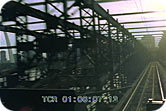 The project consists of 12 individual public service announcements, shot on 16mm film. The first six PSAs consist simply of visual and auditory explorations of some of the many treasures of St. Louis — its architecture, events, people, and the like. The second six PSAs are short interviews or "profiles," if you will, of interesting St. Louisans, made with a straightforward documentary approach. And who better to offer a fresh perspective than a few of the many new inhabitants of St. Louis, excited to have discovered this beautiful city after having moved here from such "exotic" places as Chicago, Portland, or even Warsaw, Poland.
We have been shooting film every weekend and on weekday evenings (basically when we're not working our full-time jobs) for the past three months, covering over 30 locations. Many of those locations I've had the good fortune to visit for the first time, including: St. Alphonsus the Rock cathedral on North Grand Ave.; and an unfinished wing of the City Museum on Washington that promises to be yet another incredible expansion of one the greatest city playgrounds in the country, in my opinion. We are making an effort to cover as much ground as possible to show off the diversity of the city.
Currently we are in post-production, meaning that we are beginning the final edits. We are still out there shooting some "B" roll footage (extra shots to augment or replace current footage), but about 80% of the footage is "in the can." All told, we will have about 70 minutes of footage with which to cut a dozen 15- to 45-second PSAs. We have a fair amount of Foley FX gathering to do, and we are currently reviewing submissions of local music for accompaniment.
TECHNICAL DETAILS
All of the footage in the campaign is shot on 16mm film. I've used mostly Kodak color film stocks, including 50D, 100T, 200T, 250D, 500T, and 800T, as well as two rolls of Ilford HP5 125 ISO black and white stock. I own all my own equipment, which is a major factor in why we were able to produce this so inexpensively. Our costs consist almost entirely of film stock, developing, and transfer.
Many television shows (dramas and sitcoms) are produced using 16mm because cost is low (compared to 35mm, which is used for most feature films), film grain is minimal on a TV set, and the aspect ratio of the film frame is virtually identical to the dimensions of the TV frame. Here is some of the main equipment I used on this project:
Beaulieu R16 camera, modified by the Film Group in Connecticut with a crystal sync motor, adding the capability of driving the film through the aperture plate at exactly 24 frames per second with no variations in speed.


Lenses: Angenieux 12-120mm T/2.5, Computar 12.5-75mm T/1.2, Angenieux 25mm T/0.95, Angenieux 10mm T/1.8, Switar 10mm T/1.6.


Davis & Sanford fluid head tripod — the fluid in the ball bearing system allows for smoother pan and tilt movements, a must for film production.


A homemade dolly of plywood and casters.


A lighting clamp, modified for use with the camera — I used this on Steve's convertible for driving shots.


Various battery packs, cables, filters, gray cards, air duster cans, a cable release, and a Minolta Spotmeter M that I'm really surprised I haven't lost yet.


An EMT medical bag with velcro dividers and side pouches that I purchased for $1.50 at a thrift store and now houses my camera kit perfectly — including the lenses, filters, batteries, tripod screws, pressurized air, allen wrenches, and other necessities.
The footage is developed in New York City because there are absolutely no motion picture film labs in St. Louis. The camera was tuned up and serviced in Chicago, because there are no local film camera technicians as far as I know. All other services involved in the project are performed by local talent. The lab transfers the film to Betacam SP, a standard broadcasting format, after which it is sent back to me and edited on an Avid Media Composer system at Barlow Productions. Rough cut edits were done with a combination of equipment, including a Pinnacle DV500+ at Pfeiffer Plus, two separate Sony VX1000 miniDV cameras, and a laptop with Premiere 5.1c.
SUMMARY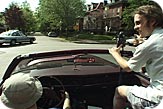 The project has been a fantastic experience. We held a free-entry fundraiser at Frederick's Music Lounge, where we showed a "making of" video (shot on DV, thanks to Angela McClure and Ran Mano for the equipment) to a packed house and exceeded our goal. Three local bands (the Adult Toys, Red Squares, and Bay Say Boos) played the gig for free, providing fantastic entertainment. We projected rough cuts of the actual film from a laptop (at low "preview" resolution) at the Celebrate the City party, Metropolis' annual fundraiser. Steve is now a good friend and we work together like old pros — so far we've been able to avoid stepping on each other's toes. That's the way it's supposed to work between a director and a producer.
All of this said, the final goal is to show off the marvels of St. Louis as they are — thriving, exciting, and diverse. We present to you a selection of interesting and beautiful things in St. Louis, including both the mainstream and the esoteric — from Union Station to boxing murals, the Wainwright building to the Angel of Harmony statue, welders and artists, teachers and musicians, Soulard Market and much more. We want to entice viewers to go out and explore on their own, because behind corner after corner there is a treasure, sometimes buried and sometimes standing tall and monumental in the open air.