"I SHOT ANDY WARHOL"
Friday, July 6, 7:30 p.m.
Saint Louis Art Museum Auditorium
Free, all-ages
The flyer for this one is remarkably simple. A date, a note about the film, a time, a simple graphic. Nothing extra beyond this. A part of a summer series of free films? Dunno. A one-off? Doesn't say.
This 1996 film, directed by Mary Harron, stars Lili Taylor as "Scum Manifesto" author Valerie Solanas, in one of her best performances. Also notable is masterful character actor Jared Harris, doing one of the sharpest Andy Warhol recreations in the recent spate of films dealing with the pale artiste. Clever, creepy and dealing with a subject matter rife for revisionism, Harron's film is clearly centered on Taylor's performance, captured just at the time of her rather underwhelming move from art films into the mainstream.
Good flick, great price.
---
MASSAMALGAM
Saturday, July 7, 9 p.m.
The Galaxy, 1227 Washington
Admission: $10 (available through Metrotix or at venue)
A night of exploratory sounds and spoken word, this monthly event has been put together by Mark Deutsch, an experimental composer, musician and instrument creator. The performance will include several musicians from New York, as well as some of the regular members of the ensemble from St. Louis, including John Wolf, Todd Mosby, Eric Hall and poet Zaire Imani.
---
ST. LOUIS RECORD & CD SHOW
Sunday, July 8, 10 a.m.-4 p.m.
American Czech Hall, Landsdowne & Kingshighway; 821-9121
Admission: $2.50
This space has sung the praises of the Record Show before, but here's a new pitch: not only can you get a wild array of really cheap vinyl, CDs, cassettes, bootleg videos, even 8-tracks, you can also run across some real historical gems from St. Louis' musical past. Last time out, for example, I picked up a copy of a local jazz group, "Saints and Sinners," performing live at the Jefferson Hotel, now the Jefferson Arms. Fun stuff and worth having if only for curiosity's sake.
These shows tend to bring out an intersecting cross-section of hermits, vinyl junkies and cheapskates, each of them finding what they need: a pop culture fix at a reasonable price.
---
DUFF'S MUSIC NIGHT
Monday, July 9, doors at 7:30, show at 9:00
392 North Euclid; 361-0522 (www.dineatduffs.com)
Admission: $3.00, 21-up; $5.00, under-21
Duff's has been putting together interesting triple-bills of genre-blending music for the past couple months. This time out, the three bands include Dub Kitchen, dub reggae; Fred's Variety Group, ragged indie pop; and Languid, jam-inflected rock'n'pop. Not exactly an early night for the kids, this show starts late and runs into the early-morning hours, for folks looking to get the week started in style.
---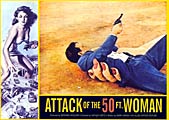 CINEMA IN THE CITY
"Attack of the 50 Ft. Woman"
Wednesday, July 11, 7:30 p.m.
Beatnik Bob's in the City Musuem, 15th & Lucas; 968-7487
Admission: $4, all-ages
This month's installment of the popular series features a 1958 sci-fi classic, with a movie poster that rates as one of the best of the genre: a giant woman straddling a freeway, grasping at cars, while suit-clad men run in horror. Checking in at a lean, mean 66 minutes, this Nathan Juran-directed work centers on the following: "A scorned woman with a philandering husband has an alien encounter and grows to mammoth proportions in this hilariously awful science fiction movie, with some of the funniest special effects of all time. Starring Allison Hayes." (It says here that any Allison Hayes film is worth seeing.)
Note: due to the 4th of July falling on a Wednesday, the evening's shifting to the second Wednesday of the month. Bring a sense of humor and a couple extra bucks for snacks.
---
HUNGRY YOUNG POETS
Monday, July 16, 7:30 p.m.
392 N. Euclid; 361-0522 (www.dineatduffs.com)
Admission: $3
The River Styx series, featuring five or six young poets and the roots band Oat Soda, continues in July with some familiar names on the local poetry scene: Corinne Wohlford, Aaron Belz, J.R. Caines, Lisa Pepper and frequent TCS contributor Kent Shaw.
The scene's generally laid-back, whether we owe that to the relatively young crowd, or the tapped beer, it's hard to say. The inclusion of some live music also keeps the night from becoming too serious or ponderous. A good time will be had by all.