A few months ago, the Cardinals' owners — seventeen businesspersons, mostly men, mostly from Ohio — announced their intention to build a new ballpark, complete with "Ballpark Village," a six-block complex of entertainment, housing, and office space. Packaged as an economic development deal to save and create jobs, the Cardinal owners asked taxpayers to foot two-thirds of the cost of the new stadium, then estimated at $370 million.
With the proposal came a threat that was hardly subtle: Give us the money or we'll leave. City, county, and state officials, speculating that the move would cost Missouri many jobs and tax dollars, began meeting with Cardinals' representatives in closed-door sessions. When asked for details, they replied only, "We're making progress."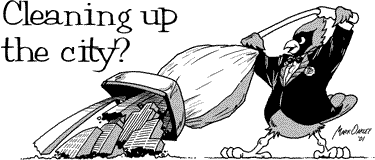 Throughout the city, county, and region, citizens began to grumble. Polls showed that almost three-fourths of area residents opposed using public money to build the ballpark, even though the reasons cited varied widely:
Some saw sports-related funding as "corporate welfare" to benefit wealthy cronies of elected officials.


Some, looking at the current economic situation and the tight budgets of the City of St. Louis and the State of Missouri, said that the proposed deal wasn't fiscally sound, and would end up diverting resources from much-needed government services and proven economic development programs.


Some, speaking from a faith perspective, said that tax dollars should be spent for the public good and especially for our neediest neighbors, not to increase private wealth.


Some declared strong support for the free market and a belief that profits are readily available for all who work hard and work smart; government handouts to businesses are inappropriate.


Some opposed taxation, and saw this as a new levy of public fees.


Some looked at the deal, and wondered, if the prospects of financial return were accurate, why such a complex deal was necessary when a variety of easier government development programs were available.


Some simply said that the wealthy Cards' owners should BYOB — "Buy your own ballpark." Obviously several of the owners could write a single check on any day and pay for the entire project.
In April 2001, the Regional Economist, a publication of the Federal Reserve Bank of St. Louis, ran an article called "Should Cities Pay for Sports Facilities?" Written by local Fed economist Adam M. Zaretsky, the article presented much evidence that ballparks and stadiums are bad investments for urban areas. In fact the article quoted Roger G. Noll and Andrew Zimbalest, authors of Sports, Jobs, and Taxes: The Economic Impact of Sports Teams and Stadiums:
"A new sports facility had an extremely small (perhaps even negative) effect on overall economic activity and employment. No recent facility appears to have earned anything approaching a reasonable rate of return on investment. No recent facility has been self-financing in terms of its impact on net tax revenues...."
Yet no organized opposition appeared until May. After discovering their mutual passion for the issue, former mayoral candidate Michael A. Chance, Dick Illyes, a software developer and political organization chair, writer and historian William H. Leckie, Jr., and social justice activist Jeanette Mott Oxford agreed to call a meeting of those who oppose public funding for stadiums. Out of that May 21 meeting, the Coalition Against Public Funding for Stadiums was born. The purpose statement of the Coalition is: To prevent the use of public funds for professional sports stadiums or any other sports-facility related project.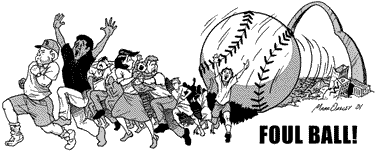 The Coalition has agreed that its strategies will include:
lobbying local and state officials;


requiring a public vote on any proposal to use public funds for a sport-facility related project through an initiative petition or referendum effort if necessary;


pursuing any responsible and legal means to prevent the misuse of public funds for such sports facilities;


educating the public about the risks of investing economic development dollars or other public funds in sports facilities;


encouraging citizens to contact their elected officials with their opinions on public funding for such projects.
On Tuesday, June 19, St. Louis Mayor Francis Slay, County Executive Buzz Westfall, and Missouri Governor Bob Holden held a joint press conference at City Hall to announce that they and the Cards' owners have reached agreement about a deal. They boasted that the stadium will pay for itself with new revenues, but many questions remain to be answered:
Who lays claim to various revenues produced by a new ballpark? Who gets the naming rights, concessions, parking and suite revenue, and how much rent will the team pay? It may be when we know the details that all money put up by the Cardinals are returned to them through this income.


Will there be enough money in the "naming rights" fund to cover shortfalls in revenue projections that could leave the County, City, and State holding the bag? Who pays if there isn't enough money from the fund to make the payments on the bonds?


When, if ever, will the Ballpark Village be built? If it isn't built, will there be a real, significant penalty to the Cardinals, at least enough to make up the loss of revenue to the taxpayers? Or will those six blocks become just another surface parking lot in downtown?


What happens to the property taxes the Cardinals are currently paying on Busch Stadium? Can the Cardinals be legally required to continue making those payments to the public schools, the sewer district, and the City, even though they no longer own the property?


If the new stadium is built, will it be only for the exclusive use of the Cardinals baseball team? Or, as a publicly-owned facility, will it be available for other uses, including non-sports events?


What impact will fewer seats and more higher-cost luxury boxes have on attendance and fan turnout?
CBS Affiliate KMOV-TV took less than 24-hours to report that the amount of money put up by governmental entities was far higher than originally stated once interest was compounded over 30 years. The total amount of aid the Cardinals demand from governmental sources totals almost half a billion dollars after interest is calculated:
State: $7 million a year, $210 million with all charges and fees added


County: $2 million year, adds up to $95 million


City: $4.2 million each year; adds up to $126 million
Likewise, on the day of the press conference, St. Louis City Comptroller Darlene Green announced that she does not believe that the Cardinals' deal is a fiscally sound agreement for the City of St. Louis. Green commented, "This agreement opens the City up to certain contingent liabilities that negatively impact the City's credit and the City's ability to fund future projects. I cannot agree to sign the MOU until we have tied down the issues that negatively impact the City...."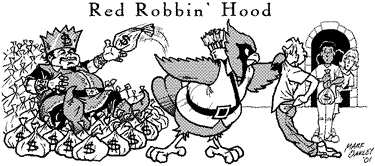 The battle over the stadium continues. The Coalition Against Public Funding for Stadiums is gathering petition signatures in St. Louis City to enact an ordinance that would require public hearings and a public vote on any public financing for new professional sports facilities. A similar petition drive for St. Louis County is being investigated. We're asking that citizens throughout Missouri make calls and write letters to their elected officials opposing the use of public funds for such an unsound investment.
To contact the Coalition write P. O. Box 2142, St. Louis, MO 63158, or call 314-771-8882. The e-mail address of the Coalition is stopballpork@juno.com.
Jeanette Mott Oxford has a twenty-year history of working to eliminate poverty and prejudice through advocacy, education, and action. Currently a consultant, she is a former director of the Reform Organization of Welfare and a graduate of Eden Theological Seminary.
Michael Chance is a ten-year resident of St. Louis City and works for SBC Services as a Programmer/Analyst. Mike is veteran of the Air Force where he received an A.S. in Data Processing from the Community College of the Air Force.