Celebrating its one-year anniversary in January 2002, Mad Art Gallery has evolved into one of the most innovative art spaces in the St. Louis area. Housed in a former art deco police station in Soulard, the gallery was launched by artist and St. Louis county

police officer Ron Buechele. Raised in Venezia, Illinois, on a strict diet of pasta putanesca and orange Nehi, Buechele has been a Soulard resident for 15 years.
I met Ron for the first time in September. Because we are both participating in the January 19th exhibit honoring Mad Art's one-year anniversary, I had the opportunity to talk to him about his roles as artist, gallery director, and police officer.
What inspired you to become an artist? A police officer?
I'm not sure that it was any one thing or combination of things necessarily. I've been making art since I was a kid. The police officer part promotes positive cash flow. The balance of the two keeps my life from spiraling downward and out of control. My father is an artist and I have cousins who are police officers.
What do your police colleagues think about the gallery?
Most of them think the renovated police station is really cool. That's about all they communicate. A few of them are supporters of the arts and have made their interest clear.
How do you balance your full-time job as a police offer with running the gallery?
The gallery not only needs to be run, it needs to continually evolve. There is so much to do every day in terms of the gallery — I don't look at it as balance. I just have to get up every day and do the next thing. And right now, I work full time at night. People ask me all the time if I sleep... I do.
I know at least half a dozen people who had ideas about what to do with that space, but you were able to make something happen. How did you make the decision to open Mad Art and did you encounter any major obstacles?
Mad Art was meant to happen somewhere. I'm glad it's in one of the coolest old buildings in the city. Resistance and obstacles are everywhere. I try and approach them openly — I just use what I've learned from each of them to build a stronger and more perfect foundation for this space. "Doubt" is a word I don't entertain. The greatest risk is not taking one.
How did you decide on the name Mad Art?
There is a quote about madness preceding genius...I like the idea of an almost crazy dedication to creating. I hope Mad Art conveys that energy.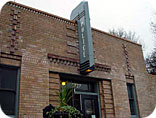 What was your original vision for the gallery and how has it evolved over the last year?
I envisioned a space full of artists — a studio share — private and really for their collaborative use. Then reality kicked in and I had to figure out how to pay the bills. So, it's more about the art community now. It's more accessible to a wider range of people. And I'm renting the space as an event venue so the art is more widely seen and work is selling. Mad Art takes no portion of any artist's sale. That's why we rent the space — to pay our bills. We represent ourselves as an opportunity for the community to support a venue where local and regional artists can have a voice that might otherwise never be heard.
What has surprised you the most?
So many people continue to help Mad Art to evolve to my standards, gifted people willing to work intensely with me towards that end. It's like the vision I've conveyed is clear to them. Also it was a surprise to get some great awards this year, like the RFT Critic's Pick for Best New Gallery in the 2001 Best of St. Louis Poll. And we were the recipient of an award from the Landmarks Association as one of the 11 Most Enhanced Properties in St. Louis. That was an honor.
What have been the most frustrating aspects of the gallery?
Different things can be frustrating — from meeting building codes and historical requirements to everybody wanting something for nothing. It is very hard to get started in any venture, trying to explain to people that this building runs on dollars just like every place else. Mad Art doesn't sustain itself on promises or good faith...and Mad Art gets fed before I do. I've had good advice from really good friends and contacts in Soulard. I've learned a lot.
What types of shows seem to be the most successful and what are some of the most memorable events over the past year?
The one that comes to mind first was the Behind the Mask show, with artists Phil Jarvis and Jeff Lockheed. That was a very successful show and those are two artists I admire greatly.
Another highlight was the NadaDada show in April, which showed some great student work. One artist lay on a bed of groomed sand under an enormous block of dripping ice — wearing a suit and trapped in an elaborate body cage. He subjected himself for hours to a water torture that fascinated the masses. That show had a great review.
Skif International and Threads of Life put on a tremendous charitable production on November 8th. The fashion show was a high-energy event that incorporated so many talents from various areas. There were some great minds behind that event and their dedication paid off.

What excites you?
Memories of my childhood in black-and-white, grainy super-8 playing on the inside of my eyelids while I sleep. The big red ball. Um, ok, the brick oven we're building in my courtyard will be really great when it's done. I guess I'm always looking forward to the next thing. So it's never the same thing that inspires me or that I look forward to.
Do you have any advice for other artists? Or police officers?
To the artists: stop talking so much and get into your studios.
To the officers: get out while you're still young.
Describe your typical day:
I get up at dawn, eat on the run — adhering to a strict diet of pork rinds and double caramel macchiatos — climb into my big truck and head down to the gallery to start where I left off the day before: Design, build, repair, scrub, lift, drag, move, nail, patch, screw, unscrew, adjust, hang, readjust, assemble, tear down, untangle, unravel, sweep, dump, purchase, sell, insulate, x-ray, power wash, mow, trim, plant, transplant, water, feed, wheeze, gasp, answer, sign for, balance, call, discuss, negotiate and weld.
Then at 4:00, I change in a nearby phone booth to my police uniform and go to work for the public good until 1 a.m. After that I usually go straight home and make a gourmet pot of pasta to share with my girlfriend and my dog, Clio. I sleep sitting up in a wooden chair by an open window waiting for the sun to rise. I try to reserve Sundays as studio days.
Where do you see Mad Art and yourself five years from now?
20 years ahead of our time.
Andrea Avery is a St. Louis artist and writer whose work can be seen in the January 19th Potato Eaters Exhibit at Mad Art Gallery.