Friday, January 4
"The Ice Storm"
Saint Louis Art Museum, Forest Park
7:30 p.m., free, ages 17-up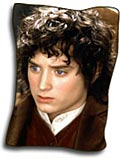 Part of the fantastic Ford Free First Friday Night series (say that three times fast, friend), this screening of the 1997 Ang Lee film examines the hellish chill of 1970s suburban life, as seen through the eyes of two families torn apart by sexual experimentation and Vietnam, among other intrusions. Hometown boy Kevin Kline (who's still a good actor, even though he dissed the St. Louis International Film Festival by nixing his appearance at the last minute) stars, along with Sigourney Weaver, Joan Allen, Christina Ricci and Elijah Wood, before he was all the rage as the furry-footed Frodo. Not exactly a comforting film for the new year, but perhaps a good, bracing start. (AED)
---
Sunday, January 6
St. Louis Record & CD Show
American Czech Center, 4690 Lansdowne
10 a.m.-4 p.m., $2.50, all ages
A South City tradition, the St. Louis Record Show brings together the cult of vinyl collectors every two months. Granted, you can also buy bootlegs, posters, concert videos, cassettes and even eight-tracks, but the real appeal is digging through box after box of vinyl, generally sorted in no particular order. You can spend 15 minutes at one of these events, or two hours. Either way, you'll probably walk out with something you didn't need and didn't even know you wanted 'til you saw it priced at 99 cents. Enjoy, and save room for a pretzel. (TC)
---
Monday, January 7
"The Simpsons" Marathon
Frederick's Music Lounge, 4454 Chippewa
5:30 p.m., free, 21-up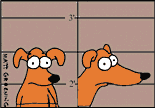 The Monday Movie Night series at Frederick's is already one of the most notable events around town on an otherwise blasé evening, with bartender and co-proprietor Paul Stark busting out his video/DVD collection for a hardcore group of regulars and drop-ins. And "hardcore" is exactly the term for those wishing to catch the entire first season of "The Simpsons" in one sitting. All 13 episodes will play, including some classic moments in recent animation history. Remember the adoption of Santa's Little Helper? Do you recall that Smithers was actually black in the first season? Ditto Flanders? Well, then head on down. You don't even have to ring the bell anymore, though you can if you wanna. (TC)
---
Tuesday, January 8
Olympic Torch Relay
Start point: The Gateway Arch
2:50 p.m., free, all ages
If you're among the hardcore who get Olympic fever early and often, why not jump-start your own, personal "Road to Salt Lake City" (as those touching network vignettes will undoubtedly be titled) by saluting the Olympic torch as it passes through town? There are ample opportunities for the viewing, as the flame enters St. Louis at the Arch, winds a big circle through much of South City and the Central Corridor (including a turn through, of all places, the A-B World Brewquarters Complex; pay-for-placement, perhaps?), before ending up in Kiener Plaza at 7:15 p.m. Perhaps the least crowded place to watch? The kinda dicey section of Chouteau from Broadway to 18th St. Don't get too attached, though, because the torch has got to keep moving: it covers a total of 46 states and 13,500 miles on its way to Utah. See the St. Louis route map at stlouis.missouri.org/citygov/mayor/olympics. It's a heckuva lot easier way to participate than getting on one of those freaky skeleton things. (AED)
---
Wednesday, January 9
Cinema in the City
"The Abominable Snowman of the Himalayas"
Beatnik Bob's Cafe, the City Museum, 15th & Lucas
7:30 p.m., $4
The monthly series continues in the camp vein this time out, though the film will unspool on the second Wednesday of the month, rather than the first, allowing for just a little extra recovery time from your New Year's Eve revelry.
Here's the rundown on the good stuff: "Good guy scientist John Rollason joins an expedition with adventurer Tom Friend to discover the elusive Yeti. Against the wishes of the High Lama who befriends them, they journey into the Himalayas to find success. Soon, other Yeti approach to save their own — oblivious to the increasing conflict between science and commercialism." A message film, then, as well as knee-slapping humor and white-knuckle thrills!
Arrive early to secure yourself a good table. Otherwise, you might wind up sitting on a pot or series of cookbooks. Don't even think I'm joking. (TC)
---
Saturday, January 12
Tropic of City and Art Chantry "Instant Litter" exhibit opening
City Museum, 15th & Lucas, 314-231-CITY
10 a.m.-5 p.m., $7.50 for museum admission (free if in swimsuit), all ages
Honestly, we don't get paid off by the City Museum. (You'll note, they're not even among our advertisers. Note to self: get City Museum to advertise.) But they just pull off some of the coolest stuff in town. Take, for example, the events of this Saturday in January: first, frolic in a mid-winter tropical paradise right here in the Midwestern tundra, as the Tropic of City gala brings swimming pools, sand and soothing masseuses to the museum to banish the blahs. Enjoy the strolling Latin musicians (well, the music will be Latin; the musicians themselves, we're unclear) or avoid dive-bombing tropical birds as you take in City's sights. Among those sights: an exhibit of work by the awesome pop artist Art Chantry, designer and illustrator of tons of cool album covers, social protest posters and more. If you've ever enjoyed the collage poster advertising the "Rocky Horror Picture Show," you already know his work. Throw on a two-piece and come on down! (AED)
---
Monday, January 14
Malcolm Gladwell reading from "The Tipping Point"
Left Bank Books, 399 N. Euclid, 314-367-6731
7 p.m., free, all ages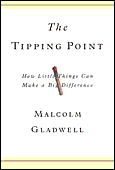 It's like the phrase "bowling alone" in the wonky civics circles: "the tipping point," the little thing that happens at just the right time in just the right place that makes an idea catch on like wildfire. How does everyone just suddenly know that the Sex and the City girls aren't drinking cosmopolitans anymore, but flirtinis? For that matter, how does a little book written by a New Yorker staff writer become a huge, word-of-mouth phenomenon? That's the tipping point in action, baby, and it's better to understand it and make it work for you than to remain ignorant of its existence. (Note to self: start this meme — thecommonspace.org is where it's at.) (AED)
---
Wednesday, January 16
The Movement, Pontiac, Asia Minor & Clear the Mechanism
The Creepy Crawl, 412 N. Tucker, 314-621-9019
8:00 p.m., $5-ish, all ages
If you've not been to the Creepy Crawl lately, then you're missing out on a scene-unto-itself. Half the club is cordoned off by fencing, so that the kids don't come around and get the place in trouble with liquor control. Within the fence, you'll find a few drinkers, though they're often outnumbered by youngsters, pressed up tight to the stage, or slung around the periphery of the room, checking out who's there. Catering to bands who wouldn't get much of a shot to play the other rooms in town, the Creepy Crawl attracts a wide range of acts, though most fall into the overall umbrella of punk rock.
If you know all the bands on any multi-act bill, then you're better than us. These groups come and go with some surprising speed. Occasionally, though, you'll find one and completely fall in love with the sound. Hence, our plug this month for The Movement. A top young band with a fine future, should they actually determine that self-promotion's okay. In the meantime, we'll plug for them. (TC)
---
Thursday, January 17
Urban Forum Series
Investing in Regionalism — The Role of the State
Missouri History Museum in Forest Park, Lindell & DeBaliviere
7:00 p.m., free
This monthly series allows civics wonks a chance to gather and hear national and local experts hash out "best practices" for building community. The program begins with some introductory notes from a local moderator, allows for an address by the guest speaker, then opens up the dialogue with questions from the audience. Sometimes that can be a pretty lively portion of the evening. Here're some notes for this month's lecture:
"If the old axiom 'as the city goes, so goes the region' is true, then state governments have every incentive to establish policies that empower central cities to shape their surrounding metropolitan area. Truly good governance requires that governors around the nation foster region wide relationships among their local leaders. The National Governors' Association has offered New Community Design (NCD) as a tool for addressing growth issues. NCD principles, which promote mixed-use and mixed-income development, aim to create and foster vibrant neighborhoods within walking distance of businesses, jobs and civic services. Spend the evening with Joel Hirschhorn, Natural Resources Policy Studies Director at the Center for Best Practices, National Governors' Association, as we explore the role of state government in this kind of regional planning. What are the benefits of traditional American town planning for a modern era?" (TC)
---
Friday, January 18
Marty's Baking at the Left Bank opening
Euclid & McPherson in the Central West End
8 a.m.-5 p.m.
The popular bakery/eatery from the Fox Park neighborhood is slated to debut another locale on this day, though restaurant openings can always be a bit dicey. The new Marty's location will sit right next door to the fantastic Left Bank Books, adopting the shop in the naming. A venue that's held several coffeehouses over the past few years, this one will hopefully last, adding to what's arguably the most active, vital, yet far-from-overwhelming corner in the City of St. Louis. Hours of operation are slated to be 8 a.m.-5 p.m., Monday-Friday; 9 a.m.-6 p.m., Saturday; and Sundays from 12-6 p.m. (TC)
---
Saturday, January 19
"The Potato Eaters: Dig It Baby!"/Mad Art One-Year Anniversary
2727 South 12th Street, 314-421-3077
7-11 p.m., $3 and/or a potato, suggested donation
Intended as a one-year anniversary party for the Mad Art Gallery, a five-artist, multi-media show is planned for this evening at the intriguing old police station in Soulard. Five artists (Nina Ganci, Ron Buechele, Andrea Avery, Frank O'Brien and Rebecca Stees) will display solo and collaborative works in photography, video, painting, drawing, neon, fiber, food, fire and ice.
Apparently, the potatoes you bring as part of the admittance aren't just gags. They'll be used as part of the show during the evening. If they'd arrive salted, fried and on a plate, that'd be just fine.
This is exactly the kind of fun, quirky event St. Louis needs more of. For more information visit The Potato Eaters' incredibly well done Web site at www.thepotatoeaters.com or email us@thepotatoeaters.com. (TC and BHM)
---
Saturday and Sunday, January 19 and 20
Eagle Days, Old Chain of Rocks Bridge
8 a.m.-4 p.m., free, all ages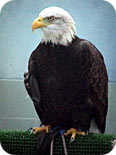 There's no better place than the Old Chain of Rocks Bridge to get a great view of nature and a great view of downtown. This annual eagle-watching event is hosted by Trailnet, the Missouri Department of Conservation and the Illinois Department of Natural Resources. Last year, it attracted hundreds of winterizing American bald eagles and several thousand gawking people.
Bring a pair of binoculars and a sense of patriotism to get a better look at our national bird. An educational eagle program will be given every half hour from 10 a.m. to 2:30 p.m., and the World Bird Sanctuary will provide a hand-held eagle for an up-close look. Lewis and Clark re-enactors will also be on hand.
Free parking is available at the St. Louis Welcome Center at Riverview and I-270 and Riverfront Park, off of Riverview south of the waterworks. A free shuttle will be available from either location. Parking at the Missouri Bridge entrance will be $5; handicapped visitors may park in this lot free of charge. Expanded free parking is also available at the Illinois bridge entrance.
If you can't make it on the 19th or 20th, the bridge will be open for "on your own eagle viewing" on Saturday and Sunday, January 26 and 27 from 8 a.m. to 4 p.m. (BHM)