How do you build an internationally recognized model management company in a small community in Iowa? Why would you even attempt it? At the height of your success, where does the desire to relocate and start fresh come from? And why Saint Louis?

The Genesis approach to modeling was founded on taking a stand against the recent influx of scams within the industry. Most notably, these take place within the model scouting realm. Genesis is owned and operated by me and my husband, Jeff Clarke, a Saint Louis native. We work as a team with our associate, Aaron Kirchner, also a Saint Louis native. Our company has been in business for ten years now, and we are excited about all the new opportunity relocating to Saint Louis holds.
Before you can fully understand why we are the only company of our kind in the United States, it's critical you see the quiet scandal of the industry as a whole.
For whatever reason, there is an insatiable interest among many Americans to either be a model or have their children model. Unfortunately, this desire has become big business for many shrewd entrepreneurs with little or no knowledge of how the industry really functions. Couple this with the fact that most Americans who have an interest in modeling themselves know even less of the inner workings of our industry...and it spells trouble.
After spending about five years participating in the country's largest model and talent convention, we saw a change in the organization. We began witnessing the "selling of the dream to model" to anyone willing to shell out thousands of dollars in their pursuit, regardless of age, height and look. The last event we attended had over 4000 contestants. It became apparent that the scouts and agents attending these events to find new faces — the "industry insiders" — were as disenchanted as we were.
Add to that weekend model searches/discovery events, held in large cities throughout the year, herding through upwards of 18,000 kids annually. And let's not forget the oldest approach of all in the model-dream trade: modeling schools, most notably two franchised companies with locations throughout the U.S. These companies sell the dream of being a model in 6- to 18-week courses. Tuition for these training centers ranges from hundreds to thousands of dollars. The latest additions to the mix are modeling websites (selling portfolios and web pages for upwards of $600 per person), and comp card mills (selling photo shoots and comp cards to anyone who has the money to spend). Each maintains little regard for real potential, actually convincing naïve guys and girls that they will be booked for jobs and signed with agencies that way. All of these approaches rely on one thing and one thing only to make money: numbers. It's the old quantity, not quality, game.
We set out to make a change. We restructured our company to scout more and hold our own events, launched our mission statement, and in our first event received greater interest in our models than any other scouting event in the U.S. We have maintained that same degree of consistency for going on three years now. Here is how we do it: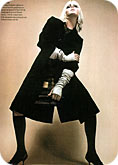 Genesis scouts and develops new models to present to the industry for representation worldwide. In a year's time, we present about 150-200 new faces. At each event, our models gain interest from attending agents at a staggering rate of 85-90%, unprecedented at a national level. We manage our models and work collaboratively with the model bookers, scouts, and agency owners of the most highly regarded agencies in the world. We have not only created a network of Genesis scouts searching for new faces throughout the Midwest, but these scouts are trained to look exclusively for models with real potential in the fashion editorial end of the industry. In other words, the crème de la crème — the models with potential for major campaigns and editorials globally. All of the aspiring models we find throughout the year are presented bi-annually at our Genesis New Face Collections, where the best agencies travel from New York, Los Angeles, Miami, Paris, Milan, and so on to our city, for the most prestigious scouting event in the world. From now on, all of these events will be held right here in the St. Louis metro area.
Although the fashion industry spans every major country in the world, there is within it a community of the best agencies, a network of companies where word is spread quickly with inside news, who's who, and what new changes are happening daily in the ever-changing world of fashion. Even though our relatively small company has been headquartered in a small Iowa town for the past ten years, Genesis has become part of that exclusive global network. We have earned our place by building a rock-solid reputation for doing things the way they should be done, for creating an unmatched number of successful models placed throughout the world, for discovering superstars at the local gas station, and for maintaining an honorable approach to the scouting and model management industry at large. We maintain strong relationships with nearly 100 of the top agencies in the world. Our models appear regularly in campaigns for Versace, Calvin Klein and Armani Exchange (to name a few), and are seen in editorials in Vogue, Elle, W and Bazaar.
St. Louis provides a wonderful climate for great growth while maintaining our Midwest routes. While we considered Chicago for our expansion, we realized that would not be a wise business choice, as we have a strong network of agencies we work with located in the windy city. St. Louis really held much more varied prospects for creating and expanding the metro fashion community. We will begin booking locally and regionally; up to this point, Genesis hasn't focused on booking at all. We have been the only company of our kind, who direct-booked models throughout the world, and we can now add our local community to the mix.
While Genesis held a special fashion show in November to give St. Louis a taste of things to come, our first official event is slated for March 8-10, 2002, here in downtown. Approximately 25 of the most regarded scouts, casting agents and magazine editors from around the world will be here for our Spring Collection 2002. Our show on Saturday evening, March 9, is open to the public, and we are excited for all who attend to see the spectacular production Genesis has become known for.
Our daily operations take place in our home office in University City, as we are also busy parents to four awesome kids! We maintain a studio in the Fashion Square building in downtown St. Louis, at 1307 Washington Avenue. Our studio is used for open calls, castings, and photo shoots. More information is available by calling 314-721-0110. We are in the midst of relaunching our website, www.genesismodels.com, and in the meantime e-mail updates are available through info@genesismodels.com.