Cities — they are amazing and intriguing places. At their best, they are geographic areas that bring together diverse groups of people — young, old, gay, straight, black, white, immigrant, native — into true, complex communities. These are places that encourage what author Iris Young calls "city life," which she defines as "a form of social relations." It is the situating of "one's own identity and activity in relation to a horizon of a vast variety of other activity...and the awareness [that] this unknown, unfamiliar activity affects the condition of one's own." This is community at its most basic and fundamental level — an understanding that, like it or not, we are all connected. At their worst, cities can be cold and unfeeling places, devoid of spirit and all too often devoid of population. These kinds of cities seem to have lost their identities, their distinct qualities. They appear to have forgotten their histories, the elements out of which they were originally created. Ultimately, "there is no there, there" in these places.
While no one has yet discovered that elusive formula which makes cities vibrant breeding grounds for social capital, rather than lonely and sad places, it is not for lack of trying. Universities house urban studies departments, civic organizations publish reports, and radio talk shows are often sounding boards for complaints about sprawl, political corruption and crime within our core cities. We, as a society, constantly struggle to understand what makes our urban areas tick.
How it All Began. . .

The Missouri Historical Society, an institution that resides in an urban environment, is ideally situated to contribute to this ongoing dialogue about cities. The museum is a place that seeks to articulate how past choices affect current situations. The museum also has a very serious commitment to stewardship — the idea that we will make it our obligation to leave this community in better condition for the next generation. These important concepts came into play over a decade ago as the St. Louis Urban Forum lecture series was developed.
The founders of the series, better known simply as Urban Forum, began with the notion that we cannot possibly understand the St. Louis metropolitan area without deeply exploring its central city. It was, after all, the heart of this region for over a century (and many argue that it still is). But St. Louis city is not easily understood. It is truly a community of communities, often fragmented, yet at the same time interconnected in ways that are often unpredictable and surprising. It is a place which for some people evokes memories of childhood and home; to others it seems fearful, a landscape fraught with crime and characterized by abandoned buildings.
In an effort to truly understand the complexities of St. Louis' urban identity, the Missouri History Museum began the "Urban Forum" series by asking authors, journalists, academics, politicians, civic leaders, and others to offer their perspectives on city life. In years past, the "Urban Forum" has covered broad topics such as Living in the City, Sustaining the City, Celebrating the City, The Urban Challenge and the Power of Public Policy. Nationally known guests like Ray Suarez, William Julius Wilson, Brooke Gladstone, and Quincy Troupe Jr. have shared the stage with local folks like Joe Pollack, Freeman Bosley Jr., and Cleveland Hammonds, Jr., just to name a few. These talented guests offered insight into the many ways in which issues like education, immigration, government, social life, religion, the arts and much more function in an urban environment. But the real "meat" of the Urban Forum program is the discussion that follows the lecture. Formulating a solid and informed opinion about an issue requires not only information but dialogue and discussion. This is why the "forum" element of the program is so crucial — and why people who attend know they have really participated in something, rather than simply observing.
The Current Season. . .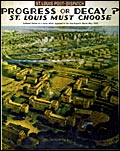 The 2001-02 Urban Forum season, Good Governance: A Regional Choice, began with the idea that St. Louis is now standing on the brink of a decision that may greatly affect its future. In November of 2002, through a statewide amendment, all citizens of the state of Missouri will have the chance to vote on home rule for the city. In short, this amendment could give city residents the opportunity to rethink and ultimately alter their charter, a task that would require much thought and discussion. This series of eight forums, which concludes on May 9th, was developed as a way to assist St. Louisans in forming their opinions about what kind of governing structure might ultimately work best for the city.
We have learned much about good governance in the past eight months. In September, Mike Jones, former Deputy Mayor for Development, spoke frankly about some of the more frustrating elements of city government. In October and November, Dr. Gail Christopher of Harvard and award-winning author Frances Moore Lappé reminded us that democracy is not merely something we have; it is something we must do. In January, Joel Hirschhorn of the National Governors' Association explained that state governments play a crucial role in the empowerment of their central cities. In February, Dr. Carolyn Lukensmeyer, founder of AmericaSpeaks, provided us with proof that large-scale citizen forums actually make a difference in government. In March, Alan Ehrenhalt, author of The Lost City, explained what happens to cities when they merge with their surrounding counties. April's guest, Richard Conlin, a Seattle city council member, cautioned that governmental leaders must think broadly about sustainability, carefully measuring the success or failure of public sector reforms. On May 9, the History Museum will welcome William Barnes, director of Research and Program Development for the National League of Cities. He will ask perhaps the most intriguing question of all, "What kind of future might our cities and our regions expect?"
While the Urban Forum series may not offer solutions to all of our problems, it has provided St. Louisans with multiple ways for understanding their complex city. One lesson that we might take from this most recent series is that, despite some real and sometimes systemic problems, St. Louis does have much to offer. Out-of-town speakers expressed that sentiment time and time again. With some distance, perhaps they can see what we cannot. When it comes to our city, maybe we always have been our own worst enemies. As we continue the discussion, we should be mindful of this question posed by a former MHS president, George Leighton, who in 1883 asked, "Shall we expect others to think well of a city of which we do not think well ourselves?" Hopefully, as we come together and explore "this slippery subject, this city of contradictions," we will better understand the things that hold us back and become reacquainted with all that we love about St. Louis.
The next Urban Forum will take place at the History Museum in Forest Park on Thursday, May 9, 2002 at 7 p.m.
To be added to the St. Louis Urban Forum mailing list or e-mail list, please contact Angie Dietz at 314/454-3113 or by sending an e-mail to: akd@mohistory.org.
For more information about the Missouri Historical Society, visit the MHS website at www.mohistory.org or call 314/746-4599.
Angie Dietz is the Urban Forum Coordinator for the Missouri Historical Society.