It's a small, unassuming building like a lot of other dumpy office buildings along Brentwood Boulevard, but what transpires inside the offices of Kids Under Twenty One (KUTO) can sometimes be a life-or-death matter.
Seven nights a week, from 4 to 10 p.m. during the week and 4 to midnight on weekends, the lone volunteer staffing the KUTO crisis phone line is a voice of hope on the receiving end of literal calls for help, whether resulting from a romantic breakup, trouble at school or hassles with parents or more serious problems like abuse or suicidal thoughts. With more than 1,300 phone calls a year (314-644-KUTO), it's clear that kids in St. Louis value having someone to listen to them.
"We are trained to deal with basically anything a teen could be having trouble with," says Nicole Nehrig, the 22-year-old support staff worker at KUTO on a recent Friday night. Nehrig started as a crisis line volunteer when she was in high school, and now is a paid staff member who serves as a resource for the phone volunteers. If they receive a call they don't know how to handle, or if they just need help getting the right resources to a caller, Nicole can step in. True to KUTO's motto, though — teens helping teens help themselves — she won't answer the phone herself, and must identify herself as "over 21" if she is asked to intervene in a call.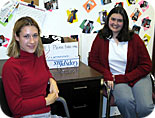 "It's just really important that we are what we say we are, all volunteers under 21," she says. "Often teens will have a better connection with another teen who maybe is going through the same kinds of problems they are, and are not removed from it by even a few years. Plus, I can already feel myself getting to the point where I want to tell the girl who calls crying because she broke up with her boyfriend that she'd been with for two whole months that, you know, it's just not the end of the world. That's not helpful, and it's better if it's someone closer to them in age."
Every night is different in the crisis room — some nights the volunteer and the support staff person can watch two or three movies uninterrupted. ("We watch a LOT of movies," Nicole says.) Other nights, the phone rings non-stop, with the teen volunteer having to triage the calls in order to get to the most urgent ones first. At the top of the log form used to track each call, the volunteers are prompted to say hello, introduce themselves and immediately ask if the caller is having thoughts of suicide. The answer can change everything.
Margaret O'Donnell, a freshman at the Whitfield School, thought the suicide calls would be the hardest. She's been on the phones only since January, but she's already had one big surprise: "I had my first suicide call, and it actually wasn't the hardest one, because I felt like I knew exactly what to say. I was able to just immediately talk through what we had practiced in training." In the end, she felt pretty good about the whole experience.
The job of the phone volunteers is not to tell callers what to do, but to help them find their own solutions to the problems they describe. Some teens who call are so overwhelmed with multiple problems — or, conversely, afflicted with a general malaise that they can't pinpoint — that the volunteers have to ask them to pick one specific area to focus on during the call. Then, the volunteers help the callers create a plan of what particular actions they can take to make the situation better. The volunteers and support staff are trained to make referrals and secondary calls of all sorts, from calling the police to recommending counselors to finding callers space in shelters for the night.
Occasionally, callers want more than the volunteers can give. "You do sometimes get people who want to meet you, to know your identity, who just say, 'You seem like such a nice person. Could we get together and have coffee sometime?'" says Nicole with a laugh. "You really just have to avoid getting into that and redirect the conversation. Also, I've had callers ask me, 'What would you do if you were me?' and we just have to tell them that our reactions aren't relevant to their situation." On one wall of the crisis room, a handwritten chart titled "Frequent Caller Alert" keeps all the 40-odd volunteers abreast of who they might be hearing from often, and what actions other volunteers have suggested to them. No matter what action plan a caller decides on, the volunteers always ask if they can call them in a few days to follow up. More often than not, the callers are happy to have someone want to check on them.
Being someone's shoulder can take its toll; Margaret confided that she feels the most nervous "when the phone starts ringing, because I don't know what it's going to be on the other end," but she says everything changes when she gets on the phone and finds that what she has to say is exactly what the teens need.
I asked her if she thought she'd keep volunteering at KUTO, and her expression took on a glow. "Oh, yes," she said, "I'll do this forever."