Through May 15
MetroLines Public Poetry Contest
Sponsored by Art in Transit, Bi-State Development Agency
Free, all ages, 314-982-1413, ait@bsda.org
Have you ever been headed downtown on the Metrolink and had some lyrical words spring, unbidden, into your mind, as you beheld the industrial landscape? Or made up little stories for yourself about what tales that old, decrepit building your bus passes everyday could tell? Well, slap those lines on paper and enter them in the MetroLines poetry contest! Your words might be chosen to grace Bi-State's various transit vehicles and give other passengers something to read on their commute. To enter, submit one unsigned, typed poem (up to 14 lines) on 8.5 x 11" paper. (Geez, they seem kinda strict for a poetry contest...) On a separate cover sheet, include author's name, age, address, phone number/e-mail and the title of the poem. Categories are: age 11 and younger ($50 cash prize); ages 12-17 ($75 cash prize); and age 18 and older ($100 cash prize). Mail to: Arts in Transit, MetroLines Poetry Contest, Bi-State Development Agency, 707 N. First St., St. Louis, MO, 63102. (AED)
---
Wednesday, May 1
Cinema in the City: "A Midsummer's Night Dream"
Beatnik Bob's in the City Museum, 15th & Lucas
$4, all ages, 7:30 p.m.
This month's installment of the eclectic film series brings a classic to life, the 1935 version of "A Midsummer Night's Dream," starring Mickey Rooney and James Cagney, and directed by the team of Max Reinhardt and William Dieterle. The black-and-white film unspools at 7:30, with doors opening at 7. Often, a discount for nearby Tangerine will be offered at the door, for a post-film repast. (TC)
---
Wednesday, May 1 through Sunday, May 4
23rd Annual St. Louis Storytelling Festival
Various venues throughout the region
Free, see complete schedule
Whether you're young or old, there's nothing like a good story to pique your interest and make you want to hear more. In this four-day festival celebrating the storytelling traditions of our own and other cultures, there's something for everyone, including stories called "It Could Always Be Worse," "Adventures of the Modern Three Bears" and "Rough-Faced Girl." Of particular interest: an evening event called "Later Tales: A Evening of Storytelling for Adults," scheduled for Thursday, May 2, from 7 to 9 p.m. at venues including Aesop's Café, Black Ink, Genesis House, Marty's Baking at Left Bank Books and the Corner Coffee House in Ferguson. Let your imagination run wild. (AED)
---
Thursday, May 2
Reading/signing: James S. Hirsch
"Riot and Remembrance: The Tulsa Race War and Its Legacy"
St. Louis Public Library, Schlafly Branch, Euclid and Lindell
Free, all ages, 7 p.m., 314-367-4120
Brought to St. Louis by Left Bank Books and First Civilizations, author James Hirsch will discuss his historical survey of a 1921 racial battle in Oklahoma that's slipped out of the collective memory of citizens in that city and state. A journalist by training, Hirsch is acclaimed for keeping this book quick-moving and punchy. Some pre-press states: "Hirsch's focus here is not on an individual but on the experience of an entire community, and the evolution of civil rights in the nation that surrounds it." (TC)
---
Friday, May 3
Celluloid Couch film series: "Under the Sand"
Saint Louis Art Museum auditorium
Fine Arts Drive in Forest Park
$3-$6, 17 and up, 7 p.m.
Gotta love Friday night flicks at the Art Museum; I personally have just as much fun watching the motley cross-section of our city that assembles as I do watching the movie. This evening, the film deals with grief, love and loss (all right!), in the tale of an English-born teacher (played by Charlotte Rampling) whose French husband disappears while swimming during their annual beach vacation. She eventually returns home and finds another love, but continues to see and talk with her dead husband. (AED)
---
Friday, May 3
BT (DJ set)
Velvet, 1301 Washington Avenue
$20, 21 and up, 9 p.m.-3 a.m., www.synergystl.com

Remix star BT will spin at Velvet, compliments of the increasingly active Synergy group. Instead of bringing a live performance, as he did at Mississippi Nights last year, he'll be on the ones-and-twos for this show. Known for both original cuts and remix chores, BT has worked with underground dance artists and chart-toppers alike, achieving a crowd-pleasing sound. (TC)
---
Friday, May 3 and Saturday, May 4
Janis Ian in concert
Center of Contemporary Arts, 524 Trinity Ave.
$20-$25, all ages, 8 p.m., 314-534-1111
Anyone who's ever been a moony middle-school-aged girl should hold a soft spot in her heart for Janis Ian, whose heart-breaking ballads like "At Seventeen" speak to the loneliness of being the tortured, misunderstood deep thinkers that all teenagers are. Ian has also brought controversy and moxie to the forefront with her feminist sensibilities and challenging lyrics. No yesterday's star, she continues to write and record, with the Boston Globe calling her most recent album "perhaps her most potent yet." (AED)
---
Saturday, May 4
Grand Market Open-Air Artists' Market
Leon Strauss Park in Grand Center, Grand and Washington
Free, all ages, 9 a.m.-4 p.m., 314-533-8825, www.stlgrand.com

Ok, this we love. It seems that finally some things are moving in the so-much-potential/never-enough-realization area of Grand Center — for starters, the open-air Grand Market that will bring local artists and entertainers to the verdant Leon Strauss Park on the first Saturday of each month. Artists will have a place to hawk their wares, people (and their children) will have a pleasant place to walk around and enjoy themselves, Grand Center will have the foot traffic it so desperately needs...what's not to love? This is the kickoff day, so come be a part of history. And hey, look for the staff of your favorite online magazine while you're there...(AED)
---
Saturday, May 4
The Tuskegee Syphilis Experiment: A University Response
Saint Louis University campus
Anheuser-Busch Auditorium at the Cook School of Business, 3674 Lindell
Free, all ages, 1-3:30 p.m., 314-0977-7170
If you've not yet discovered the stunning Museum of Contemporary Religious Art on the SLU campus, the current exhibit is as fine a reason as any to do so. "The Greater Good: An Artist's Contemporary View of the Tuskegee Syphilis Experiment" is a chilling look back at the federal government's program studying the disease in black populations of the South, which had long-lasting ramifications for race relations, public health programs and lingering distrust of the government. The panel discussion scheduled for today brings together the artist (Tony Hooker), the son of a Tuskegee participant (William C. Wyatt), and SLU faculty in African-American studies, internal medicine, law and health care ethics. After the discussion, a reception will follow at MOCRA, where you can see Hooker's work, including videotaped interviews with a black nurse who participated in the experiment and an unapologetic white doctor who designed it. (AED)
---
Saturday, May 4
Caveman Classic Bodybuilding Contest
Meramec Caverns, Stanton, MO
$17-$30, all ages, 6:30 p.m., 636-451-5400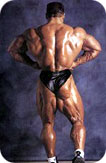 Ok, fine: technically, this is not happening in St. Louis (it's about an hour out of town, "headed down sunny 44 Highway"). But c'mon, people! It's the world's only bodybuilding contest held inside a cave! A cave, I say! The sheer wackiness alone ensured its inclusion in our monthly roundup of Things We All Should Be Doing. Add to that the categories — men, women, couples (ahem) and wheelchairs (huh?) — and you so must go there. And in case you're worried about claustrophobia, don't be: the venue has seating for more than 2,000 (that's more than twice as many folks as The Sheldon holds, for example.) Top winners in the Open Men's and Women's competition take home trophies and hand-crafted wooden clubs. I wish this happened every night. (AED)
---
Sunday, May 5
Tour de Fat, A Ballyhoo of Bikes and Beer
World's Fair Pavilion in Forest Park
$5 for bike rides (free for children), other activities free
All ages, 9 a.m.-6 p.m., 314-416-9930
Hey, kids, do you love the bikes and beer? Then this event is tailor-made for you. New Belgium Brewing Co., purveyors of the fine Fat Tire ale, figured out an ingenious way to dovetail their product and a fun bike event, resulting in the Tour de Fat. For cyclists, the morning starts with 14-, 28- or 37-mile rides leaving and returning to Forest Park. Returning cyclists or even (gasp!) the non-athletically inclined then have the afternoon to look forward to, with kegs of Fat Tire, crazy bicycle games (including something called the "paperboy challenge"), food for sale, a vintage bike show, music by local bands and an appearance by the zany Banana Bike Brigade. All proceeds go to Trailnet, a local organization that advocates for recreational trails, cycling and other good things. Ah, more ideas should be thunk up over a couple of beers...(AED)
---
Sunday, May 5
"Persian Presence" art opening, by Julia Thornburg
Genesis House Gallery, 6018 Delmar
Free, all ages, 3-5 p.m., 314-726-4063

St. Louis artist Julia Thornburg, fresh off of a show at the Mad Art Gallery, offers new works at one of the anchors of the eastern end of the U. City Loop, Genesis House. The show is described like so: "Persian influenced art, including images containing Rumi and modern poetry in Farsi script, images of ancient Persia, and modern interpretations of traditional designs." (TC)
---
Monday, May 6
River Styx Annual Art and Literary Feast
Duff's Restaurant, 392 N. Euclid
$45, all ages, 6:30 p.m., 314-533-4541
There's just too much good stuff going on this evening, but we must tell you it all in the name of democracy. Information wants to be free! If you enjoy the cultural life of our city, then you surely must appreciate the influence that the literary magazine River Styx brings to that scene. Show your support — and enjoy some great food and entertainment, to boot — at this fundraising dinner, featuring poet Donald Finkel, novelist Sena Jeter Naslund, and author and Washington Post book editor Jabari Asim. Music by the Willie Akins Duo will complement the rest of the goings-on. (AED)
---
Monday, May 6
Reading/signing: Lynn Breedlove, "godspeed"
Left Bank Books, 399 N. Euclid
Free, all ages, 7 p.m., 314-367-6731
The songwriter of San Francisco queercore band Tribe 8, Breedlove is in town to read from her debut novel, "godspell." The work centers on Jim, "a punk dyke bike messenger living and loving in San Francisco." Not content to slip out of town with just a lecture, Breedlove will join Nomy Lamm, the Star Death and the Jellycups onstage at the Way Out Club almost immediately following the Left Bank gig. (TC)
---
Monday, May 6
Confluence Benefit
Beale on Broadway, 701 S. Broadway
Donations requested, 9 p.m.-1 a.m., 314-721-2541
The local environmental/political zine will feature a handful of blues bands and solo acts on this evening, with proceeds benefiting the publication. Among the performers are: the Bottoms Up Blues Gang, Matt Murdick, Brian Curran, Irene Allen, Sharon Foehner and Macy Thomas. (TC)
---
Tuesday, May 7
Bartok Folk music
Piper Palm House in Tower Grove Park, Tower Grove and Magnolia
Free, all ages, 7 p.m., 314-286-4432
The Saint Louis Symphony's struggles and triumphs during a difficult season have been well-documented, but less well-known are the many programs they bring to the community outside of the regular concerts at Powell Hall. The Community Partnership Program, under whose umbrella this concert falls, is one great example. Come early, as these performances are cherished by the surrounding neighborhoods and tend to fill quickly. Tonight, Silvian Iticovici performs Bartok's solo violin sonatas. Stick around afterwards for conversation and refreshments. Yum. (AED)
---
Friday, May 10 through Sunday, May 12
"Code Unknown," Webster University Film Series
Moore Auditorium, 470 East Lockwood
$4-6, all ages, 8 p.m., 314-968-7487
A film starring cult favorite Juliette Binoche, this French work from 2000 studies the effects of multi-culturalism on modern Parisian society, through five characters "all brought together by an ugly chance confrontation." Much critical acclaim for this Michael Haneke film, which will play for three nights in the comfortable Moore Auditorium. (TC)
---
Saturday, May 11
Crowe T. Kids Benefit
Crowe T. Brooks Gallery, 1520 Washington #7
$10, 8-10:30 p.m., 314-753-0904
Held at the cool Crowe T. Brooks Gallery, high above the construction of Washington Avenue, this event will raise funds for the South City Open Studio and Gallery for Children. Food will be donated by some of South City's finest merchants, including MoKaBe's, Mangia Italiano, South City Diner, Mekong and the Black Thorn. Music will be offered from Tomorrow's Caveman, the Phonocaptors, the Potomac Accord and Chris Deckard, who's playing everywhere this month. See "CAMP" below. (TC)
---
Saturday, May 11 - Sunday, May 12
Craft Alliance student/faculty sale
Craft Alliance, 6640 Delmar
Free, all ages, 10 a.m. - 5 p.m., 314-725-1177
The public can mill around the sidewalk in front of the Craft Alliance these two fine spring days, looking and (organizers hope) buying crafts from the faculty and staff of the Alliance. Works in a variety of media will be represented, including glass, clay and metal. Forty percent of the proceeds will go directly back into educational efforts at the long-running facility, with the remainder pocketed by the artists. (TC)
---
Monday, May 13
Reading/signing: Lana Stein
"St. Louis Politics: The Triumph of Tradition"
Duff's Restaurant, 392 N. Euclid
Free, all ages, 5:30 p.m., 314-361-0522
If you're looking for that one, single volume summing up politics in St. Louis, you might be disappointed, though Terry Jones' "Fragmented By Design" comes awfully close. Lana Stein, an UMSL professor who has written extensively about civics in St. Louis, might come even closer to that authoritative text with this one, described as examining "the major themes in urban politics during the last century: race, redevelopment, leadership and suburbanization." Sounds like an excellent primer on Our Town's recent socio-political past. And, knowing Stein's predilection for detail, it'll be a highly annotated work, giving you hints on where to search next. This lecture is sponsored by Left Bank Books, which hosts another speaker on this evening, Carol Ortlip, reading from "We Became Like a Hand: A Story of Five Sisters." (TC)
---
Tuesday, May 14
Raven Moon at the Twilight Tuesday series
Front lawn of the Missouri History Museum in Forest Park, Lindell Blvd.
Free, all ages, 6:30-8:30 p.m.
It's fun to be outside on a nice spring evening, and even funner (if I may say "funner") when the entertainment is the hardest working bluegrass/pop/Cajun band Raven Moon. Vocalist Christine Peick has an amazing repertoire, and she's more than ably backed by the Raven Moon pickers, who've mastered several guitars, a mandolin, a harmonica, a fiddle and more among 'em all. This is music to tap your feet to, so bring a blanket and enjoy. (AED)
---
Friday & Saturday, May 17 & 18 and May 24 & 25
Love Boat Live!, by the Magic Smoking Monkey Theatre
ArtLoft Theater, 1527 Washington Ave.
$8, performances at 8 and 10:30 p.m., 314-534-1111, www.metrotix.com

Exciting and new, that's what the irreverent Magic Smoking Monkey Theatre's productions always are...(and to think, many of these folks are actually paid, serious, professional actors during the rest of the year, many with the great St. Louis Shakespeare company that performs in the Grandel Theater.) But I digress. Suffice it to say that the folks who've brought you "Plan 9 from Outer Space" and "Planet of the Apes Live" know what they're up to, and it's always a good sign when Charro is written into a script. Have a few drinks beforehand, bring your friends and don't miss the sailing of this summer's production. Word to the wise: even though you technically can, don't show up at the door and expect to buy tickets. Smart cookies know they usually sell out, and it's a bummer to have to turn around and head home when you didn't make reservations. (AED)
---
Sunday, May 19
Walk of Fame Induction Ceremony
Blueberry Hill, University City Loop, 6500 Delmar
Free, all ages, 1:30 p.m., 314-727-STAR
Well, the inductees are a secret until show time (presumably someone'll let them know they should be there?), but with forerunners like Mary Engelbreit, Kevin Kline, Redd Foxx, Charles Lindbergh and Auguste Chouteau, we should be in for a treat. Stick around after the ceremony for a free concert. I don't think those performers are necessarily a secret, but I sure couldn't find 'em listed anywhere...(AED)
---
Friday, May 24
CAMP Fundraiser
City Museum, 15th & Lucas
Donations requested, 7 p.m.-3 a.m., www.stlcamp.org
In attempting to purchase a communal building along South City's historic Cherokee Street, several local not-for-profits are banding together to shape space and/or reduce costs from their current homes. The groups include Confluence, the Center for Alternative Technology, South Side University, Food Not Bombs and the Gateway Green Alliance, which has long held a storefront on Delmar. Though combined, the groups — now collectively known as CAMP, the Community Arts and Media Project — will need to raise just over $30,000 by the end of May to secure their space. On this evening, the City Museum will be taken over by In/Flux, who bring in a host of musicians, groups, and DJs, including: Krucial, Needles, Secret Weapon, LeeTV, Alexis, Dirt & Li'l Edit, Cougar Shuttle, the Star Death, Urban Jazz Naturals and Chris Deckard, among them. Various other multi-media events will take place throughout the vast space. For more info on the event or CAMP see the website listed above. (TC)
---
Saturday & Sunday, May 25 & 26
St. Louis African Arts Festival
Saint Louis Art Museum, Fine Arts Drive in Forest Park
Charges vary for each activity, all ages
One of the highlights of this year's African Arts Festival is a free, guided tour of the museum's excellent African and African-American collections, offered on Saturday at 11 a.m. and 3 p.m. and Sunday at 2 p.m. In addition, there are family art-making activities, a salute to St. Louis' black filmmakers and a Saturday night concert by world-renowned Oliver Mtukudzi and Black Spirits. (AED)
---
Saturday, May 26
Prince Paul @ the Washington Avenue Beat Festival V
The Galaxy, 1227 Washington, and other venues
$10 at door, $12 with all-entry wristband, 21 and up, 9 p.m.-3 a.m.
At the cusp of the 1980s/1990s, Prince Paul was working with some of the cutting edge members of hip-hop, including production work with Stetasonic and De La Soul. In the past decade, he's continued to combine with an eclectic host of cohorts, as a behind-the-scenes producer and remixer. He's also worked in a handful of all-star ensembles, including Handsome Boy Modeling School and Gravediggaz, and has released a pair of solo albums. His appearance at the Galaxy (set up by the newish Sensored Media production crew) is one of the highlights of the fifth Washington Avenue Beat Festival, a night which really hints at how big the strip could become, with a handful of the more settled/tried-and-true clubs teeming up to bring a deep night of electronic-based music to St. Louis. Don't like what you're hearing at one club? Just move down the block. You'll generally find something you can groove to within a stop or two. And on this evening, the Galaxy should be on your list. (TC)
---
RECURRING
Tuesdays
Dave Landreth
Tangerine, 1405 Washington
21 and up, 10:30-11:30 p.m., 314-621-PEEL
Blake Brokaw enjoys the occasional change-up, which is why it shouldn't be too shocking to find Landreth, a consistent performer on the local bluegrass and roots scene, playing self-described "old-time banjo" music at this hip Downtown locale. (TC)
Mondays
"Ireland in America" with Bernie McDonald
KDHX, 88.1 FM
9 a.m. - 12 p.m., 314-664-3688
Some folks will swear that the only music they hear on KDHX is folk music, specifically Irish folk. T'ain't so. While some Irish tunes will bleed over into other programs, the one concentrated dose you'll get on a weekly basis comes on Monday morning, with Bernie McDonald, who highlights (in particular) the musicians who'll be on the McGurk's stage in coming weeks and months. His accent is a real treat, as are the deep bits of background that he'll give on performers and their recordings. (TC)