Note: The authors will be signing their book, St. Louis Brick, on May 3 from 6-8 p.m. at the Contemporary Art Museum St. Louis, 3540 Washington Ave.
St. Louis City is and for decades has been plagued by urban sprawl and an economic decline, causing residents and businesses to leave for the comfort of suburbia. However, efforts to rebuild and attract new residents and businesses are underway. Lofts are being constructed, office space renovated, parking lots paved. Community interest groups like Metropolis are encouraging the public to enjoy the city's treasures. Local government is offering tax breaks to encourage businesses and residents to return.
Living and working in the city, Kurt Perschke and Christina Shmigel witness this evolution daily. Having experienced similar transitions in Chicago and New York City (respectively), both artists are aware of what is gained and lost when efforts to rebuild a city commence. In their artists' book, St. Louis Brick, they articulate the density and emptiness both artists find particular to St. Louis City.

In our former industrial city and urban center, there are numerous empty buildings and factories, grass lots where structures once stood, and historical architecture from previously affluent neighborhoods. Perschke and Shmigel are intrigued by the freedom contained within the abandonment of the city, and how this feeling of "presence by absence" is captured and represented. Shmigel states, "There are remnants here of a period of industry and great affluence. Many cities have this, but St. Louis' tendency to tear down allows you to see it. In cities like New York, those historical remnants aren't as apparent because they are surrounded by new structures. New York in the '60s and early '70s had many feelings similar to St. Louis — old buildings and bars...the clean up of the '80s and '90s took that away. I have a certain nostalgia for that."
Many St. Louisans are concerned about their city, but with this concern comes contradiction. While revitalization efforts are underway, pieces of history are being destroyed. Some buildings are being renovated and some rebuilt, but others are torn down. Some believe that in order to rejuvenate you must start anew. Others believe the key is in preserving the historic character of the city. Instead of positioning their work for or against preservation, Perschke and Shmigel choose reflection as their vantage point for St. Louis Brick. They present what we otherwise overlook because of age or abandonment. The artists' book takes you on a journey that encourages you to appreciate the beautiful and desolate at once, simultaneously.
St. Louis Brick is a celebration of St. Louis City. It is both a nostalgic reflection and timely commentary. It records buildings and structures lost to development, endangered and not yet targeted. A fragmentary and abstract view of St. Louis, the book presents a mix of industrial and urban structures. It does not preach, scold, or berate. Without words, St. Louis Brick visually narrates St. Louis' architectural history. More importantly, it captures the less obvious beauty found in the once thriving industrial areas.
St. Louis Brick is a continuation of issues both artists explore in their individual work. Perschke examines the relationship between the individual's experience and architectural space. St. Louis Brick continues his interest in "taking that sense of looking and transplanting that to the viewer's own context." Shmigel searches for that "thing" that has a dignity often overlooked and presents it for the viewer to rediscover. She translates the viewer's experience by giving the object a meaningful personality. For her that "thing" already possesses dignity; it is the process of experience that is altered. The artists were already discussing the possibility of working together; the call for submissions for the Contemporary's Project Series acted as a catalyst, bringing the two together. In St. Louis Brick, Perschke and Shmigel frame pieces of their perception of everyday life for reconsideration by the viewer. "A lot of what evolved in the collaboration wouldn't have evolved without that process," Pershcke states. "Throughout the whole piece there are examples of thoughts getting physically overlapped, acted out through collage." The collaborative nature of this project contributes to its complexity as both a nostalgic look at the structural history of the city and as a timely reflection on how these same historic pieces are disregarded during the city's renovation.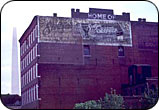 Shmigel explains that part of her inspiration came from writer Harold Brodkey who said, "There is a certain color of brick that is the color of my childhood in St. Louis." With this in mind, St. Louis Brick is in part a recollection of the past. It shows what we see everyday: run-down buildings and fading wall advertisements painted directly onto brick. At the same time, the contemporary elements of St. Louis Brick are brought into the book by Perschke's incorporation of color. Originally presented as a primarily black and white creation with blue hues, the book evolved to incorporate bright greens, pinks and yellows. The map on the reverse continues this coloration, inspired by the historical fire insurance maps that recorded the purpose and ownership of the city's buildings.
St. Louis Brick when first viewed is a little larger than an index card. However, once opened, you are able to appreciate more fully its size and depth. From an original 200 images, 50 were chosen, resulting in an artists' book that is 14 feet long. When folded, it is 28 pages of structure created through photography, texture created through maps and collage, emotion created through color and diluted focus, and a format that mirrors the character of St. Louis City. The structure of the book itself is indicative of the city: brick against steel against concrete against the ever-changing blue-gray-white St. Louis sky. Taking a bird's eye view of the map on the reverse, you can experience each page as part of a continuous narrative. A corner of brick next to the silhouette of a high-rise cast in blue, beside the Arch, itself framed by the brick archways of Laclede's Landing, looking straight into a room with white floor moldings and the ghost of a marble fireplace against a bright pink wall.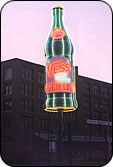 The irony, humor, and quirkiness of St. Louis are also revealed. Parking lots, seen by those who are trying to save historic St. Louis as the enemy, appear in St. Louis Brick, next to the very buildings they threaten, as warning, prediction, and/or observation. Light-hearted nostalgia appears in the image of the Vess soda bottle and the Knickerbocker sign. The absurdity of a city supposedly laid out on a grid, yet geographically following the distinct curve of the Mississippi River, is presented through a condensed and straightened map of the city and river on the reverse.
Like the community interest groups encouraging people to revisit St. Louis City, St. Louis Brick invites you to explore the city for yourself. You will want to seek these structures out to see if they are as stunning as they appear in the artists' book. (They are.) The water towers off Highway 44 now have an organic quality that is a necessary and recognized part of our landscape. You will mourn the structures lost and feel the urgency experienced by the artists when the "Fresh" building was photographed one day and gone the next. By capturing and presenting this imagery, Perschke and Shmigel place these structures into an art context, more appreciated and rediscovered as something to value.
Jessica Rudy is Curatorial Fellow at the Contemporary Art Museum St. Louis.
Kurt Perschke has exhibited nationally and internationally and his work is in institutional and private collections in New York state. He studied at the School for American Craft at Rochester Institute of Technology, Rochester, New York, the Art Institute of Chicago and the American University in Cairo, Egypt. He is director of Bonsack Gallery, John Burroughs School, St. Louis.
Assistant professor at Webster University, St. Louis, Christina Shmigel received a BFA from Rhode Island School of Design, Providence, RI, a MFA from Brooklyn College, Brooklyn, NY and a MFA from Southern-Illinois University-Carbondale. Shmigel's steel sculptures draw upon the architecture of agriculture and industry. She has exhibited nationally and internationally with an upcoming solo Currents exhibition at the St. Louis Art Museum, 2002.