At a news conference on April 23, Mayor Francis Slay announced the kickoff of his Neighborhood Life Initiatives, a coordinated effort to address quality-of-life issues in city neighborhoods. The crackdown on nuisance crimes will go a long way toward retaining current residents and attracting new ones. A key component of the new program is the Dirty Dozen, a list of the most egregious slumlords who will be fast tracked for investigation and prosecution.
Curiously, the list will not be made public. After hearing about the Dirty Dozen, the first question most people ask is, "Who's on the list?" It seems odd indeed that the targets of a very public Most Wanted list with a snazzy name are being kept a secret. At the news conference, Slay said, "Those who disrupt our neighborhoods, whether they are problem tenants or slum landlords, will not go unpunished." Apparently, though, they will go unrecognized.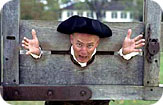 Public attention is exactly what's needed to get some absentee landlords to clean up their acts. What would their friends at the country club say? Shame and a little fear can be very motivating. Personally, I think offenders like Jack Krause, who single-handedly ran 36 properties in the Forest Park Southeast neighborhood into the ground while living in a half-million-dollar house in Webster Groves, should be put in stocks on Gateway Mall for all to see. Billboards with their pictures on them would be nice too, as would flyers distributed in the slumlords' own neighborhoods.
Want to compile a Dirty Dozen list of your own? You can find out who owns a property without getting up from your desk by following these steps:
Look up the street address in the City Assessor's Property Database.


Most likely, the owner listed will be the name of a company. To get the contact information of the person who owns the company, search for the company's name in the Missouri Secretary of State's Business Entity Database. While you're at it, use the Business Entity Database to find out what other companies your target owns by doing an Agent Name search.


Cross-reference the names and addresses turned up by the searches in the first two steps with the phonebook or Yahoo! People Search to get your neighborhood slumlord's phone number. Give him or her a call. Also call the problem properties hot line (314-622-3600) and your neighborhood stabilization officer, alderman and neighbors.
Remember, information wants to be free. Make your list public.