Oh, there are stories to tell, and not just a few. How about Starr Hermann's fond memories of growing up in the Grand Oakhill neighborhood?
"We moved to Juniata Street about 1955," she begins. "We have nine children, four of whom were born there. A large family, at that time, was unusual, as the people who lived on the 3700 block were, for the most part, long-time residents whose families were grown. It was an ideal place to live, a big house and yard. And close to just about everything we needed — bank, school, church, library, ice cream store, fruit market, shoe repair shop, dress shop, bakery, meat store — all within walking distance. But the place we really liked best was the dime store on Grand, a block away from home. Dime stores have always fascinated me because they sell everything from soup to nuts..."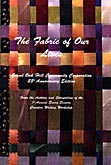 Starr Hermann's story, "The Five and Dime on Grand," is one of a chock-full anthology called "The Fabric of Our Lives," written and published in 1999 by participants in the Grand Oakhill senior center's writing program. The colorful paperback includes all sorts of tales, from growing up near coal mines in rural Illinois to a fly-on-the-wall view of a day in the life of a neighborhood elder.
The creation of a book of senior's stories is just one initiative undertaken by the Grand Oakhill Community Corporation, currently run by executive director Dennis Trask. Like many senior centers around the city, Grand Oakhill provides a place where area seniors can find companionship, planned social, recreational and education activities and hot meals, among other things. In addition to serving the needs of about 30 seniors in-house, Grand Oakhill is also responsible for the home delivery of around 75 hot meals each day to homebound individuals.
The folks who come to the senior center are drawn in by different activities, although most of them come from the surrounding neighborhood and many have lived there for years. Recently, they undertook the organization of a neighborhood-wide day of yard sales, where individuals throughout Grand Oakhill set up yard sales and the senior center compiled a master list of locations to hand out to dedicated junkers. All these activities serve to make seniors feel an integral part of their neighborhood and keep them engaged.
"There is a lot of competition for people's time and attention, more than ever now," says Dennis Trask. "If you look at the shopping malls and the casinos and many other places, seniors are now seen as this desirable demographic market, and everyone is trying to figure out a way to 'sell' them. The malls have clubs and activities, and the casinos will come pick them up and feed them for free. Nonprofits and senior centers like our own are going to have to be increasingly innovative and work together more than we do to maintain our own reasons for existence."
You may obtain a copy of "The Fabric of Our Lives" at the Grand Oakhill Community Corporation, 4168 Juniata St., 63116, for $10.