I bought a new baseball glove the other day. While I was at it, there was a deal on shoes — buy one pair, get the next pair half off. I chose baseball cleats as my second pair. The sporting goods store was out of softballs, so I bought a real baseball. I bought a book on coaching and playing softball. Total monetary outlay: $75. Like thousands of other St. Louisans, I'm playing on a softball league this summer. You should know that while I love baseball, I have never really cared for playing it or softball. I'm not all that athletic or coordinated. In fact, I downright suck at any sport requiring the brain, eye and hand to communicate effortlessly.
So it was with minor trepidation that I agreed to sign up (and pay my $30 fee, increasing my total so far to $105) for a neighborhood softball team. I live in the Tower Grove Heights area of Tower Grove South, in south St. Louis City. The area seems like the center of softball in St. Louis: people lugging half barrels and coolers of beer to the ball field, part-time jocks dressed in uniforms, duffers (like me) milling around waiting for instructions and lots of paunchy, out of shape men and women huffing around the bases.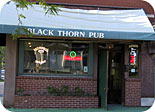 Dave Difani owns the Black Thorn Pub and is probably the main reason the ball fields in Tower Grove Park are filled two nights a week. Since 1987, Difani has sponsored a softball league mostly to increase his business and awareness of his neighborhood joint on the corner of Wyoming and Spring in the Tower Grove South area. "It was an interesting money-making venture and a good way to promote the bar," Difani says of the Black Thorn League. "You have to understand when a bar sponsors a softball team that they're taking a big chance on a losing venture. Generally speaking the first game will bring a lot people back to the bar and after that you generally don't see them." But years of nurturing his venture have paid off, resulting in a packed house after every game. "The first year I sponsored eight or ten teams and sent them out all over the city. I discovered that the teams that played closest to the bar came back the most and the teams I played for came back the most," Difani says. It didn't hurt that Difani also provided the beer at the games.
By suggestion of his insurance agent, Difani, 43, no longer provides beer, which makes one long for the good old days. But the league has grown tremendously despite the lack of free beer. Each year the number of teams has grown; this year the Black Thorn sponsors 35 teams on Tuesday and Thursday. Difani says this year is the biggest market jump ever, which he can only attribute to the increased popularity of the bar. "The bar itself has doubled business two times in four years, we've gone up 400 percent," he says. The down side of that is that it's no longer the same place it used to be, a quiet neighborhood bar tucked within a nice residential area. "I've actually lost a lot of old regulars because it's no longer a place where you can quietly drink a beer and talk to the bartenders. Bartenders are pretty busy these days," Difani admits.
One Black Thorn bartender used to the hectic bar life is Bruk Longbottom. "Each team has ten people on it and there are eighteen teams one night and nineteen the other night. Not all of them come back here, but they're certainly welcome to," Longbottom says. "The place is completely packed for at least a couple of hours because it takes that long to feed everybody, but people hang out until we close." In 1996 Difani added home made pizza to his menu. In fact, it's the only food item he serves. The Black Thorn Pub is one of the few places you can get a pizza made from scratch: home made dough and sauce and baked in a brick oven. Difani attributes a great part of the bar's growth to the introduction of pizza.

Softball has grown so much that Difani now forms his league rather than teaming up with an existing league, meaning that he hires the umpires, rents the fields and provides and maintains the equipment. Each team pays a fee of $350 to $400. "Most of that goes directly toward league expenses, but there is 20 percent or so that I'm able to keep," Difiani admits. "So instead of paying money and hoping people come back, I'm actually making money." Difani approached other bars to join the league, because, as he says, there's room to make a pretty handsome profit. Some were interested, others "didn't like the idea of 15 sweaty people coming to their bar after a game," he says. "But I guess most of them just don't believe that it would work."
Nonetheless, seven or eight other bars have signed on over the years, including Tower Grove hangouts CBGBs, Mangia Italiano Restaurant, and the Upstairs Lounge. This year Pat's and Rosie's, both in Dogtown, joined. "They've joined the way I want bar owners to join. They provide the equipment, the umpire and they collected the league fees and kept them." Here Difani sounds like a promoter of a pyramid business deal. He explains that "I want 10 or 20 bars each sponsoring 10 teams and each bar collects $3,500 to $4,000 in league fees and runs it themselves and we're all interconnected and interplay so that I get a chance to introduce the Soulard Bar and Grill clientele to the Black Thorn's and conversely, Soulard Bar and Grill gets a chance to meet and impress my clientele." But Difani makes no money off that venture, now sounding like a benevolent organizer with a socialist bent, stating the advantage. "I either take it all or I take none, as in the case of Pat's and Rosie's," he says. "The other bars, I keep the entire league fees because they're not providing the service." The advantage, of course, for those bars not providing the softball service is that they get 10-12 people a week coming back after the game and make back their investment in a few weeks.
One hybrid, however, is the Shenandoah Bar and Grill on corner of Shenandoah and Nebraska in the Tower Grove East area. I know this because it's the team I play on. A large group of us neighbors and our friends hit the bar every Thursday night for its famous fried chicken (yes, it's better than Hodak's, Mary's and Pat's). So enamored are we with the chicken that our team name is "The Drumsticks," Owner Djordje (George) Korac put up no money and we each paid $30, but he gets a full house every Thursday. By next season he may even put up the league fee once he sees how much business has increased due to Difani's brainchild. By then my glove will be well broken in and we may be good enough to be called "The Breasts."