"I'll be there ..."
That's the pledge I took when I joined Jobs with Justice. "I'll be there at least five times this year for someone else's fight as well as my own. If enough of us are there, we'll all start winning."
In the last year I've "been there" with hundreds of sisters and brothers from St. Louis community organizations, churches and labor unions ...

to demand that ConnectCare be fully funded


to fight for a Living Wage for tax-supported jobs


to support Fairview Heights public workers bargaining a fair contract


and many other struggles
St. Louis Area Jobs with Justice (JwJ) is a coalition of community, labor, and religious organizations committed to fighting together for economic justice in St. Louis. We are action-oriented. Members of JwJ pledge to "be there" five times a year for someone else's fight as well as their own. That means joining picket lines, attending rallies and participating in other actions or demonstrations for economic and social justice.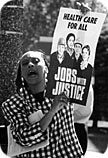 In addition to assisting member organizations with "Street Heat," Jobs with Justice coordinates St. Louis' Workers Rights Board, a group of justice-oriented community leaders who are willing to use their moral authority to create a highly visible public forum to defend workers' rights.
Jobs with Justice also supports Strategic Campaigns focused on specific interests. For example, we support the St. Louis Campaign for Health Care Justice which brings together health care workers and consumers to challenge the power of corporate health care by supporting health worker organizing, defending funding for public health care, and more. JwJ also supports the Coalition Against Police Crimes and Repression and the Living Wage Campaign as critical struggles for economic justice in St. Louis.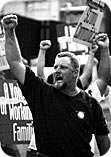 You or an organization you belong to can join Jobs with Justice by email: stlouisjwj@mindspring.com or phone: 314-535-6303. You can also contact us if you just want more information. We'd love to have you join us next time "We'll be there..."
Lara Granich is an organizer for the United Health CareWorkers of Greater St. Louis, the Steering Committee Chair of Jobs with Justice and a resident of the Tower Grove East neighborhood. She's also a Sagittarius.