"You're the guy who wants to save Kiel Opera House."
No, I've saved Kiel Opera House, beat back "studies" aimed at gutting it, placed it on the National Register, awakened a "dead" issue, communicated it as a resource — not a problem — and submitted four business/marketing plans.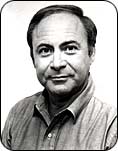 "You're the nut who walked to Columbia."
You do what you have to do. I am that nut. I am also a businessman trying to help bring back a pretty sleepy downtown that does not understand the economic value of year-round cultural/entertainment tourism. The Arch and the Zoo are day trips or one-nighters. Choices in downtown theatre and culture are two to three night stays.
"Isn't the stage gone?"
No, the large stage and 105-foot grid space, highest in the world, is still there and pigs don't fly.
"Won't it hurt the Fox?"
Do we want to be a city or a town?
"But St. Louis is a great sports town."
Same answer.
The Kiel Opera House in downtown St. Louis is a Kennedy Center: six to seven venues, featuring an unsurpassed main theatre. Built in 1932-33 as half of the Municipal Auditorium, the Opera House attracted the world's finest performers — concert artists, musicals, dance companies, blues, jazz, country-western, rock, grand opera and light opera. It also presented choral pageants, civic events and traveling exhibits.
About 400,000 high school, college and professional students graduated from the Kiel stages.
It closed in 1991, while the convention hall was knocked down and Kiel Center was built to bring the Blues Hockey team downtown. The Opera House and Kiel Center were to open in 1995 as a great civic, sports and entertainment place. Only the Kiel Center portion opened. "We never promised, you misunderstood, we have met our obligation, it was a PR mistake," say the Kiel Partners. (The great theatre is wasted six years now.)
Intense pressures from the Fox Theatre at midtown, reported cost over-runs on the hockey side and complacency at city hall have done the Opera House in, up 'til now. While Cleveland, Denver, Detroit, Nashville, Memphis, Indianapolis, Seattle and Newark used performing arts to help revitalize their downtowns, St. Louis protects a large, converted movie palace at midtown.
My grandfather, Guy Golterman, brought Caruso and the Met to the St. Louis Coliseum in 1910, opened our MUNY with a week of Aida in 1917 and opened the Kiel Opera House in April of 1934, again with grand opera. He and his colleagues did great things for St. Louis. I would like to try.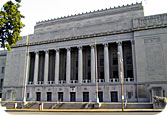 Kiel Opera House is not about opera, but a six to seven venue center that can create 30 to 40 income flows. It is jobs, wages, benefits, gross and tax revenue. Before it is open, if done right, it is worth $200 million. You could not replace Kiel Opera House today.
A fourth mayor has been persuaded to ignore the Opera House while promoting a replacement ballpark for the Cardinals requiring $430 million in public funding. Kiel Opera House can come back primarily on private money — naming/sponsorship/endowment — and tax credits. A replacement ballpark brings not one more person to downtown St. Louis. A six-venue entertainment, exhibits, festival and education center can draw 800,000 a year, and $7 million in tax revenue.
Kiel Man is starting his fifth year.
How to help?
Communicate with Mayor Francis Slay, Room 200 City Hall, 1200 Market, St. Louis, MO 63103, 314-622-3201, fax 314-622-4061. "Follow Mr. Golterman's lead re: Kiel Opera House. Follow someone who knows how to do it."
No one in St. Louis will publish "Killing Kiel: How Not to Bring Back A Downtown." It is a model for how these sports deals roll out — a 10-year model. Help me find a publisher. And, Jesse Ventura to do the forward!
You can also read the pre-publication manuscript — via e-mail, CD-ROM or diskette — which comprises 23 chapters, 22 pages, and a 53-page appendix. Send $10 (includes shipping) to the address below.
We are going to put up the Department of Interior Plaque identifying Kiel Opera House as a National Historic Place, two years after it made the Register.
Kiel Man may have to pick up a few dead squirrels and bleach out some urine stains. But a building so dishonored will at least be honored by the people.
What can I do for you? Please, don't wait another day to embrace a cause and charge. It is scary; it takes courage. Perhaps I waited too long. Don't you do the same.
Oh, and there are going to be some great performing and exhibit opportunities in Kiel, and jobs.
"You're the guy who wants to save the Kiel Opera House."
No, a downtown.
Ed Golterman is a marketer and promoter and the grandson of impresario Guy Golterman. You may order his book from: 10824-B Big Bend Blvd., St. Louis, MO 63122-6041