Sunday, February 3
Soulard Mardi Gras Wiener Dog Derby
Market Park, just south of Soulard Market, Lafayette & 7th
Free, all ages, 2 p.m., 314-621-8878, www.mardigrasinc.com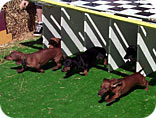 Really, what more needs to be said beyond the event's name? If you've always meant to make it down for the best part of Mardi Gras (the Krewe of Barkus pet parade and the Wiener Dog Derby), but just never have gotten around to it, get around to it. If we don't show up in force to scream for dashing dachshunds, the terrorists have already won. (AED)
---
Wednesday, February 6
Cinema in the City: "Captive Wild Woman"
Beatnik Bob's in the City Museum, 15th & Lucas
$4, all ages, 7:30 p.m., 314-968-7487
The monthly series of cult classics rolls out another winner with noted auteur Edward Dymtryk's "Captive Wild Woman," described as so: "A doctor steals a killer ape from a circus and, by injections and plastic surgery, transforms it into a beautiful girl. But his protégé has the bad habit of returning to her simian state, especially when sexually aroused." It's not noted whether this one's based, as is often the case with these films, "on actual events."
Last month, the series had to shift back a week after a water main break. Hopefully, things'll be dry around the Museum this time out. Brought to you by the Webster University Film Series. (TC)
---
Thursday, February 7
Preservation Hall Jazz Band
Powell Symphony Hall, 718 N. Grand
$20-$35, all ages, 7:30 p.m., www.slso.org
Although the organizers of the kinder, gentler Soulard Mardi Gras probably wish it didn't happen, we're among friends here and can admit that, yes, some members of the fairer sex have been known to, shall we say, bare their assets in exchange for the coveted beads. If that's not necessarily something you want to see, get your beads and New Orleans-style fun the classy way, by attending this rollickin' concert in the velvet-and-gilt ambiance of the symphony hall. This internationally renowned jazz band comes to us straight from The Big Easy, and will most likely make you want to rewrite your will to specify "New Orleans-style funeral service, please." And yes, there will be beads galore. (AED)
---
Friday, February 8
Forum for Contemporary Art's "Gin & Sin" Party
Velvet, 1301 Washington Ave.
$25 advance/$30 door, 21-up, 6 p.m., 314-535-4660

Press kits started arriving around town a couple of weeks ago announcing the name change for St. Louis' only contemporary art museum from the Forum for Contemporary Art to Contemporary Art Museum St. Louis — presumably because people were having a hard time grasping what a forum does. No matter, though, if you're just in it to support a good cause (good art in our town) and to toss back a few martinis. This swank annual fundraiser includes music by Urban Jazz Naturals, raffle prizes themed around the Seven Deadly Sins (is it just me or have the seven deadlies been getting a lot of media/pop culture exposure lately??), martinis from sponsor Bombay Sapphire, food and more. If that doesn't do you in, head next door to the RueDemption after party at Rue 13 and sin your socks off. (AED)
---
Saturday, February 9
Cobalt Blue CD Release Party, "Work Song"
With Brandy Johnson and Julia Sets
Blueberry Hill's Duck Room, 6504 Delmar
$5, 21-up, 9 p.m., 314-727-0880, www.blueberryhill.com
Cobalt Blue is one of St. Louis' hidden musical treasures, though that hasn't come about by way of design. Recent, separate departures of the rhythm section have left the group consisting of: vocalist Rebecca Ryan, keyboardist Tim Redmond and guitarist Sean Garcia. Moody, swirling, contemplative, Cobalt Blue creates a nice, original slice of modern pop. Joining them this evening are two other, fine local groups, with Julia Sets, in particular, really coming into their own in recent months. (TC)
---
Sunday, February 10
St. Louis African Chorus
Missouri History Museum, MacDermott Grand Hall
Free, all ages, 2 p.m., www.mohistory.org
The lovely Grand Hall will be an inspiring setting for this showcase of the 20 or so singers, musicians, drummers and dancers who comprise the St. Louis African Chorus. Their concert includes traditional and contemporary African music, along with tidbits of gospel, Caribbean folk songs and old spirituals. A fun event that the whole family can enjoy, perhaps after brunch at Meriwether's, upstairs? (AED)
---
Friday, Saturday and Sunday, February 15, 16 & 17
The Second City: Girls' Night Out
Center of Contemporary Arts, 524 Trinity in U. City
$25, 8 p.m. Fri. & Sat., 2 p.m. Sun., 314-725-6555, www.metrotix.com
What do Jerry Stiller, Gilda Radner, Chris Farley, Bill Murray and Julia Louis-Dreyfus all have in common? All these funny folks launched their careers through legendary Chicago improv troupe The Second City. (There may be other similarities, too, such as a shared loathing of green M&Ms, but that's outside the scope of our purposes here.) Now our amusing neighbors to the north bring their act to town (a missionary trip from The Second City to, what? The Third City, perhaps?), in the form of a chick-laden show of vignettes centered on women. Some of the scenes will include: a foul-mouthed female drill instructor who launches a Girl Scout cookie drive, lampoons of nosy neighbors and generational misunderstandings. Grab a gal pal, or your grandma, and come on down. It might be easier to convince your mom of than "The Vagina Monologues." (AED)
---
Wednesday, February 20
A Celtic Celebration, benefit for Women's Support and Community Services
St. Louis Brewery and Tap Room, 21st and Locust
$30, 21-up, 6:30 p.m., 314-646-7500
To be honest, the traditional St. Patrick's Day celebrations have become a wee bit stale, haven't they? Just how much green beer do you want to be chugging in your vain attempt to stay warm while shivering in place on the sidewalk, waiting for a parade to pass by? No, much better to get a jump on the season, stay warm, enjoy some authentic Irish entertainment and help out a great local cause, to boot. It's all possible here, where your ticket price buys you: tasty Tap Room hors d'oeuvres; sweet, sweet beer; and a bevy of apple-cheeked lads and lasses from St. Louis Irish Arts to make you laugh, cry and swoon as they perform traditional Irish songs and dances. (You know, those numbers where they defy all logic of foot anatomy and prance about on their toes?) Proceeds go to further WSCS' services, including counseling, support groups and a 24-hour crisis line for victims of domestic violence. (AED)
---
Thursday, February 21
The Films of Frederick Wiseman: "Meat"
Winifred Moore Auditorium, 470 East Lockwood, WU campus
$4-6, all ages, 7 p.m., 314-968-7487

Important American documentarian Frederick Wiseman has his works screened as part of a special Thursday night series at Webster University over February and March. Since three-quarters of our core staff enjoy and prosper with a vegetarian lifestyle, we thought we'd highlight this night's rather explicit work, "Meat." Here's a thumbnail: "'Meat' traces the process through which cattle and sheep become consumer products. It depicts the processing and transportation of meat products by a highly automated packing plant, illustrating important points and problems in the area of production, transportation, logistics, equipment design, time-motion study, and labor management." Chances are, you won't run down to O'Connell's for a burger after this one. (TC)
Here are the other Wiseman films:
February 7: "Titicut Follies"
February 14: "Basic Training"
February 21: "Manoeuvre"
March 7: "The Store"
March 21: "Public Housing"
---
Thursday, February 21
Urban Forum: "Creating Reliable Partners — Accountable Leadership, Active Citizens"
Missouri Historical Society, Lee Auditorium, Lindell & DeBaliviere
Free, all ages, 7 p.m., akd@mohistory.org
A monthly lecture series based around the theme "Good Governance: A Regional Choice," the Missouri History Urban Forum series offers a main lecture, a local response and an open question-and-answer session. At worst, you'll spend the evening looking at charts and graphs with the most engaged citizens in town. At best, your mind will be engaged by some of the most provocative speakers in the civic field, brought to town from all over the country. January's address, with the National Governors' Association's Joel Hirschhorn, was certainly a night filled by surprise statements, such as "bite the bullet, forget the schools." While not everyone agreed, the intellectual sparks were flying.
This month, the featured speaker will be Dr. Caroyln J. Lukensmeyer, executive director of the Neighborhood Action Project and president of America Speaks. Here's a quick description of the evening, compliments of the Society: "America Speaks is a non-partisan, non-profit organization which seeks to create workable, effective mechanisms for ensuring that the actions of elected officeholders reflect the will of the citizens. In conjunction with Washington, D.C. Mayor Anthony Williams, America Speaks has created a program called Neighborhood Action. This ongoing project, which began in the summer of 1999, uses large-scale forums to gather citizens in order to shape the city's strategic plan and budget. Over 3,000 D.C. residents came together to craft a vision for the city." (TC)
---
Friday, February 22
John Singer Sargent Film Series: "The Moderns"
Saint Louis Art Museum auditorium, Forest Park
$6 general/$4 seniors and students
7:30 p.m., 314-721-0072, www.slam.org
In conjunction with the special exhibit "John Singer Sargent: Beyond the Portrait Studio," which includes some of the American expatriate's watercolors and drawings of his many travels abroad, the art museum offers a series of films set in the age of Sargent. February's film is set in Paris in the 1920s, reason alone for Francophiles among us. The comedy/drama (is it still acceptable to term those flicks "dramedies"?) depicts the rivalry between a painter and a businessman, and stars Keith Carradine, John Lone, Linda Fiorentino and Wallace Shawn. (AED)
---
Saturday, February 23
Ani DiFranco
The Pageant, 6161 Delmar
$26.50, all ages, 8 p.m., 314-726-6161, www.thepageant.com

Noted folk/punk/rock/soul star and indie label queen Ani DiFranco returns to St. Louis for her roughly annual show. For her previous SL gig, the Pageant served as a perfect venue, with DiFranco not lost (like she was in the cavernous Fox) or cramped (like at Mississippi Nights a few years back). Performing with around a dozen titles under her belt, the older tracks still score the biggest hoots and hollers from the audience — unless, of course, her band decides to strip down to their underwear, like the last time through.
Socially conscious, entertaining live and drawing a crowd that you wouldn't mind moving en masse to the neighborhood around you, DiFranco has a popularity that continues to move on an upswing. Figure that this show will sell out reasonably early. (TC)
---
Continuing
"Tundra": Paintings by Jenna Bauer
Left Bank Books Gallery, 399 North Euclid
During business hours, 314-367-6731
Running through February 24, this talented downtown artist's work takes up the compact gallery space of Left Bank Books. (TC)
Thursdays
"Lust"
Vintage Vinyl Record Spin at the Halo Bar, 6161 Delmar
$3, 21-up, 10 p.m.-3 a.m., 314-726-1414, www.thepageant.com
Hand it to them: the staff at Vintage Vinyl knows music. On this night, one of the Pageant's "Seven Deadly Spins," the clerks and stockers and money-crunchers take to the ones-and-twos for some wildly-divergent nights of genre-blending sound. If Jim Utz is part of the night's action, be there. No one else in town veers as wildly between hip-hop, teen-pop, indie, metal and you-name-it. (TC)
Mondays
"Monday Morning Show"
KDHX, 88.1 FM
6 a.m.-8:45 a.m.
Co-hosts Darren Snow and John "JB" Bauer bring years of radio and live spinning experience to this show, which reflects a fun morning feel without incessant chatter. They give you the basics on the music you'll hear, then get out of the way, though it's obvious these two long-friends have an affinity for the same sounds and have a natural rapport. During one January show, the pair raced through a set that included everything from the Stokes, Basement Jaxx and Sarah Dougher to Nat King Cole, Carol Burnett and Johnny Nash. Not tossing everything into the blender in an attempt to be weird, the pair actually construct solid sets that allow varied material to make perfect sense. All in all, not a bad way to start the day. (TC)
Mondays
"The Wire"
7:30-8 p.m.
One last programming note: the co-editors of this site will return to the free airwaves of KDHX this month, with a reconstituted "The Wire," featuring guests and topics that'll dovetail nicely with the contents of this e-zine. Expect lots of local, grassroots civics and culture, with a heavy emphasis on current events. The show will follow "Collateral Damage," hosted by the RFT's DJ Wilson, giving a full hour of locally-based talk each Monday. We hope you'll tune in. (TC)