I decided to become a first-time homebuyer by signing a contract in September for a loft condominium at the Terra Cotta Lofts in downtown St. Louis. Construction will not be complete until June, leaving much time for planning and occasional visits to the development to inspect progress. At the same time, the flux of world events, including the war in Afghanistan and the death of Beatle mystic George Harrison, has encouraged me to think about spirituality.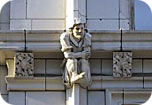 The Loft District is home to at least one religious institution, Christ Church Cathedral, but revelation is not limited to the confines of its grand gothic edifice. Wisdom can be garnered from the old occupants of Lucas Park or the building principles that guided the development of structures like the Merchandise Mart. Indeed, the technology workers, artists and club patrons form a virtual congregation, and the Loft District offers new variations on the spiritual lessons taught by the world's religions:
Reincarnation Continues. My new loft will be carved from a building that once housed a large insurance company. Prior to the structure's completion in 1915, elegant Lucas Place houses lined the 1500 block of Locust; one survives today as the Campbell House museum. Before the platting of Lucas Place, indigenous peoples may have traveled near the site, en route to ceremonies held at the Cahokia Mounds. Perhaps my loft development will cease to exist 200 years in the future if a generation comes to power with an entirely better use for the land. Until then, my building inches closer to Nirvana.
Love thy Neighbor. The Loft District's neighbors include the Salvation Army's Railton Residence, the New Life Evangelistic Center's homeless ministry and the St. Patrick Center. In our quest to etch an urban neighborhood into the downtown landscape, I hope that the loft-dwelling community (including myself) refrains from attempts to remove these institutions from our midst. The struggle to increase property values can easily mutate into NIMBY-ism. Outreach programs offer volunteer opportunities for loft residents and ensure the economic diversity of our area.
Follow the Light. St. Louis isn't the first city to recycle aging industrial buildings into lofts; loft residents and developers are adapting a trend that has spread to many old cities worldwide. Humility teaches that light and hope are found externally as well as internally. Learning from others and repeating good practices doesn't have to constitute a descent into Generica — especially if residents creatively place the St. Louis iconography of red bricks, neon Budweiser signs, and steel arches as interior décor elements.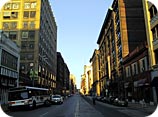 Have Faith. An aspiring young sales representative for a city apartment community recently warned me not to purchase a home downtown until the neighborhood "turns around" in seven years. Despite downtown's 40-year period in the redevelopment wilderness, the Red Sea (and red tape) appears to be parting as general contracting crews clean bricks, install windows, and plot a new streetscape. Our Moses is lurking in the signs and banners proclaiming "Lofts for Sale" and "New Apartments Opening Soon," giving reason to believe that a sustainable neighborhood will be born long before a seven-year waiting period.
I must still discover activities to grace my calendar until I close on my new home. Perhaps I can break bread at Tangerine or drink the wine offered at the new jazz club, Isis. In the meantime, I'll preach the virtues of urban life to my peers while waiting on neighborhood improvements with the patience of a saint.
Jerry Faust came to St. Louis in 2000 from Indiana. He works in the information technology field and shares a downtown apartment with his partner, John Doan.