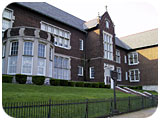 In the spring of 2000, Lisa Pepper taught poetry classes to the students at Bryan Hill Elementary School in the College Hill neighborhood of North St. Louis, doing so through the local Springboard to Learning Program. Primarily, she worked with students from the school's third, fourth and fifth grades. Some of the results were charming, some whimsical, some outright surprising.
A chapbook of poetry from those classes was compiled, with Metropolis St. Louis publishing the work in June 2000. Upon the resumption of fall classes, copies were distributed back to the students at Bryan Hill. A few were also sold at area bookshops, including Left Bank Books and Legacy.
The following is a small sampling of works from the chapbook, titled "Things That Speak to Me: A Bryan Hill School Poetry Collection."
Love Don't Mean
Love don't mean all that kissing
Like on television
Love means Daddy
Saying keep your Mama company
'Til I get back
And me doing it
Danielle, Grade 5
A Bear Offers Me Honey
A bear greets me
and offers me honey.
Right away he makes
it clear: You must have
money, my dear.
Gyesha, Grade 4
Cheetah
I'm cheetah the cat.
I'm not fat, and I don't like hats.
I'm fast, and I never come in last.
I hear with my ears to see if my prety is near.
I wish I could rap while looking at a map.
I sleep in a tree with a cup of tea.
Doriano, Grade 4
My Questions
Where am I?
In the middle
Of nowhere.
What do I see?
I see people fighting
for freedom.
Who am I?
I am a smart
African American.
Why did you come here?
I came to be
my best that I
can be.
Termaine, Grade 4
Our Land
We should have animals running wild.
We should have families with lots of smiles.
Water sprinkling like the stars. Kids running
and having fun. Plants and flowers. Water great.
Just like the grape I ate!
Food is free. Clothes are free.
Everything on earth,
peaceful and free.
The air is fresh and clean.
Education is a wonderful thing.
Erika, Grade 4