An accountant by trade, station manager Bev Hacker has calculated exactly what KDHX (88.1
FM) needs to boom. And her numbers look good — since she took over in April 1998, the station has expanded its musical focus; gross listenership is up 50 percent; and KDHX's twice-yearly pledge drives are bringing in more money.
The Commonspace caught up with Hacker this month to take a look at the station's somewhat tumultuous history and find out what lies ahead for St. Louis' community radio.
The Commonspace: When you were hired in 1998, it was the sixth time KDHX had hired a station manager in 10 years. An article The Post-Dispatch ran just before you became station manager said, "To hear the volunteers tell it, the winning candidate will need to be as frugal as Scrooge, as patient as Job and, most of all, as tough as Mike Hammer." How do you fit this description?
Bev Hacker: (After much laughter) Well, I've been here longer than anyone else. I guess I fit it pretty well.
How did you get into the radio business?
Since 1993, I've been a volunteer here. I came in for a couple of reasons. One, I live down the street and was fascinated with the fact that there was a radio station in my neighborhood. And secondly, because I had listened and really liked what they were doing. I just kept getting more and more involved. I ended up running for and winning a seat on the board, and, as any accountant will tell you, as soon as you get on the board of anything, they make you the treasurer. So I was the treasurer for a while. I saw the organization go through three managers felt that my background in accounting, systems design, engineering and being totally attention deficit would fit beautifully into this, so I decided to seek the position of manager.
What has been your top priority as a station manager?
Quality of the sound.
What have you done to achieve that?
A huge credit has to go to our music director (Tony Renner). His knowledge of music and his ability to work with programs has really helped a lot in bringing new music into the station and bringing people into the station who are willing to stretch out a bit with the kind of music they're presenting.
Also, working with our volunteers, encouraging them to get involved in the management of the organization from the standpoint of running for committees and being involved like that, upgrading equipment — all the elements to make the sound better. Looking at the mix of programs that followed each other, looking at what kinds of music we weren't presenting that we needed to be and getting those on the air.
One of the biggest things we did was getting away from a totally chaotic schedule into a schedule that was stripped by genre so that when people listen to us at a certain time of day, they've got a pretty fair idea of what they're going to hear.
Second to that is trying to get everyone to work together and trying to squelch some of the craziness that's sort of been part of the station ever since it started.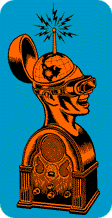 The same Post article talked about infighting and bickering at the station. Has that changed?
Tremendously. Tremendously. We have more people involved, we have more people working with each other. A lot of the chronic complainers have either left or decided they don't have anything to complain about. I think nothing stops disgruntled people faster than success, and I think we've been very successful. So, they don't have anything to complain about.
What do you attribute the success to? Last year you pretty much swept the River Front Times' Best of St. Louis awards in radio — you were awarded Best Radio Station, Best Radio-Music Programming, Best Radio Program (Doug Morgan's "The Underworld"), Best Eclectic Radio Program (Anton Stropus' "The Pop Life"), Best Radio Personality and Best Radio Voice (both Roy St. John) and Best Arts Institution.
I think a lot of it has to do with finding and keeping the best possible programmers and giving them all the tools they need to do the best radio they can, and, as much as possible, staying out of the art of radio and in the business of radio — letting the volunteers do the art.
Most people who deejay here don't have a background in radio. How does that benefit KDHX?
Because almost without exception they come to use because of a deep love of music, and usually a deep love of a certain type of music. So unlike a commercial station, our goal is not to sell product. Our goal is to sell music. So we don't really care how slick and refined their voice is. We want to know that they know the music and they're going to present music in a context of a music lover's viewpoint. We play so much music that people maybe aren't familiar with. Because our programmers are so deeply involved in it, they do a great job of bringing other people into their musical knowledge.
When you changed formats, there was a lot of "old" versus "new" conflict. How did you decide what was going to go and what was going to stay?
It was hard. One of the great beauties of a committee system when making programming decisions is that you've got seven people with a huge body of knowledge in music and who listen to probably more radio than anybody else does. It really is a group decision. We talked about it. We looked at the schedule to see what was there, what was missing, what was working and what could work if it were tweaked a bit. There were some tough decisions. There were some people who had been on these airwaves a long, long time and who had done a lot of good things for the station. But for whatever reason — they were burnt out or the music they were presenting wasn't unique anymore, whatever — it was just time to make some changes.
In an RFT article about the format switch, you talked about trying to reach a younger demographic.
We were looking to bring in a younger demographic for two reasons. We're a volunteer station, and as people grow older their available time for volunteering goes down generally, and often their ability to support us financially goes up. A lot of the folks that started with us back in the KDNA days are now 45, 50, 55 years old. They have families, career obligations and whatever, and they don't have enough time to really give us a lot of time. Looking at high school or college or just after, they may have a lot of time, but maybe not so much financial resources. So, it's replenishing the volunteer ranks.
Also, I think people tend to get away from music a bit as they get older or they kind of lock in to what they like and don't like. Starting to cultivate the younger demographic helps us to be fresh and current. I think that's something people expect of us.
Another big change that's coming up is you are about to begin broadcasting "Stage Left," which used to air Sunday evenings, as KDHX's first Internet-only show.
Yes, as soon as we get our server fixed. We've had computer problems.
Is that still slated for February 21?
No, it got pushed back because we're out of hard drive space. It's pretty awful that that's what it comes down to. We're looking at probably mid-March.
How did you decide to take the show off the air and on the Internet?
It was a round about decision. We actually put that show on hiatus because we had the opportunity to bring Lou Thimes back to the airwaves, which we could just not pass up. For the first time in a long, long time, we've got more quality shows on the air or waiting to be on the air then we have space for. It was a tough decision, because "Stage Left" is in an important show. It's something that nobody else does, and we didn't want to just drop it, but we couldn't pass up a golden opportunity either. So we asked them to take the show on hiatus for a while. It was actually Chuck Lavazzi (one of the shows two hosts) who came up with the Internet solution. Because we have the technology to do it, we decided to make it a test and see what we can do with it.
Are you looking to do more programs like that?
Our ultimate goal is to archive specials and to archive about 15-20 minutes of each show and attach it to that show's webpage, so that someone visiting out site can not only listen to the live broadcast at the time. They can say 'Gee I wonder what this show is,' and listen to 15 or 20 minutes of it. I think that's going to be the next step.
One other thing we've kicked around is the possibility of doing an Internet-only feed as a means of getting other types of music out there that we wouldn't necessarily put on the air. That might happen sometime down the road.
Another thing we're getting ready to do is with the TV station we have under the umbrella of Double Helix — DHTV, Channel 21 and 22 in the city. They're going to begin filming live two of our shows, "The Wire" and "The Newsroom," and play them as television shows. They are both St. Louis-based current events talk shows.
How did that decision come to?
We had been looking for things to do jointly. That was part of the divisiveness before — TV and radio have never worked very closely together. We talked about doing Women's History Month biographies, which we're doing for March. As we were talking, we thought, you know, there are these shows that we do and shows that they need. That's just the kind of talk shows that they like to present, the kind of local talk that's not going to make it on a commercial station. It occurred to us, why reinvent the wheel. If we're already doing those, why not broadcast them. I believe the first taping is going to be February 23, but I don't know whether they have it plugged into their schedule yet.

KDHX bills itself as "community radio." What does that mean to you?
It means we're not affiliated with any larger organization, like a university or religious organization. Our ownership is the community. Our members own us.
With not being affiliated with any larger organization funding can be a problem. How does KDHX maintain its creativity and focus without going broke?
It's all about the programming. If we weren't presenting programming that people were willing to pay for, we'd be off the air. So while the way that any one show does in pledge drive doesn't determine the fate of that show, it certainly has to be looked at in terms of what does this show does for the community and how much can it support the overall effort of getting the station of the air. We've gone from fall of 1997, when our pledge drive were running about $125,000, to where the last pledge drive (fall 2000) went over $200,000.
We kind of figure it's a bit of a barometer. If we continue to present good music in a format that people like, then that should be reflected in our pledge drives. If we see our pledge drives taper off then we're doing something wrong. Our outside money — grants, things like that — I like to view as found money. I like our money to come primarily from listeners. It keeps us honest. It keeps us making sure we're doing what people like.
When is the next pledge drive?
March 22 - April 1.
What are a few of your favorite KDHX shows?
I never tell anybody that. There are so many, and they're kind of all over the place. Some of the ethnic shows, some of the rock shows, and I've never really been a country fan, but the country stuff we do I like.
Anything else?
The bigger thing people need to know is it's an open door. We want people to come in and participate. There are always opportunities for volunteers, whether you want to be on the air or not. We love to see new people come in.
Leigh Muzslay is a St. Louis transfer. Originally from Houston, she attends Webster University, where she makes just enough money to pay the rent by editing the student newspaper. She loves her home state (except for that whole Bush debacle), spicy food and the beach.