Standing a few inches shy of six feet, the Diamond Back Dingo is a grappler who has to rely on hard-work, agility, speed and a mean-streak to make his way in the rough-and-tumble world of local professional wrestling.

Throw in a love of performance, too. A few months back, the Dingo and Ryan Ash were working a freelance gig at the Herbert Hoover Boys Club, where the every-other-month matches might draw (no lie) between 15-35 people. Fewer than 20 were in attendance when Ash and the Dingo went into an insane, 15-minute brawl that had both competitors rolling around on the floor, on the stage, cracking one another with chairs... it was something to see. And they weren't doing it for the money that night. That was worth the otherwise overpriced $7 ticket right there. Bravo!
Solid and quick, the Diamond Back Dingo is one of the better "workers" in the stable of the upstart Gateway Championship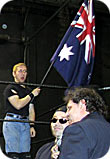 Wrestling federation. With a curious Australian accent, he's often lead into the ring with an introduction that either finds him hailing from the cosmopolitan city of Melbourne, or the rural Outback. Ah, yes, a level of mystery. Add to that the fact his style bears an uncanny resemblance to the Red Devil, the wildly entertaining star of the SBAC, missing in recent months.
Could it be that there's a connection? Well, we hint at that possibility in our exclusive interview with the Dingo, who granted us a few moments of time between tapings of the GCW television show, recorded in an oversized garage-slash-shed near McKelvey and St. Charles Rock Road in North County. As good a place as any to have the following conversation:
Is it the fame or the fortune that keeps you going?
Well, it's the fame really. Ever since I was a small child I've loved wrestling. There's not much money on the independent circuit, but lots of fame.
How long for you now?
About two years.
Now some people think there's a resemblance between your style and that of the old Red Devil of South Broadway.
I know nothing of Diablo. I've seen his work before. He's a nice fella. I've met him a couple times. But a worker's a worker.
Tell us about how you hooked up with GCW.
I ran into (Big Bad) Ben in Kenya. How can you not run into Ben? And he offered me a job and I took it. GCW's a number one company. It's going to take me to the top.

Most difficult opponent to date?
It's a tie-up between Makaze and Ryan Ash. Me and him have had a runabout many, many times. In fact, I'll say him, Ryan Ash.
If not mistaken, you two hooked it up at the Hoover Boys Club on what had to be the toughest mat I've ever heard or seen.
Yeah, it's pretty tough. It's different than a Mike Sharona snap-kick. It's a pretty good ring. I had a lot of fun. Ryan Ash is a tough fella to work with. There he is, right there!
What's a week's training like?
It's like a week in the Outback, I guess, pretty tough. I spend about two or three days a week working on wrestling, the rest of the week lifting weights, doing calisthenics, things like that. It's not bad really, you just learn to live it.
The day of: what's going through your mind?; what do you do?
I really just relax myself. Watch some old tapes. Take a nap, y'know? Talk to the man upstairs, see how's he's doing. Other than that, I'm a normal human being, just staying laid-back.
Nights of the match I would think are pretty tough. A lot of ladies here and that's got to factor into it.
Yeah, I would like to find a lady that's nice and interested in wrestling, but unfortunately it's not going to happen, especially here. Nor at South Broadway, I'll tell you that much.
Do you watch yourself on cable?
No. I've not seen one of my GCW matches. Not one at all. Really. I spend most of my time marking up on the big three. Who can't? They've got some of the greatest workers there.
Your goals right now are in GCW. Anything beyond that?
I'd love to take it to the top. There're a lot of top competitors in GCW and there's only one way for me to go and I'm going to take it there.
This'll come out on March 1. You're at Aggie's on March 2. Tell us about the whole experience of being down there.
Aggie's is beautiful. There's a whole rich history of wrestling in St. Louis. It's a hotbed. You've got the old-schoolers like Ed Smith. I've got to give it to him: Tony Casta, he's a wonderful man. You've got the guys from the Chase. It's a hotbed and Aggie's is the place to make it grow. It's the place to be for hot St. Louis wrestling.
A fanclub yet?
I don't think a whole lot of people like me.
Tell about your relationship to the fans.
They're all blokes. I don't pay much attention to them. They're here to watch me. They're putting money in my pocket and that's all I'm concerned about.
Gateway Championship Wrestling will be in action at Aggie's, at 1709 S. Broadway, on Friday, March 2. For more info: www.gatewaywrestling.com.