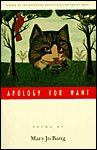 There are many ways to interpret the title to Mary Jo Bang's first book, "Apology for Want." In one sense the word "apology" could be a general apology, as in the formal apology made by a government for its excesses. Or "apology" could be read as a personal sentiment passed on by the poet. It could be the speaker in each poem saying, "I apologize." Even the word want has its many interpretations. "Want" as a verb for desire or "want" as a lack of what is there.
And in a way all of these descriptions are folded into the life of Mary Jo Bang. Perhaps Mary Jo, who marched in antiwar demonstrations during the Vietnam War, finds it necessary to make an apology on behalf of her country. In another sense, there is the Mary Jo whose life has been a series of turned corners. And what person wouldn't, after passing to the next job or the next city, feel a need to apologize to those she leaves behind.
But the sense of want or desire, her drive to achieve or to find what would make her happy — this is the thing that has taken Mary Jo Bang from a childhood of limited means to her current position as writing professor in the English Department at Washington University. "Always there was the specter of poverty behind me," she said during an interview. Mary Jo describes her childhood home as a one-room basement foundation with a tar roof, onto which her stepfather and grandfather eventually built a modest house.
Confined by these tight quarters, Mary Jo found a need to escape. Each week she walked to the library for books that would teach her things. Having no one to direct her selections, she chose whatever appealed to her, ranging from Freud's Interpretation of Dreams to fashion books describing the number of gloves a lady should take with her on vacation. The more she read, the more she wanted to read. In third grade she was allowed to check out only three books per week. So she checked out three books. In fifth grade she was allowed five books per week. So she checked out five.
By the time she reached high school, she knew she wanted to be a writer. Her teachers encouraged her to consider college. But at home, the idea of a woman going off to school was not even a possibility. Her mother had finished school through 6th grade, and her stepfather had finished 7th grade. If anyone were going to the university, she was told, it would be her brother, who would need to support a family. Mary Jo was expected to get married and raise a family, not support it.
But this wasn't enough to discourage her. And what she did next was the start of a pattern that has carried through her entire life. She asked questions to find out what was required and then learned how to fulfill those requirements. In order to attend college after high school, she went to the guidance counselor and found which schools she was interested in. "Something close to but outside St. Louis" were her parameters. She wrote to those schools for more information. Then she started applying for schools and scholarships. And if anyone told her, "You can't do that," her response was, "Why not?"
This is the attitude that earned her a bachelor's and master's degree in sociology from Northwestern University, that earned her certification as a physician assistant from St. Louis University — all while raising a son as a single mother. She went from not knowing how to operate a camera to being a professional photographer in Chicago. And finally, after different careers, different cities, even different countries, Mary Jo Bang began to write.

In the fifteen years since taking her first writing course at Northwestern University, she has published two books of poetry — "Apology for Want" and "Louise in Love" — earned a Master's of Fine Arts from Columbia University, won the prestigious Bakeless poetry prize for "Apology for Want," been published in numerous literary journals and magazines, been awarded a Hodder Fellowship from Princeton University, and served as poetry editor for the Boston Review. A third collection of poems, "The Downstream Extremity of the Isle of Swans," won the University of Georgia Contemporary Poetry Series Competition and will be published in May 2001. And now, this native St. Louisan recently returned to take a position teaching in the Creative Writing Department at Washington University.
In the title poem, "Apology for Want," Mary Jo Bang states, "There are few ways / to free the body from desire, all end in anarchy." Mary Jo has lived a life full of both desire and anarchy. Her poetry reflects this life in her use of image and in the way she fashions the poems to make the reader want to learn more. It is as if she holds her poems at an arm's length and then describes what she sees. In this way she creates in the reader that desire to understand the what of the poem while carefully handling the lack of information with her syntax. Mary Jo's life experiences appear in many of her poems with literal references to her life as a physician assistant and in other ways. But perhaps this use of form better describes how her apology for want works. It's as if she holds her dreams before her like a newly laundered shirt, and then describes how to want — and how to live with the longing for those things that can't be had.
Mary Jo Bang will be appearing at the Underwood Poetry Reading on March 24, 2001, being held at Soulard Coffee Garden, Ninth and Geyer. Contact Kent Shaw at 361-3433 or kdshaw@primary.net for more information.