RECORDS & CDs
The Movement
"The Movement"

The first long-player from the local Ascetic label, this one might also be the best, The Movement crafting a sound that takes influences from the last three decades and builds on them. It's arty pop, loud and possessing keen hooks, topped by a vocalist in Betsy Martin who sings with an impressive dose of energy and intent. Is it punk? Nah, not really. Emo? Can't say so. Like their label, it's a bit of this, a bit of that.
Though recorded with a "loose and live" feel, the disc gives an indication that The Movement should be one of the most intriguing rock bands in St. Louis for the foreseeable future. In just five songs, they completely give off that impression, though they seem intent on playing only the smallest venues to only word-of-mouth followers. Guess it's tough to be young and talented.
See them out, should you be able to find them. Or simply buy the disc. Prepare to be impressed.
There's hope for local rock'n'roll. Starting right here.
Contact: TheMovement@aol.com; Ascetic Records, 5248 Bancroft #B, St. Louis, MO 63109.
The Ambassadors
"The Ambassadors"
Together for over a year, now the Ambassadors have sneakily crept into the local consciousness, playing out enough, but at smaller-scale venues like Frederick's, where they've become a top draw. Sliding easily between different pop idioms, the band — bassist/vocalist David Simon, drummer Jill Aboussie, and guitarist Paul Davis — creates a sound that's pleasant without being syrupy, nice without being toothless.
Simon, an ace player locally since his days in Blank Space and Filet of Funk, still works a groove into much of the material, whether that's straight funk, or hinting at ska or soul or reggae. Heck, some of the material would bring a smile to the face of nerdiest power pop fan. Upbeat and energetic, the trio creates a sound that's wholly theirs, no local bands coming exactly close to their sunny pop.
Contact: theambassadors2@yahoo.com; 7735 Mohawk Pl., St. Louis, MO 63105.
The Fantasy Four/Julia Sets
"The Bert Dax Cavalcade of Stars Travelling (sic) Road Show"
&
The Julia Sets
"Domino" b/w "Have You Ever Seen the Rain" 45
This CD was put together to help support a two-week tour by the bands in question. They started off with a gig at Frederick's, packed into a van, toured, then came back for a closing show at the Way Out, which was empty (music-wise) until the van pulled onto Jefferson around 11 p.m. That's rock! Hopefully, they sold a few of these discs along the way.
The Fantasy Four (Marcia Pandolfi, guitar/vox; Karen Stephens, bass/vox; Jeff Hess, drums) put together a neat trick of welding girl-group harmonies, new wave and indie hooks and a heady swig of energy, crafting tunes that flit around your mind long after their appointed two minutes of life. Sweet.
Julia Sets changed for the better with the addition of bassist Matt Harnish, who seems to ground the band from taking too-lengthy flights of fancy. They can still wrap their hands around a simple hook and spin it for a while (as proven here on the lovely "Against Anorexia"), though they can also attack a simple melody in short form. The band's pop sensibilities and subtle grooves make them an intriguing, emerging act, no set ever the same. (And, if you're among the smart folks who still own and use a turntable, also check out the band's recent 45, which highlights two tracks that shine live, especially "Have You Ever Seen the Rain?" which is the song you're thinking about.)
Info: Bert Dax Cavalcade of Stars, PO Box 39012, St. Louis, MO 63139; bertdax@hotmail.com
CIVICS
Urban Forum: Frances Moore Lappe
Missouri Historical Society
Thursday, November 15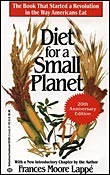 The author of several noted books — including the classic "Diet for a Small Planet" and the new "The Quickening of America" — Frances Moore Lappe came to this Urban Forum intent on getting all of her messages across, whether those touch on the possibility of the individual to effect change, or the international corporate community's headlong rush to eco-genocide. Sprinkle in a dozen references to the book that she's written with her daughter, to be published early next year, and you've got a lecture that could get a little convoluted. Well, that's just what happened here. Though the lecture wasn't without some sparks, it didn't hang together well as a whole.
A big part of that comes from the fact that Lappe feels the world is plunging towards a complete systemic breakdown on the fronts of climate, land preservation and Western materialism. She tempers this by noting that people can stop it, even one person making a difference. But that type of hope, when weighed against her overall pessimism, came off as a rather unsettling balancing act. And her hopscotching across continents to prove her points (a tree planter in Africa, a group of schoolkids in Ohio) didn't help matters. This lecture wasn't just dense. It was approaching topics with so many brushstrokes, that no clear pattern ever emerged.
If you're ever been at a dinner party, talking to a particularly brilliant individual who somehow confused you, then you might know how this evening felt. Too much information, too little time, not enough context, way too little structure to the conversation. My head still hurts.
(The next Urban Forum will be held in the handsome Lee Auditorium at the Missouri Historical Society on Thursday, January 17, 2002, at 7 p.m. Write akd@mohistory.org for more info.)
EVENTS
St. Louis International Film Festival
Multiple Locations
November 8-18
Organizers of this year's Fest — now in its 10th year — have every right to be tired. After all, they cracked the attendance mark for the event, with some 15,000 catching films at a variety of venues in town, including linchpin rooms at the Tivoli, Hi-Pointe and Webster University.
Highlighting close to three dozen works by international filmmakers and another two dozen with some kind of local tie-in, the SLIFF staff didn't just rely on American indie films to fill out the roster. This was an ambitious lineup, with plenty of sleepers to go along with sure crowd-pleasers, like the randy "Pornstar: The Legend of Ron Jeremy," or a lecture with Ken Burns and Bob Costas.
Great stuff. Next year, be sure to secure a multi-night card and be ready to sit real, real close to the screen: sell-outs will happen.
And one quick outro note: There was no movie any funnier than the live interview with Harry Shearer who did a bang-up job of shooting the breeze with STLtoday.com entertainment editor Daniel Durchholz. From imitations of Dan Rather to simple riffs on the creation of "Spinal Tap," the man behind the voice of so many "Simpsons" characters was positively a scream. Unfortunately, only a couple dozen folks took part in the conversation, but it was a total treat for those there.
RADIO
"Greaser's Lunchbox"
KDHX, 88.1 FM
Mondays, 12-2 p.m.
A couple months back, this space ruminated on ska music. The rather superficial (but truly heartfelt) idea was that the local show "Ska's the Limit" was a perfect ska show, in that our mind could only digest a limited dose of ska. And this single show summed up the best of it, in a tasty, bite-sized chunk.
Ditto, rockabilly. If you've not caught "Greaser's Lunchbox," hosted by the redoubtable Al Swacker, then you're missing out on the good stuff, from the 1950s and 60s classics, played on scratchy slabs of vinyl, to the latest CDs by bands from across the country and around the world. Like a lot of the programmers on the station, Swacker knows his stuff and promotes the local scene, playing in the Crazy Beats and managing the 7 Shot Screamers, as well as hosting the occasional open mic night.
Even if you're on the rockabilly fence, give it a listen. At the very least, you'll learn something, and you might just come away a fan.