Traveling to our nation's capitol is one way to apply patriotic balm for the losses we've collectively suffered over the past few months. But don't expect to be swept off your feet into old glory's embrace. Washington, D.C., likes to pass itself off as the center of the world — which it isn't, unless you're a politi-whore — but it does have a lot to offer the visitor who is willing to make some compromises. It's kind of like getting a bill passed in Congress: full of Faustian deals and trapdoors, but once you acquire some inside info you can avoid the major pitfalls.
A visitor's hotspot, the district is rife with the same kind of tourist hells residents of such Dante manifestations know all too well: chartered buses full of field-trippy students, flag-waving tour groups of foreign contingencies, annoying closures that divert work commutes, diplobrats escorted by hulky bodyguards (well, maybe not that last part). But before you go from A to B, how do you get there?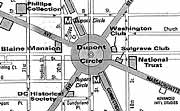 Driving and parking in DC: can you say nightmare? Bad waking dreams? The city is a mess to navigate, with circles, parks and various other tangents jutting out every which way. (Drunk interns, lobbyists and sometimes even scandal-ridden congressmen coming out of the bars bordering Dupont Circle will keep your brake foot busy — they've got that deer-in-the-headlights thing going.) Pick the wrong course and you could be off-track for hours. Nothing goes in a straight line here. As colonial folklore goes, that was the point, to deter foreign invaders. Problem is, residents and visitors are sidetracked as well. So what do you do? Take a chance and take on Dupont Circle? Either you'll go round and round until your head is spinning, trapped forever in the inner circle of hell known as Not Getting Off Mass. Ave. Ever, or you can grit your teeth, pump on the accelerator and plow or be plowed, the city's unofficial driving slogan.
If this doesn't sound like a fun family vacation, you're catching on fast. Save some aggravation (and parking tickets — meters add up fast) and take the Metro instead. In these cavernous underground stations you'll find one of the better innovations in a city in which history is a dominant fixture. Here is the future, replete with space-agey honeycombed domed ceilings and clean, cheap and efficient travel. Everything is color-coded for maximum user friendliness.
Or walk. Just try to do it in balmier conditions, because winters here can be on the brutal side. Then again, that's when the spirit of camaraderie seems to ring truest, when total strangers help you from one side of the street to the other. Slippage is a big issue on these streets that seem to be chronically salt-deprived.

Now that you've decided your means of travel, where to go? The Mall is the first logical place to highlight. No, it's not a place to check out the latest sales at Banana Republic, but what most folks around here call the two giant rectangular patches of land, lined with museums, sandwiched between Capitol Hill (a.k.a. Suit Central; suddenly memories arise of being a starving intern at a non-profit — what else — and becoming a professional reception-crasher) and the Lincoln Memorial. It's indisputably one of the country's greatest resources, but it will wear out the soles of your shoes. Things are MUCH farther than they appear. Take lots of breaks.
You can start with an IMAX film of California's extreme sport flights of fancy at the National Air and Space Museum. Sci-fi geeks will probably fall down as they absorb the brave new world feel of the place, particularly the planets and space mission rooms. Naval types (of which there might be a few, with Annapolis not too far away) might feel right at home at the replica of an aircraft carrier deck.
Wander down to the Hirshhorn if your taste runs toward modern art. Its sculpture garden leads to the other side of the mall, where you can gaze at the rock of all ages, the Hope Diamond, at the Museum of Natural History, or Jaws' great-great-great (well, you get the picture) granddaddy. Next door, (so to speak, it's more like a 10 minute hike), the National Gallery of Art gives good eye with master works like John Singer Sargent's Nonchaloir (Repose), various Rothko color blocks and lots of portraits of long-dead aristocrats (not really everyone's bag), but the sheer scope of work is enough to tantalize anyone into taking home some tastefully pre-framed prints. When break time rolls around, go back across to the main Smithsonian building called The Castle to a garden worthy of an English tea — it beckons for both quiet contemplation and clandestine canoodling, or a sneaked smoke. Food, by the way, is everywhere. If you don't want to deal with the cafeteria-tepid offerings at each museum, there's carnival junk food in the mall itself, and a carousel to go with it.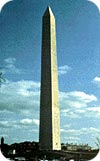 If pretty buildings are more your speed, take a walk on the not-so-wild side and linger at the monuments you'll see on Constitution. You're probably familiar with the biggies: the big penis that is our first President's enduring legacy, a.k.a. the Washington Monument; Jefferson Memorial on the Potomac (where in the spring you'll also be waddling elbow to elbow with visitors hoping to catch the cherry blossoms in bloom); the WWII monument that's taken over that area where I used to play as a child; the timelessly moving Vietnam War Memorial and, of course, Lincoln, the aforementioned emancipator of the slaves looking out across the reflecting pool.
Other popular attractions aren't as easy to get to nowadays. Security has tightened up in light of the events of September 11, rendering the usually packed FBI tour inactive until further notice, as is the White House tour. Not that you'd be missing that much. Like Graceland, it's a lot smaller than it looks on TV. Also you're in line for 3 hours, without moving. Parts of the city are also off-limits in that area. A recent fall bike ride that was supposed to encompass 20-something miles was shortened into a teeny tiny 13-mile warm-up that barely gave the thousands of bikers signed up any sights to see — mostly just dodging cars and speed-demon bikers who shouted "on your left!" just as they whizzed by within a hair's breath. But they were a patriotic lot, hoisting flags into helmets and onto bikes. One place to reflect on that strange intersection of patriotism and faith is the Washington National Cathedral, the closest thing our country has to rival the great churches of Europe. At Easter Mass, ladies in hats and other members of the Washington gentry sit and pray next to Log Cabin Republicans (gays and lesbians in the GOP). Like the rest of D.C., one group is really indistinguishable from the other, sharing the same conservative, clean-cut looks that homogenize most of the city.
Venture into some of the neighborhoods for flavor — or at least a hint of it. Adams Morgan, located north and west of Dupont Circle, still has fringes of roughness around it, but for the most part it seems to be the epicenter of the uber-liberal concentration in the city, where the City Paper crowd shoots pool alongside The Nation think-tankers. Local folklore points to Adams Morgan as the city's version of the East Village, but it's been cannibalized by trendier-than-thou versions of New York's real hipsters. (The hippest thing in this city is trying to decide whether or not it's time to trade the khaki shorts in for the khaki pants that go with the long-sleeve blue button-down and brown belt that make up the D.C. funky-casual uniform. The real scandal would happen if someone decided not to wear white pantyhose with her red dress and shoes.) One small ray of hope shines at Tryst, a big rip-off of the Friends' coffeehouse. Though it is overflowing in pretentious unoriginality, it is cushy (eclectic, Salvation Army, grade-A creature comforts) and dark. And they have a full bar, though their lattes have enough oomph to put your heart on overdrive all day. They serve food, but most folks come to 18th Street to chow down on Ethiopian cuisine. Those in the know know that it's better, fresher and served in bigger portions in Georgetown at a place called Zed's.
Otherwise, Georgetown is strictly for the frat and pre-frat pack. M Street, the main drag, is dotted with pubs galore, while stores like Urban Outfitters fill to the brim with the usual teeming teens out to spend their disposable income. The khaki patrol is in full effect down here, though dropping in for a meal at Italian staple Paper Moon isn't out of the question; just steer clear of the Euro-trash who come in for the post-dinner club action.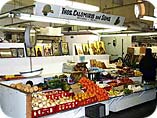 If you want some true variety and a chance to see the real deal in D.C., where city folk line up for fresh eats and peruse the Washington Post over breakfast, there's no place better than the Eastern Market. Though there are four sectors in the city, most people only seem to get to N.W. But don't sell yourself short — there are hidden gems in S.E., like the Market. Here you'll find the best crab cake sandwiches outside of Maryland (and that is saying a lot), served with spectacular sides of coleslaw (not too heavy on the mayo) and baked beans; blueberry pancakes that cause lines around the block on Saturday mornings; and kiosks that feature anything from flea-market knickknacks to antiques and artwork, to must-have jewelry (exceptionally delicate and disarming). It's here that the real city seems to throb with life, rather than the artificial posturing over on the Hill, just a couple minutes, but worlds away, down the block. It's best to stay away from the superficial seductions of D.C. and stick to the nitty-gritty underneath. It may not always be as pretty, (yes, there are plenty of tree-lined streets with the cutest colonial townhouses), but at least it's a more honest representation of a city that's as hard to hate as it is to love.