Horace Mann Elementary School, celebrating its 100th year of educating kids in the Tower Grove South neighborhood, is a fairly typical St. Louis public school, in some ways: it does well enough, standardized-test-wise, to not be listed among the district's "Schools of Opportunity," a.k.a. schools that are failing; it draws students who are, on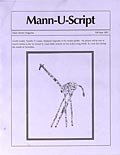 average, more disadvantaged from the get-go than their suburban counterparts.
However, Mann enjoys the fact that it is a truly neighborhood school, with children attending from within about a mile radius of the building, and it has strong ties with local groups and organizations. Big things are in the works to celebrate their centennial next February (watch this space for details), and their fall literary magazine, "Mann-U-Script," has just been published. Here are a few of our favorite excerpts:
"Leadership Academy"
By Stephon Balle, Rm. 020
Leadership is different than what I thought. In Leadership I learn more about our feelings. We learn to control our feelings. When I get mad I am learning other ways to solve my problems. Sometimes it is best to ignore the person who wants to talk about me. I treat people with respect by being kind and polite. I must be honest if I want to get respect. I have learned that I should respect myself by making good choices...One day I want to get a good job.
"If I Were Famous"
By Larry Corner, Rm. 206B
If I were famous I would take all my money and put it in the bank. I would buy my mom a Mercedes Benz. I would buy my dad a new house. I would call my mom so she could cook for me. I would give to the homeless. I would thank God.
"Frog on a Log"
By Takeina Fowler, Rm 114
I went to the pond.
I saw a frog on a log.
And took a picture of it eating a dragonfly
And I said, "Yuk oh my."
"Walk a Mile in My Shoes" (Learning to See the World From Another's Point of View)
By LaStacy Freeman, Rm. 206
I am a single teenage mom trying to get some food for my little girl and me. But, I have no job. I have no house and no clean clothes. My little girl is crying because she is hungry and I'm hungry, too. So every night I cry and my day is the same every day.
"Science Weekly" (Mann's Student Winner of the Science Weekly Contest)
By Princess Johnson, Rm. 206
There are several reasons why I want to take five of my friends on a space shuttle mission. One reason is because Charlette, Tina, Kayla, Brian and Eric never went on a shuttle mission in outer space...They never felt how the air is in space. Space feels like a big bubble full of air. We will float around in our comfortable green crab suits and have fun catching each other. They never knew it was a big orange planet called Jupiter. They thought it was made of cheese, so they tasted it. They found out it was made out of strawberries so we ate and ate until we fell out...
"IBM Report"
By Stephanie Brown, Thoa Khuu and Jayni Turner, Rm. 117
On Thursday, October 25, 2001, the fifth grade girls participated in a workshop with IBM. We were put into four teams. Each team did a project. Each project was about how to use a computer.
Team 1 did a project about computer programming. They created a writing on how to make a peanut butter and jelly sandwich. Each command was given by the computer on what to do. There were about twenty-six steps needed to make a peanut butter and jelly sandwich. When professional computer programmers make software, they have to put in a lot of commands. That job is really hard and complicated...
"When I'm Old"
By Robyn Famous, Rm. 201
When I am old it will be cool because I will not have to go to my room. I will go to bingo night, which will be on Friday. I will love it! It will be nice. I will have blast of fun. I will like being old. I know I will have a great time when I am old.