My dad's wife tells me that in her next life, she wants to come back as my dog. She thinks my dog has a pretty cushy life, and I must admit, she's probably right. Romeo gets premium dog food, loves to ride in the car, and even has his own winter coat. But the things I do for my dog are simply repayment for the profoundly positive effect he has on my life. Dogs greet you with joy every day, any time of the day. I know I'm not alone in my thinking: four in ten American households own at least one dog, according to the American Pet Products Manufacturers Association 2001-2002 National Pet Owners Survey.

I'd like to do more for my dog, and like many dog owners, I think some good, old-fashioned, free-spirited play would enhance my Romeo's life. Earlier this year, during a local television news feature about improving your dog's behavior, local dog behaviorist Gary Abelov commented that "walking your dog on a leash just isn't enough." Dogs not only need plenty of exercise, they also need to be socialized — that is, learn to get along well with other dogs and people. A well-socialized dog is less likely to be aggressive and is more likely to be better behaved. After a day in the great outdoors, I know my dog would rather cuddle up next to me on the couch than pester me for one more game of fetch.
But, since I live in an apartment, Romeo doesn't have a chance to run off-leash. I value his safety. He's an energetic guy and thinks nothing of running out into the street when he's sans leash. Even if I take him to a park, St. Louis City and County have very strict leash laws, so my pup's play is limited to a radius of sixteen feet — the length of his retractable leash. Some would think the obvious answer is to buy a house with a fenced yard, but that's a pretty large capital outlay for a safe, legal, dog play area. There's a better solution.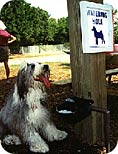 That solution is dogparks. A dogpark is a safe, fence-enclosed, off-leash recreation area where dog owners can take their dogs to let them run off some energy. A dogpark is even an opportunity for people to socialize. While cruising the Internet, I've seen stories about more than a couple of marriages that have resulted from people meeting at a dogpark. The benefits are evident, and now more than 400 communities in the United States (more in Canada, Japan, and other countries) have dogparks. New York City alone has at least 30 of them. And while most urban dogparks may be only a sliver of leftover land or a small city house lot, others are many acres. For example, Sarasota, Florida recently opened its fifth dogpark; the smallest park is over two acres in size. Some of the Sarasota dogparks' amenities are six-foot high chain-link fencing, dog waste bag dispensers, trashcans, dog fountains, "retired" fire hydrants, leash hitching posts, a dog shower-off area (no muddy paws in the car, please), picnic tables, benches, and a bulletin board. As of this writing, the St. Louis metro area does not have any dogparks, but things are changing.
Two years ago, I met members of People for Dogparks Of Greater St. Louis at a dog-related charity event. At that time, the group was in its infancy, but they impressed me with their enthusiasm. They told me they wanted to open a dogpark in the St. Louis area, and like many people in St. Louis, I had to ask what a dogpark is. But once they explained, it sparked hope for my furry family member, Romeo. Since that initial meeting, I've become a board member of People for Dogparks Of Greater St. Louis (a.k.a. People for D.O.G.S.). Our mission statement is my mantra, and my dog gets to go even more places for me while I extol the virtues of dogparks and ask people to join in our effort.
People for D.O.G.S. is a grass-roots non-profit organization, working to establish dogparks in St. Louis City, St. Louis County, and St. Charles County. We've done a significant amount of research into the features, organization and pitfalls of dogparks that are already up and running. We're learning from their experiences so that we can bring the best elements to dogparks being planned for the metropolitan St. Louis area.

As our membership grows, People for D.O.G.S. is spinning off community chapters, headed by people who volunteer to be Community Coordinators where they live. Our first spin-off chapter has already met with success. In the very near future, University City residents will be able to enjoy the first dogpark in the area. Fenton may be next; earlier this year the master plan for the city's parks was developed, including acreage set aside for a dogpark. St. Charles also has a People for D.O.G.S. chapter, and our newest addition is a chapter in Chesterfield.
We'd love for you to join us! To find out more about People for Dogparks Of Greater St. Louis, be sure to visit our website — www.stldogparks.org. You can also write to us at peoplefordogs@dog.com, or call 314-231-DOGS.
For more information on the nation-wide dogpark effort, see www.dogpark.com.
Dog lover Carol Panter is a graduate of the University of Kansas School of Journalism, and is currently a financial analyst for a telecommunications company.