Voices for Survival seeks to raise awareness about human overpopulation within faith groups. Why is this unique? In her book, Planet Awakening, Patricia Waak has written, "While the religious community has begun to embrace the issues of the environment and of poverty, there has been great reluctance to deal with population issues. For many people of faith, poverty is identified as the fundamental issue for society. If we focus on poverty and ignore population growth, it is easier to avoid confrontation with the controversies surrounding population."
Why take on the tough issues? The St. Louis regional fellowship believes that humans have not only encroached upon the other species who share the planet, but that our unprecedented consumption of resources is a direct threat to God's Creation.

The urgent need for such an advocacy group was inspired by a 1997 article in the New York Times. Alfred Kahn, a long-time environmentalist and co-founder of the Missouri Coalition for the Environment, noted a startling story about a Middle Eastern cleric who posted a written notice: from then on it would be morally acceptable for men to have vasectomies. This faith-based freedom to control the number of one's children opened the door to a smaller, healthier population.
The article triggered a series of questions: What obstacles do religious institutions place in the way of population stabilization? What if religions took a lead role in encouraging safe, common-sense family planning? Could a caring interfaith group encourage the education and empowerment of women and girls, locally and nationwide? How can we move comfortable, consumption-crazed American people of faith from apathy to awareness to action?
Those challenging possibilities led Kahn to identify a core group of people — Catholics, Jews, Protestants, a Muslim, a Hindu, and a Baha'I — who share a passion for the earth. Discussions were lively as a mission statement and strategies were developed.
Since its founding, the Voices for Survival board of directors has organized both denominational and interdenominational gatherings to engage in dialogue on often-controversial issues. While the sacredness of human procreation is a long-standing value in many traditions, in today's world that value must be weighed against humanity's impact on the rest of God's Creation. Tongue-in-cheek buttons displayed at some of the meetings proclaim, "It is no longer fruitful to multiply."
Events have included panel discussions, guest speakers, and a gathering of seventy-five teenagers who watched and discussed a videotape on population.
Voices for Survival has also received a grant from the St. Louis Jefferson Solid Waste Board to promote a faith-based program called "Pass it ON." Approaching earth issues from the angle of overconsumption, "Pass it ON" encourages faith groups to exchange good, used articles (outgrown skates, videotapes, household articles) in the setting of a simple fellowship gathering. Complete information about this free consciousness-raising program is available from Fawn Chapel at 314-721-0391.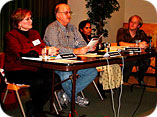 On Thursday, November 15, nearly one hundred enthusiastic participants met at First Presbyterian Church of Kirkwood, Missouri, for a forum called "Women and the Future of the Earth." The basis of this gathering was the close relationship between education and empowerment of women, human fertility rates, and preservation of the earth's remaining resources. Panelists included Patricia Waak of the Audubon Society Population and Habitat Program in Boulder, Colorado; Charles Phillips of the Central States Regional Office of the Endangered Species Coalition in Columbia, Missouri; and Urmila Panthi, a lawyer and social worker from Nepal. Round table discussions among the participants explored ideas for what we can do to adjust our lifestyles, walk more gently on the earth, and be attentive to the particular needs of women and girls. The proceeds from event sponsorships and donations were divided equally among six outstanding local and international agencies. It was agreed to meet again in January to continue discussions on making a difference in the future as people of faith.
I invite your questions about Voices for Survival and its future events at 314-965-0326 or cyost@kirkwoodpres.org. The group's web site is at www.yahoogroups.com/group/vfs/files/home.html.
Cathy Yost is the secretary of Voices for Survival.