Saturday and Sunday, December 1 (8 p.m.) and 2 (3 p.m.)
Itzhak Perlman Conducts Beethoven
Saint Louis Symphony Orchestra
Powell Symphony Hall, 718 N. Grand Blvd.
Sold out, but call day of show for potential subscriber-returned tickets at the box office, 314-534-1700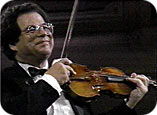 Yep: sold out. Because that's how good it's going to be when violin virtuoso Perlman takes the stage to both conduct and star in this all-Beethoven program, including the Seventh and Eighth symphonies (described as "propulsive" and "buoyant," respectively, on the Symphony's Web site). Still, it's worth a shot to check in and see if some season ticket holders might decide to stay home and put up their Griswold-esque holiday displays instead. Consolation prize: get a hold of a copy of "In the Fiddler's House," featuring Perlman in a different mood. Puts the fun back in "klezmer," it does — as though it were ever gone. (AD)
---
Wednesday, December 5
Cinema in the City: "West Side Story"
Beatnik Bob's Cafe, 15th & Lucas
All-ages, $4, smoking, 314-968-7487
This Web site's been up for a year now, and our lead item on just about every "Happening" column has been Cinema in the City. So we won't bore you with how cool it is to go. Instead, we'll note that the film this month is "West Side Story," which seems to be a favorite of alternative cinema programmers. (Last year, I took a trip to San Jose and saw — what else? — "West Side Story" at a monthly, outdoor film fest.) It's an interesting selection as a choice, in that it's a rather long movie, 152 minutes without factoring the reel changes. Good thing beer and corndogs are for sale.
Celebrating its 40th anniversary, "West Side Story" is a classic of the musical genre, with lots of singing and dancing and just enough violence and pathos to keep the sugar from getting too dense. As I found out, watching the thing all the way through for the first time, it's a pretty good movie, and transcends the movie musical bounds. (TC)
---
Wednesday, December 5
Disenfranchisement of African-Americans:
Redistricting and Other Dirty Tricks panel discussion
Gateway Green Center, 6101 Delmar
7 p.m., free admission, 351-4268
The end-of-year installment in the Gateway Green Alliance's monthly educational meetings promises to be a barn burner, with the topic of redistricting locally on the minds of everyone from Mayor Slay to soon-to-be-displaced 10th ward Alderman Craig Schmid to fightin' Irene Smith, the Phantom Pisser of City Hall. Come hear from a panel including Zaki Baruti (Green candidate for Missouri governor in the last election), Tim Barnhart (editor of the Compost Dispatch) and Elbert A. Walton (a seven-term state rep who represented dissident black Democrats before the state Appellate Apportionment Commission). With all the various proposed maps for redistricting the city and state, African-American representation could be seriously changed. Baruti will also speak on other reasons for suppressed minority political representation, including loss of franchise for convicted felons and voter registration laws that discriminate against people who move often. Bring your questions and get down in the civics trenches. (AD)
---
Friday, December 7
Hope for the Holidays 2001
Stray Rescue of St. Louis fundraiser
Lafayette Park Boat House
6:30-11 p.m., $60, 314-771-6121
We just know that all of you out there love Stray Rescue as much as we here at The Commonspace do — founder Randy Grim and his dedicated staff and volunteers work miracles great and small every day, from saving an acid-burned sweetie named Rick to dramatic rescues from outstate puppy mills. Here's your chance to support their work, which is chronically underfunded and hanging on by a thread now more than ever, in the wake of post-September 11 charity amnesia for local nonprofits. And hey! It's not all gloom and doom by any means: you'll meet Randi Naughton of Fox 2 News, enjoy food and drink from 15 area restaurants, and participate in a candlelight walk around Lafayette Park. Best of all, well-behaved dogs are welcome, so dust off Cujo's leash and head out to the party! (AD)
---
Friday, December 7
"Cold Fusion," a Warren Miller Film
Chase Park Plaza Cinema
7:30 p.m., $7, all-ages, 314-367-2385

Those words, "a Warren Miller Film," are enough to cause heart palpitations and uncontainable fervor in the heart of any serious (or not-so-serious) slope shredder, as the fellow in question is the undisputed king of the outdoor adventure film. You are familiar, perhaps, with those kind of slow-mo, over-the-top shots of skiers dropping out of helicopters and falling headlong down mountains, disappearing for long moments under piles of snow, crashing through trees, surviving the impossible-to-survive...and then grinning like fools to the camera at the end? Then you've seen the work of Warren Miller. It's pure adrenaline, and this film (his 52nd!!) promises more of the same crazy ski and snowboard action, including two "never-before-seen world-record-breaking stunts." (That's a lotta hyphens, so it must be good.) Put on your après skiwear and save us a seat near the front. (AD)
---
Friday and Saturday, December 7 and 8, 8 p.m. both days
Mid America Dance Company: "Kaleidoscope"
SLUH Performing Arts Center, 4970 Oakland Ave.
All-ages, $10-$18, www.metrotix.com
First things first: call them MADCO. It gives them the jaunty, devil-may-care attitude that this top-notch dance troupe likes to cultivate. Then, wrap your mind around this spectacular feat of dance: a concert featuring dances from the entire history of the group, something like 25 years. Or so. (Don't quote me on that...) The people who brought you the fractured fairy-tale dance version of "Cinderella" last season, complete with two rather hirsute and manly ugly stepsisters, is back with a sophisticated show that'll make you marvel anew at the culture we've got right here in River City. Bonus trivia: one of the founders of MADCO was the father of Alex Winter, he of "Bill and Ted's Excellent Adventure" fame. Speaking of which, where's Alex Winter been lately? (AD)
---
Saturday, December 8
Nocturbulous Behavior
LO, 500 N. 15th St.
21-up, $5 from 9 p.m.-3 a.m., 314-621-8930
Is sake something you enjoy? Like underground dance music?
Try this on for size: "M-Squared presents 'Nocturbulous Behavior' on Saturday December 8th @ LO featuring: Mastermind (Bassment of Illnoise; Lumar-Docile Recordings; Detroit). And a very special St Louis appearance: Suburban Knight (Underground Resistance; Darkprint; Detroit)."
I like sake. (TC)
---
Sunday, December 9
Webster University Film Series: "Cheap Smokes"
Moore Auditorium, 470 East Lockwood
All-ages, $4-6, 314-968-7487
Are you Greek? Then, by all means, read on.
This film ends the run of six films in a series called "Images of a Country that Never Sleeps: A Festival of New Greek Cinema." The work is described thusly: "This offbeat, ensemble comedy with a romantic heart center around a carnival of lost souls. 'Cheap Smokes' is like a game of poker where the players gradually reveal themselves. The characters and stories change with the speed of a slot machine and we wait to see who wins. Contains adult content. Directed by Renos Haralambids."
Webster's Moore is one of the best places in town to watch a film. Those seats are plush! A popcorn machine in there and I'd never need to leave. (TC)
---
Saturday, December 15
Mazi a.k.a. Audio Soul Project
LO, 500 N. 15th St.
21-up, $5 before 11 p.m., $7 after 11 p.m., 314-621-8930

I know absolutely nothing about six things: 1. Bulgaria, in general; 2. How to fry chicken; 3. Honolulu's political landscape; 4. Brakepads, as in what they are, how they work; 5. The Grand bus line and the wacky riders of said line; and 6. House music. But Shawn Collins, the manager of LO, knows a lot about house music. So, we'll let him tell you about "a really big shew" at the LO dancing-and-drinking emporium:
"True househeads unite for an excursion into the deep sensuous sounds of Chicago after dark with Mazi a.k.a. Audio Soul Project. Mazi is the NOW sound in the UK and abroad... enjoy an intimate evening at LO with one of Chicago's best house producers to date! This 29-year-old DJ/producer behind Audio Soul Project celebrates the release of his debut album "Community" on British imprint NRK Sound Division. The album has been hailed by the British press as 'timeless House.' Ministry and 7 Magazine calls it 'Intelligent, fresh-sounding soul food.' Recently stepping away from the studio to focus on his DJ career, Mazi has spent the last two months in cities such as London, Copenhagen, Paris, Montreal, and Istanbul. His DJ style can be described as tough clubby house that maintains its depth and sensuality."
Take it from The Man (Shawn, that is): go to LO! And learn something about house; don't be an oldster! (TC)
---
Wednesday, December 19
Bureau of Sabotage and The Transmutors
Way Out Club, 2525 S. Jefferson @ Gravois
21-up, $3-4, 314-664-POET
Former members of the Patsies rear their lovely heads in two guises on this night, with the Transmutors and Bureau of Sabotage headlining this fave Southside club. Haven't seen the former band, but the latter is a wildly entertaining local group, with a sound rooted squarely in the non-hitmaking new wave days of the late 70s and early 80s. (Though you can also hear criminally underplayed 90s groups like Scrawl and Arson Garden, too.) This band is tops! Heather, the band's vocalist promises: "This will be a great show!" We agree and add an exclamation point for emphasis! (TC)
---
Friday and Saturday, December 21 and 22
The Urge
The Pageant, 6161 Delmar, 314-726-6161
All ages, doors 7 p.m., show 8 p.m.
Tickets: $17 ($2 surcharge for minors), Ticketmaster, 314-421-4400
The Urge is legendary for its high-energy live shows. Keeping up with tradition, they'll be playing back-to-back shows in St. Louis for the holiday season, although this year they'll be at The Pageant rather than Mississippi Nights. In my opinion, if you see one show this month, this is the one to go to. The ticket price, $17, is on the cheap side for the venue, especially for a band on a major label that's gotten MTV play. The Urge's music is difficult to pigeonhole, often blending reggae, ska, funk, punk and rock in the same song, but their sound has definitely been refined over the years. Unlike a lot of bands that "take it to the next level" by playing the same thing faster and thrashier, The Urge's new stuff has actual melodies and thoughtful lyrics in addition to the adrenaline. Every band should have horns!
If you can't make it to either show, pick up a copy of their 2000 release, Too Much Stereo, and rock out in your living room. Otherwise, mosh hard and help each other out in the pit. (BHM)
---
Sunday, December 23 and Tuesday, December 25
The Unconscious with guests
The Duck Room of Blueberry Hill, 6504 Delmar
21-up, price TBA, 314-727-0880
The absolute funky party kings of the St. Louis scene in the late 80s, The Unconscious have been reuniting for one or two nights each Xmas weekend for the last few years. They seemingly haven't lost a thing, able to cobble together top-quality versions of their old sets with only a day or so to practice the tunes. They were — and continue to be — some amazing musicians who also put together a sound that's singularly their own, grooving and maddeningly catchy.
What's kinda cool or kinda unsettling about these gigs is the audience, which, of course, grows older by the year, with a high school reunion quotient that's a bit funny. Instead of the Clayton or Webster Groves classes of 83-87 (of which plenty are represented) you get the Kennedy's/Mississippi Nights/Frosty Factory alumni, with both musicians and fans of that era turning out to hear the Unconscious run through classics of theirs, like "Silver Tray," "In a Short Time," "Green River" and plenty of others. For two sets, you're young again, Mike Apirion gliding across the stage, Paul Matulef blowing those sad sax solos... ah, the good old days are here again. Vital and true.
Don't miss! (TC)
---
Saturday, December 29
Jenny Kavanaugh and her Band of Outlaws with the Welterweights
Frederick's Music Lounge, 4454 Chippewa
21-up, $4
"The stage will surely be crowded," says one member of Jenny Kavanaugh's group, who number six players, with occasional guest stars. That's a lot of people to make one song sound good, but they do it. Is their sound country rock? Well, yes, there's certainly an element of that. And pop. And rock. Jenny's a capable and funny frontwoman, adding moments of levity between tunes, even as the songs are often about those heartbreaks of life. If you've not heard the band, you can also pick up their CD, "I've Done My Time," through the usual local channels, though there has been a little personnel shifting since then. Should be fun. If only to see six people try not to hurt each other onstage. (TC)