In the spring of 2002, born out of frustration with tailgaters trashing our north riverfront neighborhood, the poisoned environment, decaying buildings and a great river hidden by concrete and steel, Hap Phillips and I planted the seed of an idea into the hearts and minds of several local St. Louis artists. We were certain that within each individual in this city there is a spark of creativity, which if drawn out, could be a force for positive change. The core group of artists nurtured and coaxed this idea and by August of that year, amidst the ghosts of past civilizations, in the shadows of long-forgotten burial mounds and up from the rubble of abandoned industry sprouted a phenomenon called Artica.
Artica is so many things that it is rather difficult to sum it up in one zingy catchphrase. It is homage to the Mississippi River, a remembrance of history, a vision of future possibilities. It is at once spiritual and secular. Artica is art, music, ritual and decadence. It is an otherworldly sacred space and a down-to-earth raucous celebration. One thing is for certain: in the past four years, Artica has become larger than we ever imagined.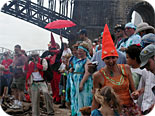 The Boat of Dreams parade kicks off the festivities. Everyone is invited to transform themselves through costume and to create biodegradable boats filled with their wishes, hopes and dreams. Beginning at the Artica site on the north Mississippi riverfront, people wend their way south along Sullivan Boulevard. Drums beat a tribal rhythm while banners fly, giant puppets bow, people dance and spin. When we arrive at the levee there is a moment of silence, a dedication to the river and the launching of boats. It is a time of reflection on the past and dreams of the future. Then from out of the crowd someone calls "Are you ready for Artica?" Cheers erupt and everyone heads back north to the Artica site to begin a bizarre and sublime weekend of creative surprises.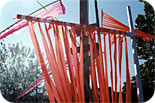 With sixteen square blocks of open urban wilderness there is plenty of room for the imagination to soar. Artists have created everything from tiny found object sculptures to earth works a block long. Performances have included The Furless Fur Traders selling river water elixir in exchange for scraps of junk, Celestial Theatre's black light play about channeling aliens, and the Ekklesia Dance Company's interpretation of visual art through movement. Local community groups such as Edgewood Children's Center, South City Open Studio and Gallery for Children, WHM Services' after-school art students, and Peter and Paul Community Services have created amazing works of art. The concepts have ranged from history, as in Keith Buchholz's "Mound City" installation, to social issues in the Charles and Chalot Douglas-Book (aka Bill Russell) piece on homelessness, to the humorous politics of Meredith Parker's "Vagina Lounge." Sounds have emerged from the souls of Cenozoic, Celia, Dave Stone, Lone Tree and many more talented musicians.
But Artica is not about artists entertaining the public. The Artica philosophy is one of openness and inclusion. Everyone in the St. Louis community is invited to participate and free up their own creative channels. In some cases, artists will create a piece that involves the direct participation of passersby, as Joe Neaf did when he encouraged everyone to help him build and destroy cities made from cardboard boxes. In years past, the Artica site was filled with so much dumped debris that within hours, visitors to Artica transformed the space into a wonderland of found-object sculpture. Everywhere you walked new life had sprouted from trash.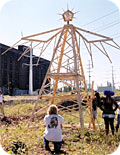 There is one aspect of Artica that has never wavered — the Saturday night ritual of fire. In 2003, inspired by his experiences at Burning Man, D. Lohr Barkley proposed to create "Effigy to Our Lady of Artica." No one is really sure where Our Lady came from. She spontaneously sprang from a group of us who were planning an Artica fundraiser. But it was understood immediately that Our Lady of Artica was the patron goddess of the festival and the guardian of the Artica site. So the tradition began, that in order to ensure the success of Artica's future and to honor the great spirit that brought us all together, the Lady must meet her fiery fate.
As the sun begins to set and the gloaming appears, the Articans quiet down to dinner, meditative music and reflection on the day's events. When darkness approaches there is a stir. The beating of drums calls the crowd together and from the shadows emerge trails of light caused by the spinning flames of the Pandora's Matchbox fire performers. Lohr and his group make last-minute preparations. The anticipation builds, then all at once — whoosh! — the Lady is ignited, creating a 25-foot-tall tower of flaming glory. Golden light is reflected onto the upturned faces of the smiling crowd. Finally, in her incendiary consumption, the Lady takes a bow, and then dwindles to a circle of embers where the people quietly gather in song and communion.
Artica has always been about the swirling energies of transformation, and in that light I will say that this year it has once again evolved into something different. First, let me acknowledge and thank the hundreds of artists and citizens who have come together every year to make this such a special event. Without all of you there would never be the phenomenon called Artica. At the same time I must confess that even with everyone's help, Hap and I spent a lot of months doing the preparation and we have become overwhelmed by its enormity. Between writing grants, obtaining permits and doing crowd control, Artica was becoming too big for just the two of us. I'm not sure why we didn't release it sooner. Maybe it was because we had a lesson to learn, or because we didn't know how to delegate tasks, or maybe because we just held this project too closely to our hearts and didn't know how to let go. But as I said, things have changed.
This year we have turned Artica over to the community. With the helpful leadership of Parade Marshall Marianne Nubel, the people did step up and Artica is happening! On Saturday, October 15th, we invite you to participate in "Artica 2005: Big River, Big Dreams!" At 1 p.m. several groups of people will parade through St. Louis from four directions and converge on the Arch steps, where we will commence the Boat of Dreams Parade. Wear a costume, bring a biodegradable boat filled with your dreams and celebrate your life!
We've always stressed responsibility for ourselves and for one another, so be prepared! Bring a picnic, water and a trash bag. Wear sturdy shoes and work gloves because our main focus will be working together to build a labyrinth. The labyrinth is a metaphor for life. Its path twists and turns, moving in all directions, yet it always leads us to the center. In the center of Artica's labyrinth Our Lady will burn, and once again the people will gather in the spirit of creative community.
Nita Turnage is an artist living in St. Louis.