It's officially known as "Turtle Playground," but goes more often by the colloquial Turtle Park. For the sake of clarity, perhaps I should point out that it's actually a park for kids, more so than for real reptiles — there's the slight-but-tragic chance that Timmy Turtle could scramble off onto the nearby highway and bring a swift end to the happy family outing. The location of the highway is key, though, to why adults love Turtle Playground, too: nothing makes you feel quite so alive and free as frolicking on and near seven oversized turtle sculptures, with or without youngsters in tow, while responsible citizens pass by on their daily commutes to jobs, school and the whole grown-up world. Turtle Park denizens thumb their pointy noses at such drudgery, and in a clever visual joke, a large snake sculpture is positioned with his mouth wide open, ready to clamp down and swallow the nearby overpass.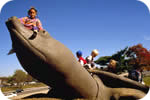 Unbelievably, it's not all been fun and games throughout the history of the roadside attraction near Forest Park. The turtles' creator, Bob Cassilly, is well known around town as the chief fun-gineer behind downtown's outrageously wacky City Museum, but he also has a reputation as something of a hotheaded fantasist (the perfect person to design the park's concrete creepers, perhaps, who are all named after the children and grandchildren of Turtle Playground's benefactress, Sunny Glassberg, about whom an interesting, if too long, documentary screened at this year's St. Louis Filmmakers' Showcase.)
Sadly, patron, parks department and artist had a collision of visions some years after the park's founding in 1996. Out of concern for the safety of children who play around and on the turtles, and in an effort to protect the sculptures from the elements, a decision was made to enrobe the sculptures in a protective coating, which slightly altered their appearance and color. Within a matter of days, graffiti covered nearly all the turtles, giving voice to their predicament with exclamations like, "I've been slimed!" and "Help me: I Can't Breath!" (Art and good spelling do not always go hand in hand...)

Police were summoned and an investigation began, but before much headway was made, Bob Cassilly confessed to the vandalism in the course of an interview on a local talk show. As you might expect, he found the graffiti less offensive than the "true" crime, the interference with his works of art.
The intriguing backstory leaves absolutely no impression today, as the graffiti has long since been removed and the squealing kids playing "King of the Box Turtle" couldn't care less about artistic vision. While adults sun themselves and enjoy the first nip of autumn and dogs retrieve and retrieve again, the children slide down the creatures' spiny, ridged shells, maintain a precarious balance on the snake's back and jockey for position inside the yawning maws of turtles, making for a classic snapshot of a day at Turtle Playground.