"Where did you go to high school?"

Since I moved to Phoenix six years ago, the only time I hear that question is if I happen to meet someone from St. Louis. We share a laugh and talk about the differences between, say, Rosati Kain and Nerinx, the South Side vs. West County, or about rearranging travel to school in order to meet boys from SLU High on the Kingshighway bus. Even if just for a few minutes, I feel a connection back to St. Louis.
I moved to St. Louis when I was seven years old and grew up in South City; just a short hop to grade school, high school and college, and when I moved out, my apartments were within walking distance of my family, the local parish church, Schnucks, and the public library. Move from St. Louis? You've got to be kidding!
I think I surprised myself more than my family when I got engaged, got married, and moved to Phoenix all within six weeks. We arrived during one of the hottest weekends of the summer of 1999. My co-workers assured me that Phoenix has a more bearable dry heat, not like that nasty humid weather I had become accustomed to back in the Midwest. Well — 115 degrees is just too hot, humidity or no humidity. That was just the first of the differences I discovered after moving to the Valley of the Sun.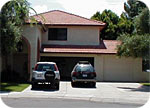 There were other differences discovered during our first year out here — desert landscaping (which reminds me of the green painted concrete lawns on the Hill) grows gravel not grass, the snowbird is not an exotic breed of bird but rather older citizens escaping the Midwest and East Coast winters who drive very slowly in the passing lane, and there seem to be a golf course in every neighborhood (even in central Phoenix). Oh, and basements — those can be found in custom-built homes as an option. Where do Phoenicians put all their extra stuff? Thus is the mystery of the three-car garage solved.
After the move, I missed the green of the trees in Tower Grove Park, the changing of the seasons, the small town feel the city has, walking a few short blocks to the South City Diner for an early morning breakfast, and always being able to orient myself by the Mississippi River and the Gateway Arch. And who can forget the palace of culinary delights, also known as White Castle?
After our first full year, I gained a new appreciation of Arizona. We started a custom of eating Thanksgiving and Christmas dinners on the patio (sometimes it's even chilly enough to light the fire pit), taking trips to Flagstaff to play in the snow, and exploring the history of the Southwest from the Ho Ho Kam and Pima Indian tribes to the Spanish exploration and settlement of the area. Trips to Mexico are like trips to the Lake of the Ozarks — close enough for a weekend getaway. My drive into work each day provides me with an ever-changing and always spectacular view of the McDowell Mountains, and my office overlooks Camelback Mountain (yes, you really can see the camel). The cultural life of Phoenix has grown over the years as well — we're home to a first-class symphony and ballet company, and both Stevie Nicks and Alice Cooper call Phoenix home. The Heard Museum is one of the finest places to visit to learn about Native American art, and the Phoenix Art Museum has hosted traveling exhibits ranging from Monet to Norman Rockwell.
Every visit back to St. Louis gives me an opportunity to experience the change of seasons, drink in my fill of all that green grass and trees, and visit my family, friends, and my favorite restaurants and neighborhoods. This winter I'm going to meet up with a local knitting group at Hartford Coffee Company and revisit the Japanese Garden to see how it looks with its wintertime landscape. I'll have new memories stored up to revisit when I need my 'fix' of St. Louis.
Because Phoenix and St. Louis are so different in so many ways, from landscape (mountains and desert vs. rolling hills and grass) to climate (hot and dry vs. hot and muggy, and cold), even to the length of city blocks and speed limits, I can appreciate both and not feel that I'm playing favorites.

But there is one thing that can't be replicated in Phoenix — Mama Toscano's toasted raviolis with marinara sauce, served piping hot, washed down with a cold Schlafly Pale Ale.
Kate Lathrop is a transplanted South St. Louisan currently living in Phoenix, AZ. She relies on Southwest Airlines and e-mail to keep her in touch with her family.