Wednesday, December 7
Film: "Dogtown and Z-Boys" (part of the Strange Brew series)
Schlafly Bottleworks, 7260 Southwest
$4, all ages, 8 p.m., 314-968-7487, www.webster.edu/filmseries.html

Here's what you have to understand: no one had ever really done what the skaters from the Zephyr Surf Shop (folks like Stacy Peralta, Tony Alva and more) had done on a skateboard: essentially stealing from the surfer's playbook and creating a new form of the sport that emphasized individual, trick-laden styles. Sean Penn narrates a film that is actually pretty fascinating, although the "no one had ever done what we had just done" gets a little old...after the fifteenth usage. You could always have a beer to deaden the repetition towards the end.
---
Friday, December 9
Art Opening: Mary Beth Shaw
Subterranean Books, 6275 Delmar
Free, all ages, 7-9 p.m., 314-862-6100, www.subbooks.com
Collage art has come a long way since your efforts in preschool (usually resulting in noodle-and-paste pastiche, all covered with a healthy dose of glitter), and the wry observations captured by Mary Beth Shaw — whether on family, love or history — have an appealing quality from the moment you see them. That quality only intensifies the longer you spend examining the details of each piece. Shaw often starts with what she terms "antique ephemera" (say, other people's discarded family photos) and adds her own commentary in the form of captions and other found material. Subterranean, a pleasant space at any time, really comes alive during openings in its loft-like gallery. Then, once you've enjoyed the art, you can spend the rest of the evening perusing great books.
---
Saturday, December 10
Filmmaker's Fundraising Workshop, with Morrie Warshawski
Sverdrup Business & Technology Complex at Webster University, 8300 Big Bend Blvd.
Free, 12:30-5 p.m., 314-361-8870, ext. 229, doug@kdhx.org

With all the film getting made in this town in the last decade, think of all the film that's not getting made, at least partially due to lack of fundage. Morrie Warshawski, a writer and consultant whose books include "Shaking the Money Tree: How to Get Grants and Donations for Film and Video," will lead this exploration of how to find money to make noncommercial film and video projects. The workshop itself, you'll note, is free. First tip: take advantage of free help!
---
Tuesday, December 13
Green Drinks happy hour
Schlafly Bottleworks, 7260 Southwest
$3 donation requested, 6-9 p.m., www.stlgreendrinks.org
Well, admit it: after you've gotten a few quiet moments away from the hurly-burly of the impending holidays, December and January are sort of tailor-made for introspection, for those quiet moments when you ask the big questions of yourself, like, "How the hell long can I stick it out at this soul-draining McJob of mine?" If you're interested in things like environmental health and sustainability (and really, who shouldn't be, at least in a self-centered kinda way?), tonight's forum could be the perfect jump-start: "Creating Opportunities in the Sustainable Sector: Finding a Job, Starting a New Program or Enterprise."
---
Friday, December 16
Winter Glow
Saint Louis Art Museum, One Fine Arts Drive in Forest Park
Free, all ages, 7 p.m., 314-721-0072, www.slam.org
Winter's the season when it seems art is all around us, in the beauty and stark relief of the natural landscape. Come warm body and spirit at this annual celebration, which starts in the Sculpture Hall with a sing-along choral performance (ably led by the choir of Christ Church Cathedral) and then moves out into the museum grounds with a lovely lantern procession through a luminaria-lit path. Escape from piped-in mall music = priceless.
---
Saturday, December 17
Lecture: "It's All in a Manner of Speaking," by Dr. John Baugh
Missouri History Museum, Lindell & DeBaliviere
Program free/breakfast $14, all ages, breakfast 9 a.m./program 10 a.m., 314-361-9017, www.mohistory.org
It's not just the tired debate over Ebonics versus the Queen's English: Dr. Baugh presents a fascinating take on the phenomenon he calls "linguistic profiling," which casts the language of marginalized and dispossessed populations in a negative light, and often leads to stereotyping and discrimination.
---
Sunday, December 18
Tour: Earthways Home
3617 Grandel Square in Grand Center
$2 (kids under 12 free), all ages, tours on the hour from 11 a.m. to 2 p.m., 314-577-0220, www.earthwayshome.org/

If it's been a while, or if it's been forever, make time in your end-of-year schedule to visit the Earthways Home, a green-rehabbed Victorian house sitting all by its lonesome in the Grand Center district: though needing a little bit of TLC to regain the "gee, whiz!" shine it had when it was first completed, it's still an amazing example of the kind of project that would make more people think seriously about conservation and environmental living. From insulation to flooring to appliances, the knowledgeable tour guides will give you more hints than you could ever possibly remember, and then follow it up with handy cheat-sheets to take home. A must-visit for anyone considering a home project in the new year...(Honey? Are you listening?)
---
Thursday, December 22
Concert: Hugh "Peanuts" Whalum
Brandt's Red Carpet Lounge, 6525 Delmar
Call for cover, 7 p.m., 314-727-3663, www.brandtscafe.com
One of our town's legendary stalwarts from good old Gaslight Square days, Peanuts Whalum tears it up equally on saxophone and piano, with his crowd-pleasing interpretations of jazz and pop standards. He's come to the attention of a new generation in part due to his collaboration on nephew Kirk Whalum's albums, and is one of those "if you don't see him now one day you'll be sorry" kind of folks. Ease into the rest of '05 with the smooth sounds at Brandt's.
---
Wednesday, December 28
Kwanzaa Expo
Schlafly Branch of the St. Louis Public Library, 225 N. Euclid
Free, all ages, 2:30-4:30 p.m., 314-367-4120, www.slpl.lib.mo.us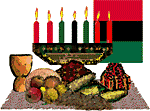 Know how many days of Kwanzaa there are? Know how best to commemorate the principles of, say, Ujamaa or Kuumba? Find out all this and more at the Schlafly branch's expo, where attendees can also examine Kwanzaa items and make a place mat for their own celebrations.
---
Friday, December 30
Concert: Raven Moon
Finale Nightclub, 8025 Bonhomme
$10, 7:30 and 9:30 p.m., 314-432-4400, www.ravenmoonband.com
If you've never seen the explosion of musical styles that's characteristic of a Raven Moon gig, tonight's the perfect time to put on your party clothes and head to the swanky Clayton nightspot: this show promises a little of everything the 'Moon's famous for, including Cajun, old-time country and folk, jazz, bluegrass, Irish and even a little rock'n'roll. Lead singer Christine Peick has a voice like shining gold, and the musicians who provide the full sound are all masters of their crafts.
---
Saturday, December 31
Charlie Chaplin's "City Lights" performance
Saint Louis Symphony Orchestra, Powell Symphony Hall, 718 N. Grand in Grand Center
$20 and up, ages 5 and up, 7:30 p.m., 314-534-1700, www.slso.org
Here's a great New Year's Eve idea that beats the pants off any "get drunk and regret it well into 2006" offer you'll get: Powell Hall will be home to a screening of Charlie Chaplin's charming, funny silent film "City Lights," while the SLSO plays Chaplin's score alongside. David Robertson conducts and really, it should be a stellar way to transition into the new year.