If St Louis hadn't been calling, Bristol is the British city I'd most want to be in right now. It's a small, good-looking city in the southwest of England. It's got most of the stuff you can find in London and whilst near enough (120 miles) to enjoy the perks of being near the capital (the BBC has a centre there), it's far enough to have its own distinct identity. For those who find the urban jungle too claustrophobic 24/7, there's also Bristol's proximity to the coast, rivers and historic towns with dinky names (like Bath and Wells and Chipping Sodbury) to escape to. Bristol is great for stay-put hipsters and day-trippers alike.
Bristol attracts a large number of students, graduates, well-to-do "Hippy with Trust Fund" types (known as Trustafarians in Brit slang) and young professionals, so unsurprisingly there's a definite arty, leftist feel to the place that infiltrates even the more mainstream centers. The city is a historic seaport (founded for the slave trade), but now the waterfront provides a focal point for the visitor and resident alike. You'll find bars, restaurants, the Watershed cinema, art galleries, the central library, expensive hipster clothing shops as well as book, comic and record stores, all in the vicinity of the docks. Eating and drinking al fresco on the waterfront is a real pleasure (being in the south, Bristol is one of the less rainy cities, honestly), so after dark the docklands continue to buzz as European beer is drunk against a backdrop of tall masts, the cranes and paraphernalia of the docks overhead and stripy, light-streaked water (with ducks and swans plopping in to say hello) flowing below.

The city's counter-culture isn't too hard to find either. Being a university city, Bristol has a great number of music venues and attracts a lot of touring and homegrown bands. Venues include Bristol's legendary club-on-a-boat, the Thekla. Permanently anchored, it's sort of like being on the Love Boat in a parallel universe whilst punk music rattles the decks and shakes the glass in the portholes.
There's much that's unique about Bristol's arts scene. The city is home to the most close-knit yet un-cliquey arts'n' crafts scene you're going to find in the UK, sez me. The confusingly named "HERE" shop provides an outlet for the creative types around town. Not just a shop, it's also a venue for music, a gallery for art and it has a toilet, a kettle and a sofa! Run by volunteers and set up two years ago by the organizers of Bristol's 2003 Lady Fest, the shop was restored from being a semi-derelict, empty high street store to being a pastel-hued sort of living room of the arts and crafts. It sells everything from clothes, buttons and hand-crafted jewelry and accessories to small press comics, magazines and zines and records, and it has a downstairs gallery space which can regularly features international artists. It also acts as a free-of-charge hangout space (you can bring your own candy and soda). Lately it's been acting as a distributor for hard-to find media, so the international reputation of the shop continues to grow.
The same people who set up HERE have mostly moved on to other projects, though the shop continues to be a collective effort, attracting new generations of supporters. There are plans afoot for a spin-off vegan café (called Mono) that will take over the music and performance arts projects that the shop isn't really big enough to cope with. (It's popular!)
The city's home to an annual "Bring Yourself Fest" where just about any art form you can think up is welcome. Comics, spoken word, cinema, music...macramé! The crafts rub shoulders with the arts here as HERE also plays hostess to the local branch of the Stitch n'Bitch movement. This is a city of band T-shirts, buttons and homemade chic!
The Cube Cinema is another important venue for the alternative arts scene. Describing itself as a micro-plex cinema, it has its historic roots in the burlesque and seedy but now it hosts the kind of cinema you won't see anywhere in the region (35mm, 16mm, Super 8, video and digital), music and visuals, live performances, BYO films. It even has floor space for mini discos after the main feature is over. Again, like the HERE shop, it's run by volunteer artists, workers and enthusiasts and is as unique and valuable to the city's art life as it is (decidedly) oddball.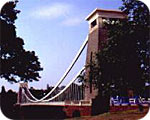 I guess a downside to the city's arts scene might be its perceived incestuous ness. It's not uncommon to find the same person you saw playing acoustic guitar at a gig, or reading comics for free at HERE, then serving your drink at one of the venues like the Cube Cinema. Much of the nature of the cool stuff that's going on is unpaid, done for kicks not cash. The Cube Cinema, HERE and club/gig promoters like Local Kid are by no means making a living through these endeavors and the work they do is driven by the desire to create cool (that's pro-feminist, pro-gay and usually, pro-veggie). The potentially in-bred nature of the scene would only be a downside if Bristol were not one of the friendliest cities I know. Where as similarly hip towns are known for there trademark sneer and swagger'tude (Manchester) or the exclusive "it happened here first and we have the haircuts to prove it'" chic of Camden or Shoreditch (both in London), Bristol is genuinely much more friendly and open. And if you want to get involved and join in, you'll find your offer snapped up (and your vegan candy bar whipped from your clutches) before you can blink.
Easy to infiltrate, reasonably cheap to live in, small enough to go by foot if you need to and a real hive of generously talented people who've figured that much out about Bristol already. Oh, and I didn't mention that the accent has this cute rural "burr" to it. Big sighs. Bristol, you are disarming and charming. Or should that be beguiling and inspiring?