1) Once upon a time we were known as the nation's "Best Sports City": are we still up there? And what makes us rank so high?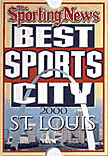 Absolutely. As long as "best sports city" relates not just to the success of our teams and the number of other big-time sporting events that take place in the region, but also includes the passion of the fans and how much they care about sports at all levels, then St. Louis always will be at the top of the list. Corporate support, fan support, team performance, sports history, facilities, destination amenities, and great local sports media personalities now and in the past all add up to an enduring reputation as an excellent sports city.
2) Many people who are familiar with St. Louis sports may not be aware of the St. Louis Sports Commission, so enlighten us: what do you do all day?
As an independent non-profit organization that seeks to make St. Louis a better place to live, visit, work and play through sports, we spend our days bidding for and producing major sporting events (like the 2005 NCAA Final Four and the 2006 U.S. Figure Skating Championships); operating our affiliated youth foundation that helps kids lead happier, healthier lives through sports and good sportsmanship; and raising money/building support for the Sports Commission so that we can keep going.
3) What's been your most successful professional moment so far?
One moment...would have to be the NCAA Final Four. One accomplishment...would have to be hiring and working with a great staff. One special reward...would have to be knowing and working with Jackie Joyner-Kersee.
4) Say you could get tickets to any sporting event in the world: what would be your must-see?
Nothing beats seeing the Cards in the World Series, the Rams in the Super Bowl, or the Blues in the Stanley Cup Finals with my family.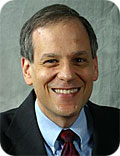 5) The Sports Commission focuses a lot of attention on the character benefits of participating in sports; do you think people are less "sportsmanlike" in general now than in the past?
Hard to say...although bad sportsmanship has been documented quite a bit recently. We're currently doing a sportsmanship survey on-line to gauge St. Louis' perceptions of this.
6) Are you a big-time jock in your off-hours? Running ultramarathons, swimming with a weighted vest, doing deadlifts, etc.?
A fan, yes; a jock, no.
7) Why should people who don't give a hoot about sports, well, give a hoot?
Because participating in sports can help kids learn about life and keep people healthy; also because sports can bring many social and economic benefits to a region that doesn't have enough common bonds.
8) What are the best and worst qualities about St. Louis that you highlight (or downplay) when you're pitching our town to host an event?
St. Louis is a first-tier sports destination and a relatively easy sell because of its great track record in producing events, its central location, its affordability, and its excellent facilities. Until recently there were concerns about downtown development, but that is now a strong selling point and not a liability.
9) Your favorite all-time St. Louis athlete or team?

10) What effect on sports worldwide do you attribute to Sporty Spice, of the Spice Girls?
Slightly less than no effect at all...
11) What's the most exciting sports event coming up in the next year in St. Louis?
I'd have to go with the NCAA Ice Hockey Frozen Four next April 5-7. It hasn't been here since 1975 and it will sell out Savvis Center. College hockey fans are passionate and the atmosphere at the event is spectacular.
Frank Viverito's definitely got game.