Seems highly symbolic, the front door of the cheery little space on the corner of Arsenal and Gravois: upon pulling it open, you'll find you have ample time to make your entrance and be well inside the bright, renovated front room before it gradually — slowly — starts to ease shut. Imagine, if you're fully able-bodied, how much relief that would bring the person using a wheelchair, or crutches, or navigating the opening with a service dog in tow. Imagine that, and you're starting to get the point.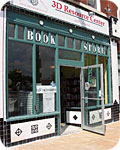 The 3D Resource Book Center opened its doors in March of 2005, with the mission of providing an accessible location for individuals seeking information regarding disabilities and self-determination. That goal is met largely through the shop's shelves of books and other material for sale on topics ranging from "grief & loss" and "feelings" to "conflict resolution." (One typical title: "Guts! 27 Courageous People and Their Triumphs Over Adversity.") It's an outreach program of MRDD, the St. Louis Office for Mental Retardation and/or Developmental Disability Resources. The "3D"s of the name refer to disability, diversity and self-determination. Besides the new books, the center offers free Internet access, used books/magazines for sale on just about every topic, coffee drinks and packaged snacks for sale, and periodic special events including a book club and movie nights. Past book clubs have discussed Chinua Achebe's "Things Fall Apart," "Tuesdays with Morrie" and the scandal-ridden James Frey memoir "A Million Little Pieces." Both the book and film selections are carefully chosen, to provide for attendees a glimpse into the lives of individuals who experience life in different ways, whether physically, mentally or culturally.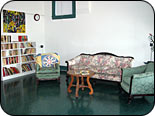 Though the center certainly has the space and the welcoming ambiance to serve as a de facto community center, particularly for folks with special accessibility needs, staffer Rennie Baker told me the facility may have to move to only being open for special events, as income from the book and refreshment sales doesn't even come close to paying the bills. (Her salary is paid through Horizon Housing Development Company, allowing her to spend some of her time at the 3D center). Lately, an open mike night (run under the auspices of St. John's Episcopal Church) has been meeting on Monday nights in the space, but it's unclear if that and the other regularly scheduled events will remain viable.
In the meantime, should you find yourself near the Arsenal corner, swing around back for parking and take a look inside. There's a kids' corner full of art supplies and creative toys, and you might just find a book that swings open a door inside your mind.
The 3D Resource Book Center is open from 11 a.m.-4 p.m. Tuesdays, Thursdays and Saturdays, and for a variety of special events; see the website for current information, or call them at (314) 762-9742. Donations of used books are welcome.