EVENTS
New Roots Urban Farm Open House
Hogan Ave. between North Market and Madison
May 6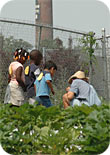 There's farming going on, right smack dab in the center (well, close to it, anyway) of River City, and this Saturday open house was a perfect opportunity to get acquainted with the urban farmers at New Roots. The sheer size of the place was pretty stunning to me: it's not every city that has a half-acre or more of available land given over to neat rows of peas, beans, tomatoes, flowers and a greenhouse for starting plants. The layout itself is pleasing in its symmetry, but the real draw, at least on Open House day, were the chickens. Three chickens, to be exact, all clucking and doing chickeny things near their coop. Several visiting children were encouraged to hop on in there with them, and I took that as my cue to join in. Yes, I have now petted a chicken. (I once paid $5 at the Best of Missouri Market to milk a cow: there is no "rural" adventure I want to miss out on. My grandmother was aghast about the pay-for-play.) Chickens are softer than you might imagine. Anyway, the members of the collective farm are pretty well versed about their mission and their successes, though obviously in need of publicity and funding to grow (oh, I couldn't help it) their dream. There's currently a CSA anyone can subscribe to, and the produce of the farm helps support a local food bank, too, along with giving neighborhood residents and their kids something to be a part of. Drive by and take a gander sometime, and keep an eye out for guest chef dinners on the farm, reputed to be part of an upcoming outreach plan. (AED)
LIVE PERFORMANCES
Final Veil @ Kyo, 1405 Washington Ave.
May 25

I don't know the last time you enjoyed a Egyptian classical band with belly dancers, but I was in for quite a treat at the "La Femme"-themed Thursday night at newish downtown restaurant/bar/club Kyo (in the former Tangerine/Hungry Buddha spaces on Washington). Final Veil is anchored by belly dancers Catherine Kustelski and Cora Camille, who along with a mesmerizing band of four members, create a cultural experience from instruments including the oud, clarinet, doumbek, bass, violin and various percussive items. The dancers take turns wowing the crowd, and from what I've seen, most men (and some women) don't quite know where to put their eyes when presented with an extraordinarily limber, exotically costumed woman whose hips you could bounce quarters off of quite nicely. Over the ultra-sleek bar, projection (reminiscent of the Tangerine days) of slightly unfocused belly dancing and enthusiastic crowds complements the show on the floor. The crowd was sparse the night I was there, so I hope more people discover this great evening soon. For the record, food and drink were both exceptional...but priced accordingly. (AED)
Steve Ewing @ Cicero's, 6691 Delmar
June 4

Four opening bands into the night, the crowd packed into the small side room at Cicero's (which wears the vaguely mega-mall sounding name of an "entertainment plex") is getting a bit antsy. Sure, some of them were out in force (seemingly from Vianney High School) for Essence of Lojic, The Farmaceuticals, Hipsterphonic or Spatik, but the return of Steve Ewing, former frontman for The Urge, to a town that loves him stirs up a Sammy Hagar-esque devotion. Here's a question worth pondering, posed by my husband: at what point will the crowds, which keep replenishing with younger new fans every appearance, not have heard of The Urge? Right now, they can still sing along to the smattering of old songs Ewing performs with his tight band. However, Ewing's definitely moved ahead in his music, styling himself as a soul-infused pop vocalist, with strong original material. His new album, "Pacific Standard Time," puts his raw vocal talent front and center, and his live show proves that the man's got pipes. In concert, every song is a chance to "tear this shit up!", and his energy onstage is worth the price of admission. He retains a fondness for audience call-and-response singing, though tonight's group seemed lackluster in that department. Ewing's range of styles and powerful voice put me in mind of Terrence Trent d'Arby, who never got the depth of appreciation he should've. Maybe Ewing's career will have more staying power. (AED)
BOOKS
"Hidden Assets: Connecting the Past to the Future of St. Louis"
Ed. by Richard Rosenfeld, Missouri Historical Society Press, 2006, $22.95
Okay, so we've got an airport, a convention center and hotels: check. But guess what? So does every other city trying to get ahead in the crazy game of regional economic development and population growth. What if, besides the basics, we could promote advantages that only St. Louis has?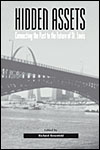 That's part of the premise behind this collection of eight essays (by 13 local authors) highlighting the smaller-scale, but unique, qualities that give our city an edge, from our world-class local blues scene to the crying-out-for-development Mississippi Riverfront. Though some of the causes seem a bit out of left field (it's doubtful that a company considering relocating to St. Louis would care specifically about the central role played in its neighborhood by Shegog's, an African-American-owned barbershop), the strengths these examples represent (in this case, vibrant neighborhoods with local ownership) are real, and not present in every city. Other fascinating chapters include odes to our distinctive architecture and an overview of the remarkable amateur sports scene in St. Louis. The book is available at the Missouri History Museum gift shop, the UMSL bookstore and other local outlets. (AED)
FOOD
Eat Me in St. Louis: Tales From the Dinner Club
Square One Brewery, 1727 Park Ave., 314-388-8050, www.squareonebrewery.com
I love microbreweries. Back in the day, when Sam Adams seemed like a small, upstart company that was challenging the big beer corporations, I used to imagine owning a microbrewery. But, alas, much like owning loft apartment buildings before so many St. Louisans realized how cool they were, my brewmaster days remain but a dream. On a recent trip to my hometown of Albuquerque, I had the fortune of tasting the delicacies of two fine froth factories. Hays, Kansas, conveniently located halfway between Kansas City and Denver (probably the only thing convenient on that route), is home to the Liquid Bread Brewery. Have a pint or two of their award-winning stout, stay the night in Hays, and learn some history of the American West. Where else you gonna stop? In a little more scenic surroundings is the Steamworks Brewery of Durango, Colorado. I highly recommend the mahi mahi tacos washed down with a Third Eye Pale Ale, and suggest that you scout the barstools for some next-day ski buddies if you are visiting in winter time.
Working in higher education, I also had an idea to tie a brew-making major into the curriculum of a college or university that also had a campus pub. The idea would be that a student's senior project would be "tested" in the pub, and they would receive part of their grade based on the reviews of their peers. But, my employer has neither such academic program nor a campus pub, so I am relegated to simply visit whatever new breweries grace our presence, such as the one discussed here.
The strength of Square One is the beer. Although a new fixture in the increasingly popular Lafayette Square, Square One is an arm of Augusta Brewing Company, a long-time beer standout along the wine-soaked section of the Katy Trail. Square One features eleven beers on tap, a very respectable number for a new brewery. Because of my beer taste preferences, I recommend the ESB, the Park Ave. Pale Ale, and the IPA, the latter of which is especially hoppy and delightful. Another plus is the atmosphere. You may recall this location as the old Lafayette Pub and Grill. Square One manages to balance the brightness and liveliness of a new place with the style and charm that comes from the woodwork and brickwork of an older building. I am especially fond of the outdoor beer garden, which has another bar that was not being utilized during the Club's visit.
If you're hungry, Square One also serves an interesting assortment of seafood, meats, and sandwiches that include what is described as "micro" (appetizers) and "macro" (dinners) plates. Several folks at the table had a beer battered grouper, which they liked very much. The grilled portobello melt was "alright," and the crab cake appetizers were tasty. For you wallet-watchers, note that many of the "macro" plates are also served in sandwich form, at significantly cheaper prices. As at Kitchen K (dubbed by our group as Kitchen "OK," 'cause that's what it was when we went there), you may find that the sandwich is the way to go, because you get just as much food for a lesser fare.
Square One is popular, so allow yourself a wait in the garden with a brew if you have a large group. They do not take reservations, and one of the challenges we encountered on our visit was an accurate estimate of how long it would be before we were seated. As you sip your draught, consider the progress the City has made in the last five years. Like not being able to find a place to park anymore on the exact downtown block you are visiting, one can no longer assume that any City restaurant on any night of the week will have immediate seating available. Despite the convenience I may associate with those days, I firmly know that the progress that happens to bring some extra walking or waiting is a good thing.
Eat City. (JG)