ST. LOUIS INTERNATIONAL FILM FESTIVAL, NOVEMBER 14-24
"Lifetime Guarantee: Phranc's Adventures in Plastic"
Lisa Udelson, U.S., 2001, 58 min.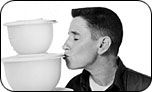 In a year in which documentaries were the strength of the SLIFF, this one really stands at the forefront. A breezy, whimsical look at folksinger Phranc's obsessive pursuit of her Tupperware career, "Lifetime Guarantee" is funny, as you would imagine. We see Phranc hustling at house parties and food fairs. We see Phranc light up the "Donny & Marie" show. And we see Phranc in full worship at the Tupperware Headquarters, where she sets off on a quest to find the "Turtle Baby" sculpture. It's also poignant, as Phranc tries to fit into the culture of Tupperware, not always the easiest fit for "America's favorite Jewish lesbian folksinger." Well worth seeking out. A real delight. (TC)
"The Backyard"
Paul Hough, U.S., 2002, 80 min.
A hyper-violent and often disturbing look at the subculture of backyard wrestlers and promoters, Hough's documentary isn't the smoothest or slickest film. But it does grab the insane, gritty energy that these quasi-athletes bring to their homemade mats and low-budget TV shows. Shot throughout the US (and with a cameo in England), the short doc is, as advertised, as crazed as "Jackass." These backyard warriors incorporate a touch of grappling, sure, but also yards of barbed wire, dozens of light bulbs, hundreds of thumbtacks and fire, fire, fire. (TC)
"Champion Blues"
Aletha Rogers, U.S., 2001, 50 min.
Mickey Champion is a longtime blues'n'soul singer from Los Angeles. If you've not heard of her, this movie says: it's okay. Despite possessing a star's voice (and legs), Champion never seemed to break out in any lasting way. Save for a few minor R&B hits and the respect of contemporaries, her career's been more secret than success. Though her colleagues allude to her stubborn ways causing at least part of that problem, we're never fully given the scoop on why her vocals are now limited to supper clubs and community festivals in Southern California. She's got personality, though, and that's on full display in this short doc. (TC)
MUSIC
Fantasy Four
"Wig Wam Bam/Love Me Til The Sun Shines" 45
Bert Dax Cavalcade of Stars (PO Box 39012, St. Louis, 63139)
At the time of this writing, one of the more fun South City club games was guessing whether the Fantasy Four had broken up or not. The RFT suggested "yes," insiders suggested "maybe." This slab of vinyl would suggest that the group stick around a bit, since they've hit upon a fairly winning formula. Lead by guitarist/vocalist Marcia Pandolfi, bassist/vocalist Karen Stephens and drummer Scooter, the group's got the right mix of snotty post-punk energy and a love of melody. Covering unlikely tracks by Sweet and the Kinks only adds to the indie appeal, as does their appearance on local micro-label Bert Dax. A nice addition to the lengthy list of quality, blew-up-too-soon local acts? (TC)
Hudson and the Hoodoo Cats
"Hudson and the Hoodoo Cats and Friends" CD
Heavy Set Records (4774 Oleatha, St. Louis, 63139)
Hudson and the Hoodoo Cats are regulars on the local club scene, working upscale and downscale taverns with equal charm. Their appeal is their versatility: if playing to a blues room, they can go that route; if confronted by an audience of yuppie weisenheimers, they'll reach into the swing pocket. Whatever it takes to please. On this disc, Hudson and a wealth of friends (more than 20 in all) put recorded touches on some of the band's more popular tracks, along with a couple of surprises. The last cut, for example, "Mongo Play Drum," is a percussion-driven experiment that'd sound perfectly at home on any KDHX jam-band show. For the most part, though, the disc sticks closer to the band's core sounds: jump blues, rockabilly, hepped-up country and boogie-woogie. (TC)
BOOKS & READINGS
"Get Your War On" reading and signing, Nov. 15
By David Rees
Fort Gondo Compound for the Arts, 3151 Cherokee

The front room at Cherokee's hottest, if least-categorizable, location was packed and during Rees' hour-ish presentation, the young, the peaceniks, the hipsters and their entourages continued to pour, then trickle, in. Rees, for the uninitiated, is at the center of one of those stories that technophobes like my dad assume is an urban legend: he created a series of profane comics out of public-domain clip art in reaction to the beginning last fall of the War on Terrorism, and told a few friends. Bet you can guess where this story's headed...and in case you're one of the few office drones who haven't had the link e-mailed their way, catch up now and you might still be ahead of the curve. Although Fort Gondo emperor Galen Gondolfi wondered aloud about the wisdom of a book signing in his decidedly non-highbrow space, the fact that they were comic strips — with a whole lot of cussing — seemed to soothe him, and somehow, Rees standing in front of an overhead projector and reading the naughty words aloud made them even funnier. Not so funny? That'd be the cause for which Rees agreed to take up a book tour, the efforts to de-mine Afghanistan, a country where decades of war and shifting leadership and alliances have left the land truly unsafe, for anyone, at any speed. Rees also took questions from the audience (always an exercise in chaos), and fielded them with a kind of exasperated, "what the hell are you asking me for?" demeanor...but that's because audience questions are generally pretty dumb. Buy the book! Support the brilliant and profane! (AED)