I remember the gingko trees, most of all.
As kids, we hurl ourselves down the sloping hills in front of Fanning Elementary School. If we're the chased, we roll, staining our clothes in the green grass, avoiding, if we can, the volley of gingko fruits aimed at our backs. If we're the chasers, we bomb our temporary enemies with an endless supply of "stink bombs," grabbed off of the curbs of Grace and McDonald and Fairview. The teacher on duty inevitably catches sight and fires off a quick command to stop. It's the 1970s. Kids still listen and fear. We stop. We drop our stink bombs and pick up our books and folders and crumpled comics and stop acting foolish for a moment. Mentally, we plan our next attack.

If the action starts in the afternoon, we trail home, stinking of our gingko battle as we traipse into the competing confectioneries at Utah and Arkansas. If the action starts in the morning, we sit in our first floor classrooms, holding our noses and snickering. Ginkgo fruits. Stink bombs. Fanning Elementary School. Tall ceilings. Hissing steam pipes. Buffered floors that glisten like gold. Mr. Tentschert, the disciplinarian. Mr. Armistead, who loved the Indy 500. Principal Vasquez, did he not smoke a pipe? Eighth graders on PA duty, walking 16mm projectors from class to class, surly looks on their faces. Educational films are the rule. Metric is coming; the Canadian kids our age are already using it! They've mastered the metric mile! A centimeter's less than an inch! Walking home with newly bought baseball cards. Staring at the kids in the St. Pius V parking lot, dressed in their pressed clothes and heading into church on a Friday. Their campus smells of fried fish. Ours of spaghetti and meatballs. Field trips. Grant's Farm. The Hostess Bakery. The Botanical Garden, one long, long walk.
For me, Fanning's home, but a temporary, changing home.
I leave Fanning Elementary School halfway through the second grade. Transfer to St. Pius V, just 'round the corner. Return in fourth grade and zip through fifth in the same year. Transfer to Kennard Classical Junior Academy. After one year, return to Fanning Middle School for eighth grade, skipping seventh altogether. By this point, desegregation has just kicked in; the K-8 school, meanwhile, is a dinosaur, replaced by a tiered system. Like ours. Instead of five or six black kids in the whole school, we're racially mixed. Fifty-fifty, for sure. Asian kids, too, begin to arrive in numbers. The school's built a community center in the last year, too, and our dark, basement gymnasium is replaced by a bright, massive activity room with climbing ropes and portable bleachers.
Graduation from eighth grade's in 1981. Then, no return to the school for another 19 years.
After a few trips into the place for neighborhood and Metropolis meetings, I still wonder about the rest of the building, wanting to walk through at a more leisurely pace. Two years pass. Invitation for just that is in the mail. It's an open house. A Wednesday, in mid-November, 2002. Graduates from all over are invited to come back and gawk, to tour what was once a teeming elementary school, filled with the white kids from a surrounding white neighborhood, three to four packed eighth grade classes graduating every year and sending kids on to Roosevelt High. Now, the kids don't always speak English. They're surely not all white. They're just as likely to not go to Roosevelt, heading instead to a magnet school or a County school or some other place altogether.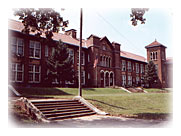 At the check-in, the kids are waiting for someone, anyone. I provide a diversion. "What's your name?" "What's your class?" "You surely are the youngest alumni here today." "May I ask you your age, if you don't mind?" "Here's your sticker." Kids acting young and old, at the same time. A dozen other graduates are in the library, in what used to be the kindergarten in the 1970s. They all graduated well before then, in the 1930s, 1940s, 1950s. This has to be a kind of culture shock. Do they still live in the neighborhood? Probably not. Do they even visit the neighborhood? Hard to say. They wait for their tour. Raymie and Jessica give me mine. We hustle down the first floor, their prepared speeches broken by moments of flirting with passing boys or teasing the passing boys or, even, flickering questions to me about what the school used to be like. We hustle across the second floor, past the principal's office and a handful of ESL rooms. We hustle through the basement, no more gyms there. Into and out of the community center, where the Fanning Falcons band is playing a patriotic song, just about in-tune.
Two kids from Cleveland NJROTC arrive. One went to Fanning. I'm no longer the youngest alum. Not by a long shot. Raymie and Jessica chat up the cadets. Tour's over. I wander through the library again, stopping to look at the black-and-white photocopies on the wall. There they are. The Fanning kids of the 1940s, staring at an older boy who points to a sign on the wall: Police Are Your Friends. The Fanning kids stand at attention on the front steps for eighth-grade class photos. In 1966, the girls (universally) wear dresses, the boys (universally) are in suits. By 1969, the boys are in sport coats, leisure suits, shirts with no coat at all. A few years and the whole crew look like extras from the "Brady Bunch," nary a suit nor shiny dress among them. There they are, Fanning kids in the South Side Journal, Fanning kids collecting canned food for the elderly, Fanning kids visually reflecting the working class neighborhood that produced them.
It's out the door with a cup of punch. Nostalgia's getting too thick.
Out front, the gingko trees have gone yellow, blanketing Grace with a sheet of thin, yellow, half-moon-shaped leaves. Mixed in, the white fruits, crushed into the pavement and giving aroma to the whole block. Some, though, sit there. Stink bombs. Untouched.
Ready to be thrown, were someone so inclined.
Thomas Crone is a co-editor of TheCommonspace.org and member of the Fanning class of '81.