I am the Ultimate Rams Fan, I tell people.
Oh yeah, I'm a big fan too, they say.
Well, I really am the Ultimate Fan. My name is in the Pro Football Hall of Fame to prove it.
Sure you are, honey, they are thinking. But it's true. Each year the NFL selects one person from each city to be inducted into the Visa Hall of Fans in the Pro Football Hall of Fame in Canton, Ohio.
And in 2001, I won.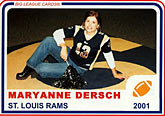 It was just another day in November, when my office phone rang. It was someone from a PR firm in New York asking me if I would enter the Ultimate Fans contest. The firm had contacted the Rams, asking them for names of some great fans and I was one of them. Would I mind writing an essay and sending a photo about why I should be selected?
Would I?
If I won, I would receive a plaque in an on-field ceremony before a game and my name would be enshrined in the Hall of Fame.
Would I?
Now, I have to be honest. The reason the Rams knew who I was is simple. I am a media hound. Yep. I sit in the front row, right by the players' tunnel, and I can always get myself on TV. So I was sort of known for, well, always getting in the way of the camera. I've been on Sports Center, all the local stations, NFL Prime Time, been circled with the yellow pen on two different occasions and even featured in the NFL Rams Super Bowl video. (My only feat left to conquer is to make the highlights from Inside the NFL.)
So I sent off my essay, with photo, to New York. I told them that football was a near religion in my home and I can never do anything halfway, and it makes for a powerful combination. I told them that I make signs every game, spend the week planning the tailgating menu, and that I loved everything about the team. I loved them when they were crappy. I loved them when they won. I just loved Rams football. I guess whatever I wrote was convincing, because I won.
The on-field ceremony was amazing. My husband came with me and we got to cheer the players on the field. After the game, I happened to have a client function with none other than members of the Rams' defensive line. Clutching my plaque, and a little drunk, I went up to these huge men and asked them if they were in the Hall of Fame, because, well, I was. Keep playing hard, fellas; maybe you will be just like me one day!

So that experience was enough to be a thrill of a lifetime. But then I started to get letters in the mail from other Ultimate Fans from all over the country. They would send me their photo on trading cards with long letters signed, "Yours in football." They told loving stories of team allegiance. They wore outfits and face paint and had crazy names like Big Nasty, Lady Titan, Bengal Gene. They said they would be getting together in August for the Hall of Fame Induction Weekend. Would I like to come?
Okay, I've got to meet these people, I thought, if only, for once, to be the quiet, shy person in the room. Then I started to panic. I didn't have a costume or name or gimmick or anything. I was just me. My friend Beth said to just be yourself. You didn't need the gimmick to get the award, so don't create one now. Good advice. Be yourself.
So I got my trading card made and headed off to the birthplace of football — Canton, Ohio.
The trip to Canton was a riot. I was the wallflower for once, but it didn't matter. Those people were so much fun. It's a room full of the loud, obnoxious guy at the party, which is usually me, but not this time. You should have a costume, they would say. I'm too pretty for face paint, I would tell them.
On Sunday of our weekend experience, the day after Jack Youngblood, Jackie Slater and Lynne Swann were inducted, the Hall of Fame gave us a simple ceremony. I got to see my plaque in all its glory. I got to tour the hall.
I went back this summer to watch my friend Kathy Lewis' induction ceremony. She's the 2002 Ultimate Fan. My plaque is no longer up, but my name is displayed on a board with all the other fans from my year.
The responsibility of ultimate fan status keeps me on my toes. I feel like I have to keep becoming a better fan to justify my place in history. Still no gimmick or crazy name, but I figure, I have enough heart and enthusiasm that I don't need an outfit to make me stand out. Oh yeah, and I am still making all the highlights!
Now when I watch the games and they cut to those fans in a barrel or antlers or women's clothes, I scream, "Barrel Man," "Packalope," "Mickey T.!" You say, look at those nut jobs! I say, hey old friends! I may not look like them, but our hearts beat for football just the same.
Maryanne Dersch is a communications consultant at Vector Communications. She lives in Dogtown with her husband, Jon Schmuke, and their recently adopted four-year-old son, Patrick, plus two dogs and two cats. Maryanne was a foster parent for Stray Rescue of St. Louis for four years and is active in the Clayton-Tamm neighborhood association.