At the appointed start time of 6 o'clock, hardly any of the target audience (16- to 34-year-olds) has yet made it into the big, multipurpose sanctuary of the Rhema Church, which now occupies a brand-new building near Cass and Jefferson. Instead, filling the front rows for the Sunday night hip-hop service are moms with babies and young toddlers, and older women; one of them says to the teenager seated in front of her, "I'm here to be your cheerleader — that's about all I can do for ya, 'cause my knees are bad."

Eventually, the hall will fill with more than a hundred attendees (lots of them teenagers), but at the outset, many still mingle in the entryway. One group of young men, looking at a registration form for the "talent" portion of the service, politely asks the church volunteer, "Do we put our rap name or our real name?"
As the bright flyers proclaim, "This ain't ya granny's church service" — this is worship for the hip-hop generation, and in just four weeks, more than 40 souls have been saved, as the Rhema Church's youth minister, Michael E. Owens, says proudly. He and his father, the church's senior pastor, seem to have hit upon a combination of the sacred and the street that young people in the community are willing to listen to.
"This whole idea came out of an idea the pastor had about reaching the unchurched and unsaved members of this generation," Owens says. "We started really thinking about what we could do to make a worship service that would appeal to them; things like, they've probably been out at the clubs the night before, so they're too tired to make it to Sunday morning services. We scheduled this for nighttime, after most of the football games are getting over, so we knew we'd get the guys out." Simple things, maybe, but the attendance has been large and growing every week.
But they're not called the "hip-hop generation" for nothing, and music plays a major part in the service, which is reminiscent of "Showtime at the Apollo" meets big-time t.v. church service. From the minute you walk in the door, thumping bass beats work their way into your brain, courtesy of an on-stage spin by DJ C-Note, from 95.5 FM. And it's not pious Christian music he's spinning, either: a lot of what he plays is straight from the radio station's current rotation, evidenced by all the kids in the audience singing along and dancing in the aisles. A casual dress code is another part of the appeal, and the kids slouch around the hall or sit and talk with their friends, sporting Fubu, shredded denim, sneakers and pleather pants.
Presiding over the whole affair, Rev. Owens himself is decked out in head-to-toe Ecko sweats, and he huddles in the church office for a few minutes, praying and reviewing his sermon notes before emerging into the sanctuary. An army of church members decidedly outside the parameters of the hip-hop generation keep traffic moving, urging the crowd to take a seat, and struggling in vain to keep the left section of seats nearest the stage open for "talent" only.
The young people who fill that section provide the main draw of the service: the first portion of the time is given over to kids who want to express themselves through music or dance or, on one recent evening, a kind of mime/interpretive dance. They have to register ahead of time because the event has become so popular that there are far more willing performers than space on the bill. Each Sunday night features three or four acts — Rev. Owens says that, more often than not, they freestyle or perform secular rap or hip-hop, although he does try to monitor the content because, after all, "this is a worship service."
When the talent program gets underway, the vibe is all love and applause and positive shout-outs. This, says Rev. Owens, is a critical component of the evening.
"When we invite these young people in, not just to sit and hear others talk and be talked at, but as invited guests who are allowed to share their talents, then they're contributing," he says. "They become participants, not just an audience."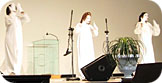 On a recent night, the acts included: a female singer calling herself Third Parallel; the aforementioned mime/dance troupe, Madeleine & Company, who come out in white robes and whiteface makeup, and move like Holy Ghost-infused robots all over the stage to a rollicking gospel soundtrack (this unusual act gets everyone's attention; even the young men seated behind me stop chatting and one of them pronounces, "that's tight!" at the end); Whitney Woods, who sings an a capella version of "His Eye is On the Sparrow"; and brass player Corey Allen.
The crowd properly warmed up, Rev. Owens takes to the mike, and a Lucite podium materializes in front of him. He checks the mood of the crowd, and when the response is not as fervent as he expects, he exhorts them by saying, "Now y'all know that if this was a Nelly concert, y'all'd be actin' the fool — this is Jesus Christ we're talking about!" That raises the volume a little bit.
When Rev. Owens begins delivering his message, it's clear that he knows a thing or two about capturing the attention of a nontraditional church audience. He peppers his narrative with conversational asides, and calls his most recent string of sermons the "No More Drama" series. After reading the scripture lesson from Matthew 18:21, he translates the words of the disappointed master to his servant from Biblical-ese to this accessible version: "You wicked, wicked servant; you got yo' nerve!" And the lesson of it all? "This sermon tonight is titled, 'What to Do When You Feel Like Goin' Off.'" Around the room, heads snap to attention.
Owens deftly moves from references to R. Kelly and Toni Braxton to his real-life Bible lessons; "Jesus said you can never have a fruitful relationship with God without gettin' some things straight with each other first." He brings the assembly to a fevered pitch a dozen times; he dismisses the claims of people who say their spiritual walk is fine because, "Pastor, you shoulda seen me before; I would've gone off a lot worse than that!"
"That's confusing progress with obedience," Owens shouts. "Then we settle for spiritual mediocrity...you don't curse 'em out like you used to but you sure don't love them like you're supposed to!"
By the time the old-fashioned altar call to the Lord goes out (this is a Baptist church, after all, and some things don't get changed just for the hip-hop generation), nearly everyone in the room has been engaged by Owens' words. He offers the promise of Jesus' salvation to anyone who will come forward and ask for it, declaring that, "Jesus will turn your hatas to your homies." Several people do heed the call, and the last portion of the service draws the entire congregation near them in the front, to pray en masse for these new converts.
Two hours after they arrive, the hip-hop generation has been blessed, entertained, prayed over and sent back out onto the street, where Owens hopes they'll remember that, no matter what, "Jesus has got your back."