In August, Jeff Parra, publisher of the Suburban Journals of South St. Louis County and City, and I, as managing editor, became acutely aware of the number of Bosnian refugees that had been relocated to within our papers' coverage area. We also became aware of organizations such as the South Side Bosnian Collaborative, which serves as a conduit for programs aimed at the region's new arrivals.
Estimated at between 35,000-40,000 in number, the Bosnians comprised a substantial portion of (initially) St. Louis City residents. Indeed, at a time when the city had been experiencing significant population loss, the influx of the refugees from the former Yugoslavia proved valuable in helping stabilize the population shift from the city into the suburban areas.
In talking with groups such as those in the South Side Bosnian Collaborative, especially the International Institute of St. Louis, we learned that many of the refugees did not know English and that the language barrier was proving to be a hurdle for the social service agencies, government agencies and private businesses that wanted to reach the sizeable market of potential customers.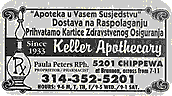 Management at the South Journals decided to explore the possibility of the local newspapers being the vehicle for providing the Bosnians with news and advertising information. Because of the language barrier, presentation of news and advertising presented a challenge. It was decided that the use of a translator would be needed for both news stories and advertising copy.
The project — a page of news printed primarily in Bosnian (Croatian), dubbed "St. Louis Novosti" (St. Louis News) — was launched Wednesday, September 19, 2001, with much excitement and uncertainty. It also was launched with the understanding that this effort, like any other newspaper special project, must be able to carry its own weight. In other words, if the advertising wasn't there, the news page wouldn't be there. Fortunately, area merchants responded positively to the project and decided to use the page as a way to reach this sizeable market.
The uncertainty about the effort was not as much economic in nature, in terms of advertising, as it was in the reception the Bosnian page would receive from longtime, loyal Suburban Journal readers. The reaction, in all honesty, has been fairly evenly mixed.
Newspaper readers in general do not like to see drastic change in their newspapers. That's true everywhere. It's especially true with the mostly conservative South County and South City readers. For some, seeing a page printed in a foreign language is unthinkable.
Some callers have been willing to listen to an explanation of why the page came into being. Though they might not like it, they say at least they understand why it's there and hopefully will be more tolerant of it.
There is one point that all critical callers make: the Bosnians should learn to read, write and speak English if they are going to stay in this country. We agree, and we have said as much since the project began on September 19. But the reality is that older Bosnians — like older Americans dropped into the middle of a country halfway around the world — aren't going to learn a new language anytime soon. English is not an easy language to learn, not for a young immigrant and certainly not for an older one who, because of his or her age, might naturally be reluctant to seek out help in learning a new language, preferring instead to rely on younger members of the family and community for translation.
How long will this project continue? Like most other projects, we hope to continue it until there is no longer a demand for it or until it is no longer cost-effective. But for the time being, there is information this group of people needs and there are business people who are willing to spend their advertising dollars in an effort to attract customers from this group.
Buck Collier is the managing editor of South County Publishing, which produces the South County and South City Journals.