In the North St. Louis neighborhood of Hyde Park there exists an intangible energy that captures every visitor by surprise. It's an energy of aesthetics, human interaction, and of the history this neighborhood holds.
Named after the famous London recreation ground, Hyde Park stands as a testament to a time when people worked, lived, and played in the same neighborhood; when neighborhoods were close-knit communities with barber shops and baseball fields, streetcars and movie houses. From the late 1880s to the early 1960s, it was a very prosperous middle-class neighborhood with a lot invested in it. But as time went on, businesses folded, and people began an exodus that is still occurring to this day. The families that decided to remain live with constant danger around them. But in this neighborhood there are a few institutions that have withstood the constant change around them and have given hope to those who live there.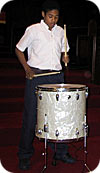 On such program is Musicians United For Furthering Youth, or M.U.F.F.Y. Started in September 1999, the mission of M.U.F.F.Y. is to provide free musical instruction to people who live in areas where such lessons are economically impossible. Our main audience is at-risk youth, but we also provide instruction to adults in exchange for mentoring assistance. Since truly understanding music relies on so many different faculties, the participants also work on reading, composition, and mathematic skills. This connection to academics is what gives the program its true sense of purpose in the day-to-day activities of its students.
The program operates out of Friedens United Church of Christ. It gets its financial support from the Regional Arts Commission of St. Louis, and from donations from various groups and companies around the area. The program is run by local musician Phil Browne and the church pastor Martha Brunell. Students are allowed into the program simply on the basis of how dedicated they are to showing up. The main focus is to provide help to those who would benefit the most from interaction with an adult.

The biggest part of M.U.F.F.Y.'s program is its Japanese taiko ensemble. Comprised of 13 neighborhood children ranging in age from 8 to 14, the group meets Monday through Thursday at the church to practice the timeless art of Japanese taiko drumming. Students are taught to think as a group, but also to compose their own solos. The main message we instill is respect for others. This simple message, along with a consistent day-to-day activity, is something that the at-risk children need desperately. In addition to this ensemble, we also provide private lessons for piano, guitar, drums, flute and clarinet. We also plan on starting a neighborhood choral group.
M.U.F.F.Y. needs volunteers to help with after-school tutoring and mentoring. If you are interested, please email Phil Browne at phil@resistall.org or call the church at 314/428-0844.