Through November 30
Quilt National 2001
City Museum
Wednesday through Friday, 9 a.m. - 5 p.m.
Saturday and Sunday, 10 a.m. - 5 p.m.
$7.50 (included in regular City Museum admission)
You perhaps remember quilts made by your own aunts and grandmas: big, fluffy creations that could warm you through a thousand winters. Lots of fun to roll around on the couch in during your snow days home from school.
First things first: that ain't what Quilt National is about. These quilts, 85 of them, are "art quilts," the best of the best of a biannual juried art show sponsored by The Dairy Barn in Athens, Ohio. They are not so much made for the couch-rolling. And they are a wonder to behold. Among the entries you'll see a quilt made of more than 3500 twisty-ties, a much-publicized American flag quilt crafted from soda cans (which, despite the patriotic fervor being attached to it, is actually a statement against the cultural imperialism of the U.S.), and a fantastic creation from a legally blind artist.
Even better, the show is a benefit for Women's Support and Community Services, St. Louis' oldest domestic violence agency. Go see these quilts and marvel at the creativity in the world around you. (AD)
---
November 3, Saturday
Saint Louis University Billikens vs. Marquette
Robert R. Hermann Stadium
7 p.m., $4-6, all ages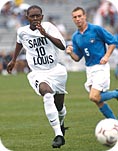 Soccer's an international game, though plenty of American kids grow up around the sport. It's a sophisticated game, too, despite a novice's thought that it's as simple as kicking a ball around the grass. Though St. Louis lacks a professional outdoor team, we do have one of the best college teams in the country, down at Saint Louis University. And SLU's got one of the best international players at the NCAA level in Botswana's Dipsy Selolwane.
A veteran of the Botswana national team, Dipsy came to SLU with just one season of eligibility, and he's made the most of it, electrifying the team with his subtle mastery of the game. He's a cut above his competition at this level and is just a joy to watch. This game will be the last regular-season contest for SLU at Hermann this fall, though they'll certainly play in the NCAA tourney with a home game, or two. Watching Dipsy is worth the price of admission, alone. He's that good.
Enjoy "the beautiful game" at SLU, one of the finest soccer facilities in the country. (TC)
---
November 7, Wednesday
"The Bride of Frankenstein"
Cinema in the City
Beatknik Bob's Café, 15th and Lucas
7:30 p.m., $4, all ages
To this day, many women still wear their hair in the style that was popularized by this movie — very tall hair, at that. It was truly a pacesetter on that cultural level. But seriously, folks...
From the golden age of horror, this 1930s flick still enjoys a camp following, which makes it a perfect vehicle for this monthly series at the City Museum. And, at only 75 minutes, it's a good length, with only one reel change needed.
By the way, if you're into corndogs, they're said to be excellent at Beatnik Bob's. (TC)
---
November 8, Thursday
Metropolitan Congregations United annual public meeting
Pilgrim Congregational Church, 826 Union Blvd. at Delmar
7 p.m., all ages, free
For a front seat on the ropes of community activism, make it a point to be at this meeting. "If you go to one public policy meeting this year..." Anyway, this is the hootenanny that last year featured an unveiling of MCU's much-touted Urban Agenda, where the gubernatorial candidates (or their reps, depending on who managed to show) were called on the carpet to affirm or deny, right then and there in front of God and everybody, whether they would support the tenets of MCU's plan. The crowd promises to be vocal, keyed-up and racially diverse. You can't ask much more than that on a Thursday in November. (AD)
---
November 8, Thursday
Iris Dement
Sheldon Concert Hall, 3648 Washington in Grand Center
8 p.m., $18-$22, www.metrotix.com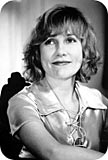 She was country when country wasn't cool, and she still sings the kind of old-timey country music that's not "cool," by Nashville's slick, pop-ified standards. Still, Iris Dement has a voice like that ancient soprano who sat behind you in that little country church in Walnut, Mississippi, and her songs celebrate the little joys and monumental worries and sorrows and the promise of the life everlasting. She's a bit of a diva in live performances: you get the sense she doesn't really enjoy it that much, and is truly nervous, and I've yet to see her perform when she didn't fuss with her piano bench or complain for a while about the lighting. But eventually she manages to settle down, and her voice is like a bona-fide angel's. Cross your fingers and hope to hear "Let the Mystery Be." (AD)
---
November 10, Saturday
Ninth Annual Great Paper Airplane Flyoff
Central Library, 1301 Locust
9:15 a.m., all ages, free
The library's got it going on this month — break out your best fifth-grade engineering theories and come on down to test them out in the Great Hall of this magnificent public building. Paper airplanes whizzing about amidst books and Great Thoughts: probably not what Andrew Carnegie envisioned when thinking about the role of the lending library, but not a half-bad idea. Following the flyoff, there will be free refreshments and an awards ceremony. How has this been happening for eight years already and I've never been to it? (AD)
---
November 11, Sunday
"April is My Religion"
St. Louis International Film Festival
Tivoli Theatre, 6350 Delmar
1 p.m., www.sliff.org

Bill Boll is an interesting fellow, having kicked around Hollywood as an editor, soundtrack provider, actor and general movie roustabout. Having gone to high school, SLUH, with a talented core of future filmmakers (including James Gunn and George Hickenlooper), it's not surprising that Boll would get hooked into the filmic scene.
Now, a few years on from those post-collegiate days in California, Boll's ready to debut his locally produced film, "April is My Religion," at the St. Louis International Film Festival, which has historically been picky in doling out time to local works.
A coming-of-age work, the movie was shot in town, with a modest budget and all the tricks of the trade used to save pennies. (Boll even invested in a home editing unit to complete the production, shot back in 1999.) The movie, adapted from a novel Boll had begun, runs approximately 95 minutes. For a full look at the production and its history see www.billboll.com. (TC)
---
November 15, Thursday
St. Louis Filmmakers' Showcase
Webster University Film Series
Presented with the St. Louis International Film Festival
7:00 p.m., Winifred Moore Auditorium
On this one, we'll shamelessly re-run the neat summation provided by Webster:
"On July 29-31 this past summer, the St. Louis Film Office presented a collection of the best works by St. Louis filmmakers. The rousing success of this first annual event has led us to showcase a sampling of their works. These ambitious filmmakers of the future come from all walks of life, but are connected by one very important thread: they are all St. Louisans."
"The Donut King" directed by Angie Ottinger, 3 min.
"Footage" directed by Jack Snyder, 5 min.
"Strawberry Spring" directed by Doveed Linder, 8 min.
"Prelude" directed by Paul Knubley, 10 min.
"Bulletin Board" directed by Joe Leonard, 9 min.
"Arcade Bowl" directed by Paul Alpert, 16 min.
"Silent Night" directed by Kathy Corley, 30 min.
"Dad's Day" directed by Peter Carlos, 41 min.
For info: 968-7487 or www.sliff.org. (TC)
---
November 16 to 25, Fridays, Saturdays and Sundays
Twelfth Night
St. Louis Shakespeare in the Grandel Theatre
Corner of Grand and Grandel in Grand Center
8 p.m. Fridays and Saturdays, 2 p.m. Sundays
All ages, $8-$12, www.metrotix.com
Is there a better story for the ages than comedy, mistaken identities and unrequited love? I think not. You'll find all that and more (cross-dressing, Bard-style) in this final production of the St. Louis Shakespeare company's 2001 season. If you've never imagined yourself enjoying Shakespeare, give it a chance: their costumes, sets and exaggerated comedy are completely captivating, and you'll be amazed how quickly the time flies by. Plus, at intermission, they sell bottled Frappuccino. Yum. (AD)
---

November 16, Friday
FACES: work by two St. Louis artists
1521 Washington Ave.
7 p.m., 21 and up, free
Have you ever been at the St. Louis Bowling Museum and Hall of Fame, just minding your own beeswax, and gazed up at a painting of the Holy Trinity of Earl Anthony, Don Carter and Dick Weber? Well, my friend, the artist of that illustrious piece is Alan Brunettin, and you can see his work, along with that of art-pal Stephen Cook, in a show of big faces. Big, painted faces. An intriguing evening, with a DJ to boot (at 10), and it's your chance to get inside the former Cabool (not to be confused with Kabul) and reminisce... (AD)
---
November 17, Saturday
City Alternative Transportation Summit
Central Library, 1301 Locust, Room 306
2-4:30 p.m, free, jerryfaust@hotmail.com
Now, to be clear: although this fine event has been publicized with the acronym of C.A.T.S., this is not an open animal-health forum. Don't pack up your fussy feline and bring her down to find out why she's been off her feed of late. No, rather, this is your chance to find out the story on all manner of transportation options in the St. Louis area. Ever sat in that interminable parking lot that is westbound Highway 40 and thought, "There's got to be a better way"? Well, maybe the bus, MetroLink or riding your bike is a better alternative, but then, how exactly does one realistically ride a bike to work, or plan an entire route on the happy roads of Bi-State? (Are the roads of Bi-State even really that happy?) Bring your questions, or your tales of how you've successfully gotten out of your single-passenger car and lived to tell about it, and come on down to share info with others. There will be informational booths from the likes of the Sierra Club, Metropolis St. Louis and the St. Louis Bike Federation, among others, and friendly folks to tell you what options exist. Just a thought: you could even try taking the bus there. (AD)
---
November 17, Saturday
Scott Joplin's Birthday Party
Scott Joplin House State Historic Site, 2658 Delmar Blvd.
7-10 p.m., all ages, free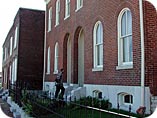 Happy Birthday, Scott Joplin! But what do you get for the King of Ragtime who has everything? Well, no matter, because this party is all about you: come and celebrate his 133rd, with a rockin' ragtime performer and the chance to peek inside this hidden St. Louis treasure. Keep your eyes open for the rolls where Joplin's music was embedded for use in player pianos across the world. (AD)
---
November 23 &24, Friday and Saturday
Jeremy Davenport
Jazz at the Bistro, 3536 Washington Ave. in Grand Center
8:30 and 10 p.m., $25, www.metrotix.com
Well, gosh, it'd be downright disingenuous of us not to point out that we are partial to this fine trumpeting fellow, as you'll find his words elsewhere in the pages of this issue. Still, our recent currying of his favor notwithstanding, Davenport's got serious jazz cred, having tooted his own horn with all the major figures of the jazz world. Four world tours with Harry Connick, Jr. That sort of thing. He's made a pretty nice life for himself in the Big Easy — where his talent, charm and boyish good looks have impressed Emeril Lagasse, he of the "bam!" cooking fame; Davenport's seen trumpeting on what may be Emeril's short-lived NBC sitcom, if you believe the critics — but comes home for Thanksgiving like any good prodigal son, to kick it at Jazz at the Bistro. Catch him now, before he's selling out Red Rocks. (AD)
---
November 30, Friday
Jeff Lash Trio
Riddles Penultimate, 6307 Delmar
All ages, no cover, 725-6985
This young, talented jazz trio — Lash on vibes, Ben Wheeler on bass, and drummer Matt Kimmick — play a monthly gig at Riddles, as well as a number of other house gigs around town. Expect a pretty straight-ahead take on classic jazz cuts as well as select originals. They're energetic and put on a good show. And you can't beat the price of this evening. (TC)