Until very recently, Saturday night was generally the only night I "worked" as a restaurant critic. That was, in large part, because when I started reviewing restaurants for The Riverfront Times we had five kids under five, and the limiting factor was availability of superhuman babysitters.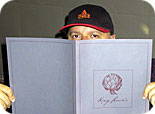 Not that I would ever make any excuses about any so-called "obstacles" that I face in this job. Nope, I fully realize that it's probably one of the best things in the world you can get paid money to do, and that there would be an Olive-Garden-on-Friday-night line if an opening ever came up.
And how does one get started in such a career? In my case, it all came down to vanity: there was an all-new staff at St. Louis Magazine in 1983, and when the beat assignments got divvied up, despite being last in seniority, I was also the only one who had both a desire to write about restaurants and a lack of a health-club-compulsion (it was, after all, the height of the post-Flashdance leg-warmer craze).
Because it was a monthly magazine, we had a little time to think about what we were doing, and the editor (after making me cook a relatively elaborate dinner to ensure that I had at least a soupçon of food sense) and I established some basic standards, like continuing the magazine's practice of visiting anonymously — so anonymously, in fact, that I even wrote under the pseudonym of my mother's maiden name. (In my travels to other cities, the best I can tell, our own local daily newspaper is the only one in America that so celebrifies its restaurant writers that it actually prints their pictures.)
The St. Louis Magazine gig lasted for less than a year, owing primarily to me criticizing said editor (for, among other things, running pick-up articles from Texas Monthly that had nothing to do with St. Louis) almost as much as I was criticizing restaurants. During that short time, though, I did revamp the magazine's back-section capsule listings of all the restaurants in St. Louis, providing me with a good metropolitan-wide working knowledge of the local scene, and I did spend a lot of time talking on the phone with local restaurateurs about their backgrounds, businesses and the whole restaurant life.
The editor who canned me moved on a year or so later, and the guy who had replaced me as staff writer but not food writer found himself elevated to editor and promptly rehired me as a free-lance critic. Several years later I got the food job for the brand-new St. Louis Sun daily newspaper, only to rescind into what I figured was permanent restaurant-writing retirement when that endeavor, run by a man with much more money than business sense, fizzled after just nine months.
But the RFT had also started running restaurant reviews just about the same time, and I jumped immediately when the editor there asked me to write. And now it's about seven years later, and here we are.
So what goes into a day's work for this restaurant writer? The whole process starts with an always-running collection of jotted-down notes about new-restaurant openings, compiled from reading newspaper ads, food web sites, the "new businesses" listings in the St. Louis Business Journal and other sources. I also make a hobby of driving around various parts of town, I get tips from a collection of e-mail friends, and I'm even such a jerk about it that I spend a couple hours every November carefully scanning the new Yellow Pages for names I don't recognize. ("The new phone book's here! The new phone book's here! You're somebody!") The intention is to emphasize newer places, since the initial few months is usually the critical make-or-break phase in a restaurant's life cycle, and of the 52 annual reviews, we usually manage to feature 30 or more restaurants that have been open less than a year.
Every couple of months, the other RFT critic, Melissa Martin, and I work up a schedule that usually gets followed for about four weeks, then modified into an unrecognizable mutation of its original form because something hasn't opened on time, or we can't get reservations, or we simply don't feel like Indian food during the week we've scheduled it. Even when it doesn't go according to the exact schedule, though, we do adapt it as much as possible so that any given 10-12 restaurants includes a variety of price ranges, food types and geographic areas.
We want a place to be open at least a month before we visit, and we eat at each place twice. When we make reservations, we do so under assumed names. My own broad goal for a review is that whoever reads it feels like they're sharing the meal with me. I also tend to be much more of a descriptive reviewer than a critical reviewer, in part because of how my reviews at the RFT have evolved, and in part because that approach lets restaurants stand or fall on the tastes of the general public, rather than the tastes of one person.
When I first started my current RFT stint, the standard practice was to visit a restaurant only once, and I had a 750-word hole to fill. I don't believe a reviewer can be accurately "critical" based on a single visit, and that, more than anything, led me into a style that avoided ever totally trashing a place.
After new owners took over the RFT, my space was expanded to 1250 words (for a benchmark, this article is about 1750 words long) and I started to go twice to every restaurant. I got a bit more critical, but still tended to try to find the good things to point out about a restaurant. Another reason I continue to stay clear of the sometimes-very-funny but often-vicious "skewer" style is that I recognize that, because of how restaurants are run, I could be screwing with people's life savings (and lives). From time to time, there have been some restaurants that get tossed into the "benign neglect" pile after a meal there.
When I got nominated for a James Beard Award this year — go figure — I ended up reading as much of the other nominated works as I could find. In general, they were uniformly positive, which lead me to reinforce my belief that most people would much rather read good reviews and gentle criticism than they would the kinds that include words like "barf-o-rama," "ptomaine" and the official Top Ten words you wouldn't want to see in a restaurant review.
I take notes by means of a tiny spiral notebook that I keep on my right thigh during the meal. My handwriting is so awful that, if the notebook were seen or found, it's unlikely anyone would have a clue what the contents are. We ask a whole lot of questions during the meal, and a majority of the time, I'll call the chef or owner later on to get further information or background, and to check if my impressions of ingredients and flavors were accurate. And my wife is an invaluable extra set of eyes, nostrils and taste buds, identifying stuff that I can't and invariably noticing something that I've missed.
When it finally comes down to writing, it usually takes me between 45 minutes and two hours to peck it in, and I'm blessed with editors who almost always restrict their carving of the copy to issues pertaining to clarity, grammar and length, trusting me to be accurate about the food side of things.
And that brings up the whole issue of what's "right" and what isn't in terms of food and cooking. I've developed the opinion that there are very few truly definitive sources, and that cooking, by its very nature, encourages creative mistakes (see also everything from beurre blanc to toasted ravioli). I don't get a lot, but when I do get hate mail, it usually stems from offense at when I've described a dish in variance from what the writer thinks is the only "true" methodology — plus I tend to get any number of "I've lived in Uzbekistan, and I've never heard of that so-called 'Uzbekistani' dish that you ate" comments.
Which are very possibly accurate, but I do try my best to have some basis for my descriptions and commentaries, given the constraints of not doing this full-time (to the best of my knowledge, there's only one full-time restaurant-reviewing job in all of St. Louis), not traveling very much and having only about 100-150 cookbooks and food-related references in my personal library. Once upon a time, I did manage to get to Europe on multiple occasions and eat in several of its best restaurants, and in my last day job, I had the advantage of working for a guy who loved to eat at great places.
When we do travel now, my wife and I specifically seek out restaurants with great reputations as points of reference — during a recent New York trip, we got to Lespinasse and Next Door Nobu — and I do tend to take notes, even when I'm not "working." For other references, I lean heavily on the Larousse Gastronomique, Mastering the Art of French Cooking, Essentials of Classic Italian Cooking, the Epicurious web site and a few other sources, and I try to put many of the articles I write into context by finding out the previous experience of owners and chefs.
Plus I read a lot of periodicals, although not nearly enough to keep up with all the food mags. I do wish that those publications would spend more time writing about St. Louis, because I'm fairly well convinced that our best stack up favorably against the best in all but the very top echelon of American food cities. Yet even the Zagat guides have stopped doing one for our hometown.
But what I hope comes through most clearly from my writing is that I'm really, honestly enthusiastic every single time I go out to eat, whether it be rediscovering the little diner in Kirkwood that serves scrapple or luxuriating through the tasting menu at The Crossing. It's a great gig, and I hope I can keep doing it for a long time to come.